Book Review: Gideon Smith and the Mask of the Ripper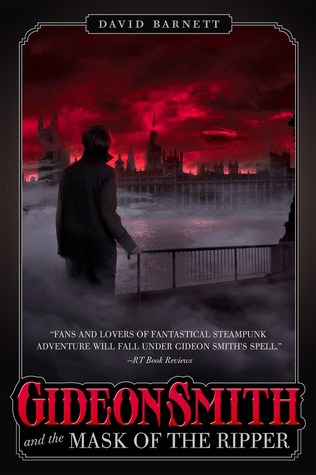 Gideon Smith and the Mask of the Ripper by David Barnett, Gideon Smith #3
In an alternate nineteenth century where a technologically advanced Britain holds sway over most of the known world and the American Revolution never happened, young Gideon Smith is firmly established as the Hero of the Empire.
Back in London, Gideon and his colleagues: journalist Aloysius Bent, airship pilot Rowena Fanshawe, and Maria, the mechanical girl to whom Gideon has lost his heart, are dragged into a case that is confounding the Metropolitan Police. For the city is on the edge of mass rioting due to the continuing reign of terror by the serial killer known only as Jack the Ripper, who is rampaging though London's less salubrious quarters.
While chasing the madman, a villain from their past strips Gideon Smith of his memory and is cast adrift in the seedy underbelly of London, where life is tough and death lurks in every shadowy alley.
With mob rule threatening to engulf London, the Empire has never needed its hero more...but where is Gideon Smith?
If you haven't heard of David Barnett's stellar alternate history/steampunk series Gideon Smith then shame on you! About two years ago David Barnett started this series with Gideon Smith and the Mechanical Girl. I have always been a big fan of both of these themes so I was sold from the start. In the first two books David Barnett really covered a lot of ground all the way to Egypt. The title of this third book Mask of the Ripper should already say more of the location and historical event that he will tackle as well.
So after two very eventful trips it is time for Gideon and his friends to catch there breaths however that is far from what is about to happen. Mysterious deaths are happening all over London all pointing towards the same feared person who goes by the name of Jack the Ripper. We all know that guy don't we? Jack the Ripper works with the same signature, that of killing prostitutes around the Whitechapel area. But he has to be caught nonetheless. The presence of Jack the Ripper strikes fear in every inhabitant and thus strict rules are enforced. In the midst of these troubled times we Gideon Smith, Rowena Fanshawe, Aloysius Bent and Maria the Mechanical Girl all character whom we have already learned a lot about.
This time around the story is divided into more threads. Gideon Smith, the Hero of the Empire does what he learned to do best, saving the Empire. However, due to some miscalculation or bad planning he falls into the trap of a mad scientist he loses his mind. His memories get erased. He doesn't know who he is, where he is and what he is doing. Furthermore he is on his own and no one knows where Gideon went off to... He has to get his memories back and fast. Rowena Fanshawe is present at the wrong place at the wrong time and is arrested and send to prison. Facing a murder trial with all evidence pointing towards you can even break the most innocent person. And with Gideon Smith also not present it is hard to proof that Rowena didn't do it. Last and definitely not least is the story of Maria. She is the sentient automaton that Einstein created. She also has returned to England where she was hoping to live a normal life with Gideon, but now that he is lost, she starts to doubt herself. Her story is one of self discovery and confrontation.
The story of
Mask of the Ripper
is to be honest set differently together than the previous stories. Granted it once again is a non-stop roaring adventure, the difference for me lies in the fact that this time around the focus isn't necessarily on Gideon alone. David Barnett invests a lot of time to show off the other characters. Take for example Maria and Rowena, the highlight that David Barnett gives on their background and how they continue is just marvelous and does so much to for this book as well as for the whole of the series. Rowena's part reveals a lot of her background and I really liked how David Barnett added some CSI in the mix. Maria's part is actually very emotional. She is an automaton but fully capable of thought and memory. She has had to learn to live with herself and accepts herself for what she truly is. Here you learn to Maria has done the above and actually is the savior for a lot of people. She is far from a robot that carries out orders. The part of accepting herself, her flaws and her strengths was one of the best parts of the book, it is what makes her human. Some of her thoughts really reminded me of Pinocchio, the wooden boy who wanted to be a man.
But lets not remove Gideon out of the picture completely just yet. Though he has lost his memories and is left with no idea of who he is and where he is, he also has quite a journey to undertake. The great thing about being hypnotized to forget your memories is that sometimes by a glimpse or a confronting name/picture you can remember bit and pieces and this is precisely the thing that Gideon undergoes. Gideon befriends some shady new people, with a Tyrannosaur Rex (yes I know how cool is that!), but for the start Gideon has a hard time to tell wrong from right and I was saying multiple times. Don't, but you can't give him fault for it can you?
All in all for the thread leading characters, there is definitely a great transformation taking place. It was a very nice move of David Barnett to ground the story down in London and evolve some of the characters even more. Some people might think of such books as fillers but your wrong to think that, if you read the first two books you will definitely appreciate the time invested in Gideon and Rowena but above all Maria.
Eventhough there are multiple threads there is a singular element that resonates very strongly through the book. A dark and grim setting. Of course there is Jack the Ripper, which already casts a very dark shade over the story. But the other threads, the personal story of Maria and what Gideon undergoes are just as dark perhaps even dark. having to confront real demons and demons of there own.
From start to execution David Barnett once again writes a stellar addition to the Gideon Smith series. As I said,
Mask of the Ripper
is a book that gives a lot of information on the characters that you have come to love over the last two year. It is by far not a slow book, there is a very nice pacing, that accelerates and slows down where needed. Definitely a recommendation.