Best First in Series of 2015
Best First in Series of 2015
Making a new entry into an existing genre is a hard thing. There are a lot of ongoing series and getting through with a new idea is a hard thing to do. Luckily there are plenty of authors who still come up with just that new idea. Here are my favorite First in Series of 2015. To start off the list Finn Fancy Necromancy which is both an debut and an first book in a series. This Urban Fantasy story had some very wild idea's which all proved to work to the fullest extent in the end. Randy Henderson shows a great enthusiasm. I read David Walton's Quintessence a few years ago, a great book. This year Pyr published his Superposition. What a great premise. David Walton knows his technology and creates a wild and provoking story. Flex by Ferret Steinmetz was one of the freshest Urban Fantasy stories I read this year. Mancy, the ability to gain a specific branch of magic if you love it hard enough. As I said in the review, it takes more just to come up with a cool system, it takes utilization, and this is what Ferret Steinmetz does spectacularly. cool stuff. Wesley Chu is best known for his Lives of Tao series (which I haven't read yet), this year he came and took over the world with Time Salvager and action packed science fiction book about time travelling. The rights of this book have also been obtained to make the transition from paper onto the big screen. That should already say enough doesn't it? Last there is Ishbelle Bee's Mirror and Goliath, an awesome story in the lines of a cross between a fairy tale and altnernate history. A single sentence suffices in describing this book. A true gem.
Finn Fancy Necromancy by Randy Henderson, Finn Fancy Necromancy #1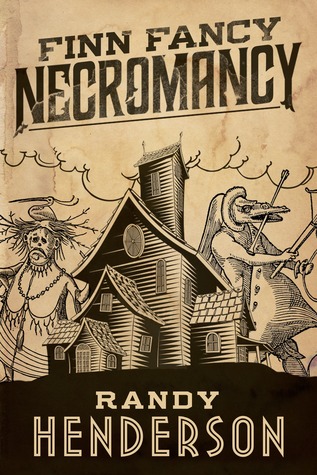 As I mentioned above Randy Henderson's debut is cool, it's more than cool! It's unique, though provoking and a whole lot of fun to read. I read some humorous fiction before by Christopher Moore and Tom Holt, who play into a contemporary setting with fantasy elements and I am happy to add
Finn Fancy
to the succeeded list.
Finn Fancy
has everything you could have wished for in such a book. But compared with the others it does has a bit of a darker setting, owing to the necromancy influence. The world that Randy Henderson managed to create is always in motion and luckily Finn never runs out of breath. There are a lot of big and bold ideas hidden within the storyline that for me all worked out. You could clearly see the enthusiasm of Randy Henderson dripping of the pages, though I can imagine that for some it might be to much. My opinion does remain unchanged:
Finn Fancy Necromancy
is a terrific read, it's dark and gritty and funny at the same time, I had a blast reading it. And I am still smirking about some of the jokes made by Finn!
Superposition by David Walton, Superposition #1
All this taken together from the plot of
Superposition
to the big and bold idea's in the field of Quantum Physics that the story hold right down to the character this book is a definite win. I don't say this very often but
Superposition
with definitely be in many top favorite lists at the end of the year, if it isn't, it is because they haven't read the book, which in turn is a big big big shame. David Walton once again proves that his writing is just A-game material, he knows he stuff, not only the technical side of it all but also the humane side.
Superposition
is a book
NOT
to be missed. Read this book and a whole new world will open for you!
Flex by Ferret Steinmetz, 'Mancer #1
I am going to repeat myself.
Flex
needs a direct sequel! period. I am always on the look out for the next thing in fantasy and Ferrett Steinmetz'
Flex
completely lives up to this promise. It's fresh, it's exciting and it's a whole lot of fun to read. It could also be the pubilsher to be honest as the majority of the books that I read from Angry Robots fall into the category of genre pushing. In
Flex
Ferret Steinmetz introduces an flexable world (to a certain degree), some very well fleshed out characters and of course one of the coolest magical system that I have the pleasure of reading about. Highly recommended!
Time Salvager by Wesley Chu, Time Salvager #1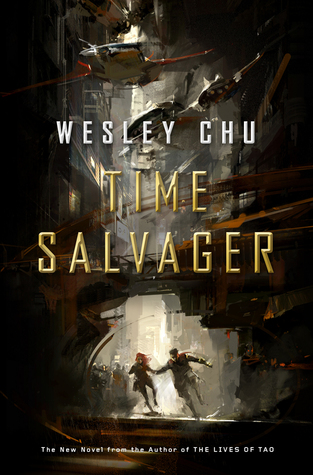 The whole setting of Time Salvager just has this very realistic feeling (as far as I can imagine what the future might be). This must be owed to the clear writing style of Wesley Chu, there is so much going on in the story, but there is no sacrifice in not explaining certain events or how technology works, Wesley Chu provides all this information in a learning sort of way, no dump where you are presented with blue prints but you learn as you go. This kept up the pacing of the story very nicely. In showing the world, Wesley Chu shows it as it is. It's destroyed, it's dark and grim and ruled by a few big companies who only have a say in certain decisions. Of course with a the time travel going on, this book has a definite coolness factor to it (A++), from the way the jump is initiated to the cool gadgets they have like the different bands, especially the exo power. I want one! Just awesome.
With all that Wesley Chu has showed so far in Time Salvager this book and series is off to a very good start. From beginning to end this book won't let you down. Wesley Chu begins the story with a bit lighter material, but not long before he slowly builds up more and more tension towards the inevitable turning point of the story and the eventual race to the finish. This whole book screams for a translation to the big screen. I'd say: 'Michael Bay, I know you want to turn this one in a blockbuster'. Definitely cool stuff. I wish I had the sequel at hand already. Make sure you don't miss out on this one guys. Highly entertaining. And that plot twist. WOW!
Read the full review here
The Singular and Extraordinary Tales of Mirror and Goliath by Ishbelle Bee, The Peculiar Tales of John Heart, Esq #1
Ishbelle Bee's debut is a truly marvelous and stunning story. It stands out head above shoulders in the fantasy genre. The story of Mirror and Goliath is different, and doesn't fall in a mainstream category, hence the book might not be for everyone. I am very pleased that Angry Robot once again took the step to publish something different. Over the years they have published book where other might have steered away from but each of those books have payed of manyfold and so does this story. Ishbelle Bee is a true magician with her words able to enchant you from the first page. if you didn't know that The Singular and Extraordinary Tale of Mirror and Goliath was a debut you would have said that Ishbelle Bee would have been writing for years. it really is that good. Though Mirror and Goliath share the title of the book, the series is devoted to John Loveheart, the end does reflect this part. It will sadden me to say goodbye to Mirror and her guardian Goliath Honeyflower. I am curious to see where Ishbelle Bee will take her story next. Just to say it again, The Singular and Extraordinary Tale of Mirror and Goliath is a gem. Not a rough one but already a beautifully detail one.