Best Debut of 2015
Best Debut of 2015
Debuts. Authors often only get one real chance of making a name for themselves. It's basically an all or nothing game. First one of the biggest challenges an author faces is getting published. After that you are basically in with the sharks.. uhm critics... My favorite debuts of 2015 were: Genevieve Cogman's The Invisible Library. The idea of librarians and books jumping has already been done before. However not in the precise way that Genevieve Cogman does it. Every bibliophile will enjoy the wild idea that Genevieve came up with. The Vagrant by Peter Newman had some very bold idea's when it came down to the story. The world was amazingly rich, a unique blend of a pre and post apocalyptic vision. Crashing Heaven is one of the hardest SF books that I read so far in my reading career. A dark and grim story, Jack Forster's relation with Hugo Fist the AI, is just brilliant. Finn Fancy Necromancy was also nominated with Best First in Series. It's also the debut of Randy Henderson. From the bold and wild idea's down to the characters it's just a whole lot of fun to read and perfectly executed. Just as with Finn Fancy, Mirror and Goliath also appeared on the Best First in Series list. It's also the debut of Ishbelle Bee. I praise this book because the truly magical feeling it gives. The story that Ishbelle Bee wrote is mesmerizing. As I already mentioned. A gem.
The Invisible Library
is a great start of the new series, inventive and highly addicted. The idea behind
The Invisible Library
allows Genevieve Cogman to bring this series to many different times and continents so I am curious to see just where Irene will pop up next. This first introduction has established a clear foundation in terms of what is going on in the world and has already highlighted some important parts but I am sure that this is only the tip of the iceberg of what we will see next. Genevieve Cogman is off to a solid start with
The Invisible Library
, don't miss it.
The Vagrant by Peter Newman
From idea down to execution Peter Newman did a great job.
The Vagrant
has a lot of big and bold idea's that nicely fit into each other. Combining a post and pre-apocalytic story together creates a wonderful and very grim and dark sense of the world. If you look at the world building that Peter Newman achieved in the book, it is just amazing. I loved the world and everything that was in it. Next to a very engaging worlds comes a just a worthy character cast, from the Vagrant himself down to his companions: Vesper, Harm and the goat. They really make the story come to life. The enthusiasm of Peter Newman really shines all throughout the story, I hope this is far from the last story we will be reading for him. If you are into post apocalytpic stories, this is not a story to be missed. If you aren't still you won't to miss this as well!
With
Crashing Heaven
Al Robertson has produced a very solid debut in Science Fiction. This subgenre of fantasy is all about pushing boundaries and this is precisely what he shows in
Crashing Heaven.
The whole world building with the classical elements in Science Fiction combined with a noir and grim thriller cyberpunk setting results in something very unique. As I already said above, what makes this book just plain awesome are the characters: Jack Forster and Hugo Fist, these two, and namely Hugo is a piece of work. Another winning debut from Gollancz!
Finn Fancy Necromancy by Randy Henderson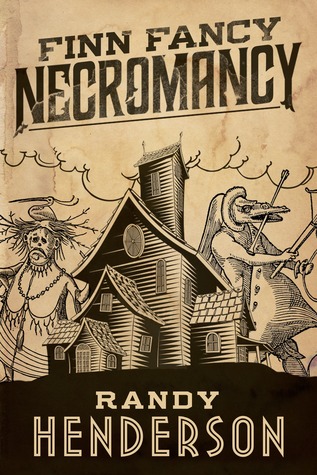 As I mentioned above Randy Henderson's debut is cool, it's more than cool! It's unique, though provoking and a whole lot of fun to read. I read some humorous fiction before by Christopher Moore and Tom Holt, who play into a contemporary setting with fantasy elements and I am happy to add
Finn Fancy
to the succeeded list.
Finn Fancy
has everything you could have wished for in such a book. But compared with the others it does has a bit of a darker setting, owing to the necromancy influence. The world that Randy Henderson managed to create is always in motion and luckily Finn never runs out of breath. There are a lot of big and bold ideas hidden within the storyline that for me all worked out. You could clearly see the enthusiasm of Randy Henderson dripping of the pages, though I can imagine that for some it might be to much. My opinion does remain unchanged:
Finn Fancy Necromancy
is a terrific read, it's dark and gritty and funny at the same time, I had a blast reading it. And I am still smirking about some of the jokes made by Finn!
Ishbelle Bee's debut is a truly marvelous and stunning story. It stands out head above shoulders in the fantasy genre. The story of Mirror and Goliath is different, and doesn't fall in a mainstream category, hence the book might not be for everyone. I am very pleased that Angry Robot once again took the step to publish something different. Over the years they have published book where other might have steered away from but each of those books have payed of manyfold and so does this story. Ishbelle Bee is a true magician with her words able to enchant you from the first page. if you didn't know that The Singular and Extraordinary Tale of Mirror and Goliath was a debut you would have said that Ishbelle Bee would have been writing for years. it really is that good. Though Mirror and Goliath share the title of the book, the series is devoted to John Loveheart, the end does reflect this part. It will sadden me to say goodbye to Mirror and her guardian Goliath Honeyflower. I am curious to see where Ishbelle Bee will take her story next. Just to say it again, The Singular and Extraordinary Tale of Mirror and Goliath is a gem. Not a rough one but already a beautifully detailed one.