Best Books of 2015
Best Books of 2015
So which books did I enjoy the most? Compared to the other lists this was definitely the hardest one to make. I would have loved to make this a 10 book list but I had to stick to my own set rules. After a lot of contemplation I came down to the following 5 books. Just as with Harry August Claire North/Catherine Webb managed to shock and awe me with Touch a terrific blend of Science Fiction and Thriller. As I said in the review, this book would make a perfect storyline for a movie. The new Bourne series? It has my vote. Sebastien de Castell wrote a solid entry with Greatcoats last year but has really outdone himself with Knight's Shadow this year. In every possible way he has raised the bar for himself. The book itself is action packed. Sword fights, arrows zooming through the air and of course magic and gods that walk the Earth. Time Salvager is the best time traveling book of this year. Welsey Chu had proved himself with the Lives of Tao and does so again with Time Salvager. Wesley Chu build a terrific story around the concept of time traveling but besides the action that accompanies this aspect he also tells a personal and emotional story. Great stuff.
Under Ground was THE book that really gave me the chills running down my spine. This post apocalytic story will drag you in a intrigue setting. Who can you really, really trust? Does a psycho hide in your best friend or neighbor? This murder story definitely got it's edge from the fact that everyone was locked away. A real claustrophobic atmosphere just perfect to give you a real scare. And again that confession at the end. wow. V.E. Schwab should have been on every to read list after her Viscous. In A Darker Shade of Magic she once again builds an incredible story. The synopsis of the book already promised a lot but once you get reading... What a terrific experience.
So what finally remains to said is: Read this book! Claire North's is on a sure fire winning streak. Just as with The First Fifteen Lives, Claire North has gone out of her league with the story of Touch. Touch for me was a definite darker tinge story that The First Fifteen Lives, owing to the chasing and also with the body jumping. Kepler is shown as a very interesting and enjoyable protagonist and has his work cut out for him. One thing that I totally forgot to mention was the control that Claire North has with body jumping, it is easy to jump from person to person, but in all case none of the ghosts do this. The details and bigger picture that Claire North shows with body jumping and inhabiting it, an action reaction sequence makes a very nice whole to the story. And let's not forget the world building in Eastern Europe. Just pitch perfect, a brilliant atmosphere! The story of Touch could readily, no let me rephrase, should readily be opted to be turned in a movie. Forget all the other thrillers, this is one of the biggest things this year. make sure you read this one.
Read the full review here
I have to give a hand once again to Sebastien de Castell. What he has shown in Knight's Shadow is just amazing. He has really outdone himself this time. Giving you a action packed book to begin with and slowly playing with you emotions. I already felt connected with Falcio and his Greatcoats, and when I got the the ending of the book, my emotions were torn. It's powerful stuff that Sebastien de Castell wrote in those few chapters. After these events I do see the ray of sunshine at the end of the tunnel for Tristia and it's new ruler but there is a lot of work to be done. However the title of the third book Tyrant's Throne , sounds rather grim as well... I know I probably will have to wait another year for the third book in the series but if I get such a high quality book once again it is definitely worth the wait. The Greatcoats series with Traitor's Blade and Knight's Shadow should be on every reading list. period.
Time Salvager by Wesley Chu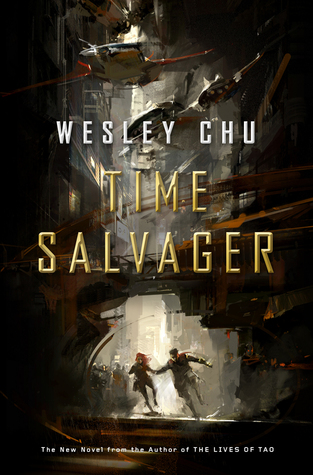 The whole setting of Time Salvager just has this very realistic feeling (as far as I can imagine what the future might be). This must be owed to the clear writing style of Wesley Chu, there is so much going on in the story, but there is no sacrifice in not explaining certain events or how technology works, Wesley Chu provides all this information in a learning sort of way, no dump where you are presented with blue prints but you learn as you go. This kept up the pacing of the story very nicely. In showing the world, Wesley Chu shows it as it is. It's destroyed, it's dark and grim and ruled by a few big companies who only have a say in certain decisions. Of course with a the time travel going on, this book has a definite coolness factor to it (A++), from the way the jump is initiated to the cool gadgets they have like the different bands, especially the exo power. I want one! Just awesome.

With all that Wesley Chu has showed so far in Time Salvager this book and series is off to a very good start. From beginning to end this book won't let you down. Wesley Chu begins the story with a bit lighter material, but not long before he slowly builds up more and more tension towards the inevitable turning point of the story and the eventual race to the finish. This whole book screams for a translation to the big screen. I'd say: 'Michael Bay, I know you want to turn this one in a blockbuster'. Definitely cool stuff. I wish I had the sequel at hand already. Make sure you don't miss out on this one guys. Highly entertaining. And that plot twist. WOW!

Read the full review here
Under Ground by S.L. Grey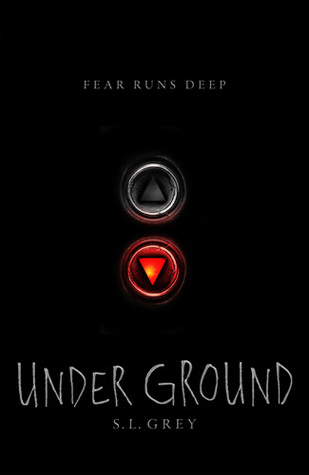 Under Ground is an awesome read. S.L. Grey have created a real thrilling feeling with the story that will play directly into your fears. It is all carefully constructed and executed leaving you clueless until the very end on who did what. From the start of the story I was hooked and they managed to keep a very nice momentum of the story all throughout the mid until that perfect ending. As I said when you relate certain events from the beginning and mid of the story it does make sense. Normally when I am so into a book I would say, wish it was longer but actually, Under Ground is just the right length, clocking in just under 300 pages. The story is always in motion, very dynamic and there isn't a moment of dragging the story forward. If the story was 400 pages it might have well have happened. S.L. Grey's next book is out July 2016, I will keep my eyes open, already looking forward to see what scenario they will present me with.
A Darker Shade of Magic by V.E. Schwab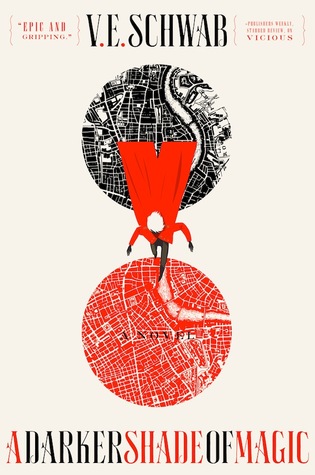 Which brings me to the following conclusion: WOW! With A Darker Shade of Magic, V.E. Schwab has really out done herself. With Viscous last year and A Darker Shade of Magic, she is on a winning streak, these book are just plain awesome. V.E. Schwab knows how to write engaging and in this case multidimensional characters, how to construct interesting, appealing and shocking worlds and events to in the end produce an impressive book. A Darker Shade of Magic has this all and much more. This is one of the must reads for 2015. I don't say this very fast and often, but this is already one of my nominees for the best of list at the end of the year. Really you don't want to miss out on this book.