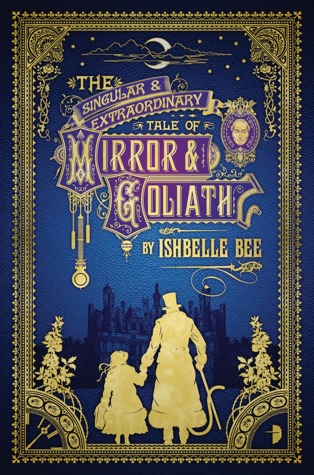 The Singular and Extraordinary Tale of Mirror and Goliath by Ishbelle Bee, The Peculiar Adventures of John Loveheart, Esq #1
1888. A little girl called Mirror and her shape-shifting guardian Goliath Honeyflower are washed up on the shores of Victorian England. Something has been wrong with Mirror since the day her grandfather locked her inside a mysterious clock that was painted all over with ladybirds. Mirror does not know what she is, but she knows she is no longer human.

John Loveheart, meanwhile, was not born wicked. But after the sinister death of his parents, he was taken by Mr Fingers, the demon lord of the underworld. Some say he is mad. John would be inclined to agree.

Now Mr Fingers is determined to find the little girl called Mirror, whose flesh he intends to eat, and whose soul is the key to his eternal reign. And John Loveheart has been called by his otherworldly father to help him track Mirror down…
Last year Angry Robot announced that they had gotten the world rights for a two book deal from the new author Ishbelle Bee, though the book was said to be published late 2014, it was pushed back to last June, with the sequel to follow soon this coming August. I am a big fan of fairy tales and stories in the Victorian setting and this precisely what was promised and was delivered tenfold in The Singular and Extraordinary Tale of Mirror and Goliath.
The story of
The Singular and Extraordinary Tale of Mirror and Goliath (which I will shorten to Mirror and Goliath) focuses on said names in the title. Mirror is a young girl and Goliath is a big guy who is Mirror's bodyguard. Just quickly, when you give the front cover a quickly screen you can see that Goliath has a cattail, say what. Yes, now if this doesn't get you curious... Ok back to the story, well one of them, There are multiple storyline nicely intertwined in the bigger scope of the story. Mirror travels together with her guardian/bodyguard Goliath across England in search for answers. Mirror is in particular looking for people who have a connection across the veil, the otherworld, the unexplainable. She has had a eventful life so far but keeps on wondering what she is and how she got to this point. Because in her past she was locked into a big clock by her grandfather and this changed her life drastically, from which Goliath rescued here. The other story is that of John Loveheart, who was not born wicked. When his parents died he was taken on by Mr. Fingers who changed him, into being wicked. Mr. Fingers though the name may sound sweet is far from it, he is the demonic lord of the underworld and rules supreme. Mr. Fingers has the current upperhand in everything because he knows really well just what Mirror is, and because of this he intends to have her for a nice breakfast, lunch, dinner or snack. He wants to eat her. John, Mr. Fingers' son is send out to find and trap Mirror. Now back to Mirror, luckily for her she has Goliath on her side, and I did mention the tail with a reason. Goliath has a special power, he is able to shapeshift into any being he wants, tigers bears, your name it. His job is to protect Mirror at all cost.
When you might read this short summary you might find the story somewhat simple, it's far from it. It's cleverly executed and Ishbelle Bee has a definite way with words. The storytelling and every element involved have something truly magically enchanting and beautiful to it. The feeling I got when I was reading the story is hard to describe, the closest I can come to is heartwarming. The whole ambiance that Ishbelle Bee created in this debut is stunning, the world feel vibrant and alive, it does true justice to the proposed Victorian setting, and it not just by naming a few words of things that happened in that time, the whole world building that is done back it up. Even though the world is beautifully crafted, not everything is happy and fun. The story actually has something dark to it, not grim grim but more grimm if you know what I mean. The books has been compared to Neil Gaiman and I have to agree the whole fairytale, dark magical setting is one that sticks with you for a long long time. You will find yourself - after finishing the book - daydreaming about the world that Ishbelle Bee has created. Beautiful.
Just as with the world of Mirror and Goliath. The characters that feature in the book are just as remarkable, stunning and original. Mirror the young girl is far more than just that, but she cannot remember her past or she never knew. The only thing she knows is that she was locked inside a cage which had a lot of consequences. She is seeking the truth, the fact that she doesn't know what she is but that she wants answers casts a spell of innocence around her and makes it really easy to fall in love with. There was a chapter early on in the book about twelve princesses. wow. Goliath is a true friend, companion and bodyguard. He will do anything to protect Mirror. Mirror likes it when Goliath turns into a bear so she can cuddle with him and feel protected and this perhaps reflects the care that Goliath wants to give the best. He is there for Mirror no matter what. Now next two Mirror and Goliath who make up one part of the story, you also have the bad guys. Mr. Fingers and John Loveheart. John Loveheart is a special character for me. He does come over as a bad guy but when you read every introduction it goes like this John Loveheart, who was not born wicked. This latter aspect does come to show as the story progresses, in many ways you want to hate John but well you cannot pin it to hard on him. Mr. Fingers is a piece of work, the ruler of the underworld, such a dire task with a bit of comical name adds something twistely dark to his character. When you take the whole characterization together it is really a star cast to be honest, great individual characterization that works even better on the bigger picture.
Ishbelle Bee's debut is a truly marvelous and stunning story. It stands out head above shoulders in the fantasy genre. The story of Mirror and Goliath is different, and doesn't fall in a mainstream category, hence the book might not be for everyone. I am very pleased that Angry Robot once again took the step to publish something different. Over the years they have published book where other might have steered away from but each of those books have payed of manyfold and so does this story. Ishbelle Bee is a true magician with her words able to enchant you from the first page. if you didn't know that
The Singular and Extraordinary Tale of Mirror and Goliath was a debut you would have said that Ishbelle Bee would have been writing for years. it really is that good. Though Mirror and Goliath share the title of the book, the series is devoted to John Loveheart, the end does reflect this part. It will sadden me to say goodbye to Mirror and her guardian Goliath Honeyflower. I am curious to see where Ishbelle Bee will take her story next. Just to say it again,
The Singular and Extraordinary Tale of Mirror and Goliath is a gem. Not a rough one but already a beautifully detail one.