Best Urban Fantasy of 2015
Best Urban Fantasy of 2015
Urban Fantasy. Pushing on the boundaries of our natural world. Transforming the natural in the super or supranatural. Some of the wildest ideas come from this genre and the books mentioned below are no exception. Flex by Ferret Steinmetz is full of wild idea's I loved the world he has created just love something hard enough and magic can and will happen a Flexable world but only to a certain degree! The Paradox by Charlie Fletcher is the sequel to his stunning The Oversight which by the by also made it last year on my favorite UF list. In The Paradox Charlie Fletcher continues the success story he started in The Oversight. There are many memorable scenes in the book but the ones that stood out the most were definitely the mirror scenes. Wow. And wow again. I have high hopes for the conclusion of the trilogy. Last First Snow by Max Gladstone is already his fourth book in the Craft Sequence series. Just a few years ago he was the author that took over the UF world by storm and he hasn't lost his touch. Though the publishing of the Craft Sequence books isn't in chronological order and can perhaps be frustrating at times, there is something magical to reading the books in this order as you start to relate several events with each other. Quite brilliant if I say so myself. Myke Cole is best know for his military UF series Control Point, high octane military action combined with UF elements. He finished the series with Breach Zone. After that success he published the first prequel book earlier this year with proved to be just a success or even more. The material is tougher in terms of what subjects Myke Cole tackles, but that extra emotional bit does make the story a lot stronger. Javelin Rain the second prequel book is up for publishing next year. Finn Fancy Necromancy. I don't think this book needs any explanation as it already featured on two of my other Best of lists. Yes it really is that good. Randy Henderson, if I could shake your hand I would. Awesome stuff. (no pressure for Bigfootloose! wink smile)
I am going to repeat myself. Flex needs a direct sequel! period. I am always on the look out for the next thing in fantasy and Ferrett Steinmetz' Flex completely lives up to this promise. It's fresh, it's exciting and it's a whole lot of fun to read. It could also be the pubilsher to be honest as the majority of the books that I read from Angry Robot fall into the category of genre pushing. In Flex Ferret Steinmetz introduces an flexable world (to a certain degree), some very well fleshed out characters and of course one of the coolest magical system that I have the pleasure of reading about. Highly recommended!
The Paradox by Charlie Fletcher, The Oversight #2
And than it only remains for me to give Charlie Fletcher a lot of praise for his world building once again. The first book gave a great show of a gothic Victorian inspired London, and he doesn't falter in giving the same show once more. The writing style the Charlie Fletcher has definitely helps a lot in putting the atmosphere just right. It feel that you are really in the story itself. Being the latest member of The Oversight or part of the Templebanes discussions. It takes a lot more than just saying Gothic Victorian to get a setting. This world has it all down from the lurking corridors, secret places for refuge, and of course the magical powers that several characters have. It's all really something amazing. And then I haven't even started about the world in the mirrors. Now this really deserves a wow, brilliant too say the least.

The Paradox is precisely what I wanted to see in a sequel. Charlie Fletcher has gone above and beyond himself to write and even better story. He doesn't hesitate a moment before throwing the reader once again in the fray of on upcoming battle. There are lots of developments happening when it comes to the overall to take story that much further but it also doesn't lack in the character development department. All in all a definite winner and just as with The Oversight, The Paradox will be ending up high in my favorite list as well!

Read the full review here
Last First Snow
is a terrific addition to the growing Craft Sequence. On it's own it can be read as a standalone but trust me you will miss out on a lot. The book really completes the Craft Sequence and takes it those extra leaps further. At the heart of the story the premise might sound like a small dispute but leave it to Max Gladstone to build a full spectacle story around it. Focusing on the younger version of some characters that we met before only further helps to let the story take more root. Max Gladstone is an author that is on my must read list. Terrific stuff what he manages to write.
What is of course expected when you read a book from a writer who served in the military is the accurateness of the terminology and this what Myke Cole does really well (I trust his writing!). There is a nice glossary that I had to look up for some of the abbreviations that were often time used. I really liked the parts where Myke Cole wrote the gear description, I don't know what all the weapons were on the first, google helps a lot. I am not a gun-nut but reading about it is sure cool.
Now one other thing that I have to give Myke Cole credit for was the way that he wrote about Jim being dead and getting reviewed. Here are some things: Glycerol is pumping through Jim's body, he doesn't need to eat, he is being kept in a cold room and in order to speak Jim need to forcefully push air over his vocal cords to produce sounds. This is what I call doing that extra bit to make the story that more detailed. They are small things but it is usually those things that count.
All in all Gemini Cell is a terrific read. Myke Cole has definitely outdone himself. Gemini Cell had everything from his earlier series in terms of action but he ups the ante with writing a very personal story with Jim in the lead. My mind is still boggling about how the awakening of Jim is in relation to the SOC of Control Point, but I guess there is only one thing to do about it and that is reading Javelin Rain!
Read the full review here
Finn Fancy Necromancy by Randy Henderson, Finn Fancy Necromancy #1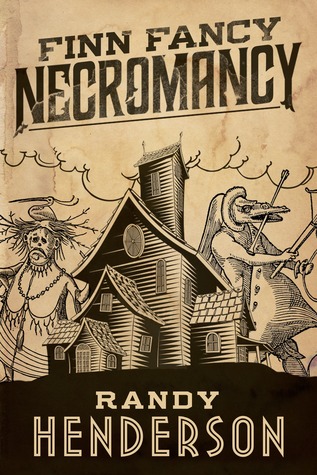 As I mentioned above Randy Henderson's debut is cool, it's more than cool! It's unique, though provoking and a whole lot of fun to read. I read some humorous fiction before by Christopher Moore and Tom Holt, who play into a contemporary setting with fantasy elements and I am happy to add Finn Fancy to the succeeded list. Finn Fancy has everything you could have wished for in such a book. But compared with the others it does has a bit of a darker setting, owing to the necromancy influence. The world that Randy Henderson managed to create is always in motion and luckily Finn never runs out of breath. There are a lot of big and bold ideas hidden within the storyline that for me all worked out. You could clearly see the enthusiasm of Randy Henderson dripping of the pages, though I can imagine that for some it might be to much. My opinion does remain unchanged: Finn Fancy Necromancy is a terrific read, it's dark and gritty and funny at the same time, I had a blast reading it. And I am still smirking about some of the jokes made by Finn!