Best Alternate History of 2015
Best Alternate History of 2015
Alternate history, the genre that bends the "what once has been" into something new, into what might have also happened. I am a big history fan and seeing with what these authors came up with I can only try to hide my grin. The Mechanical must not be missed by anyone and especially me being a Dutchy. Ian Tregillis is best known for his alternate WWII story with the Milweed Tryptich, in The Mechanical he take you back to The Netherlands in the 17th century. Where clakkers, automatons, are slaves to help us humans. It is a wonderful imagining of The Netherlands and Ian Tregillis really did his homework when he was re imagining several parts of The Netherlands. I am a big fan of Nick Brown's Agent of Rome series. I like the Roman times a lot, during a holiday in Rome I visited the Colosseum. Awesome I tell you. With every book the series just seems to get better. Nick Brown shows a lot of versatility in the build up of his story. Highlighting not only the main protagonist but also several of the minor characters, all for the better. Lets see what Nick Brown will show u next year. If you haven't heard of Gideon Smith I don't know where you have been the last years. Two eyars ago David Barnett published his first Gideon Smith book, a great blend of Alt history and steampunk. After having visited some exotic places, he decided to land the story in London for the third book, and we all know that one important character that haunted Whitechapel. Once again David Barnett wrote an great story. Much darker than the other but just as satisfying. Snorri, Snorri, Snorri. Wow. my first book of Jo Fletcher was Snorri Kristjansson's debut. awesome stuff, the whole series has gone through a transition from an alternate viking story to one influence by higher forces I loved that twist. Just as where Path of Gods concludes a series it also pains me to say goodbye to Ethan Kaille. David, what a great four years it have been. The Thieftaker Chronicles are very, very good books. D.B. Jackson has put a lot of time and effort in to this series that became apparent with every new addition. I do sincerely hope that next year I will be surprised by book 5 in the series.
Anyway, all this taken together make The Mechanical a book that you must, MUST have read this year, the better, the sooner. The Mechanical directly lived up to all my expectations and when I come to think of it, it went above and beyond it. The story is set up in a very intricate way, highlighting many different facets of the world, the characters, factions and their believes. I liked that he talked the many social aspects, Free Will and theology. There is a great blend of themes, steampunk, alternate history and some magic as well. Ian Tregillis is once again at the top of his game (is there ever a moment he isn't!?), make sure you ride this wave!
Read the full review here
The Emperor's Silver by Nick Brown, Agent of Rome #5
Next to the characters, the world building is just as amazing. To be honest, there aren't any lush descriptions of the exotic surroundings. Nick Brown stays to the point and tells what is necessary and mainly by sticking to the to the point writing he creates a very nice pace in his story. And you won't miss a beat of anything, because if you read all the other books you know the surroundings and you have all seen Roman movies so your imagination should be triggered here and there. If you compare the setting to the first four books one thing is noticeable and that is that The Emperor's Silver is written with a much darker tone. Cassius' past is catching up with him and it isn't pretty, he has to face a lot of demons of his own. The events that happen in the ending of the book, I am going to say it again, wow, that cliffhanger. Brilliant stuff, I am curious to see just how this will impact Cassius' action I think we will be in for a treat in the next installement.
I think I am going to repeat myself for the gazillionth time but the Agent of Rome series is a winner. With The Emperor's Silver Nick Brown once again proves his worth and no wonder that Hodder and Stoughton keeps on buying more books in this series, they are well worth it. From the great story dynamics, character building, story line and writing all down to the accuracy of Roman history these books are just amazing. Period.
Read the full review here
Mask of the Ripper by David Barnett, Gideon Smith #3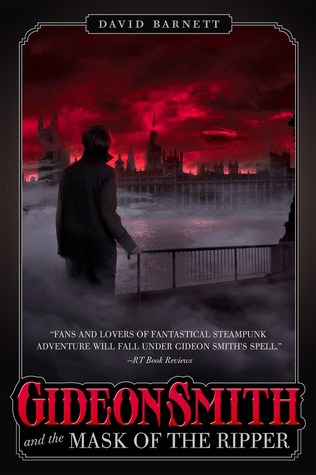 All in all for the thread leading characters, there is definitely a great transformation taking place. It was a very nice move of David Barnett to ground the story down in London and evolve some of the characters even more. Some people might think of such books as fillers but your wrong to think that, if you read the first two books you will definitely appreciate the time invested in Gideon and Rowena but above all Maria.
Eventhough there are multiple threads there is a singular element that resonates very strongly through the book. A dark and grim setting. Of course there is Jack the Ripper, which already casts a very dark shade over the story. But the other threads, the personal story of Maria and what Gideon undergoes are just as dark perhaps even dark. having to confront real demons and demons of there own.
From start to execution David Barnett once again writes a stellar addition to the Gideon Smith series. As I said,
Mask of the Ripper
is a book that gives a lot of information on the characters that you have come to love over the last two year. It is by far not a slow book, there is a very nice pacing, that accelerates and slows down where needed. Definitely a recommendation.

Read the full review here
Path of Gods by Snorri Kristjansson, Valhalla Saga #3
All in all Path of Gods is the finisher the series deserved, in every aspect Snorri Kristjansson improved his story telling and writing. The book features a lot of diversity when it comes to what happens, from action packed scenes down to a more easy steady pace when fronts had to regroup to some boisterous partying in between people and of course the revealing of the meddling affairs of a certain god and how the others react. When I first started reading Swords of Good Men I had never had dared to think in my wildest imagination that the story would go into this direction, but along the way Snorri Kristjansson kept on shaping and changing the story bit by bit carving a path in the good direction. It might be a bold statement, but The Valhalla Saga with Swords of Good Men, Blood Will Follow and Path of Gods, have definitely marked Snorri Kristjansson as an author to watch. Make sure you are at the front to see with what he will come up with next. I sure will be.
Read the full review here
With every book in the Thieftaker Chronicles I have said something about the magic system and thus I find myself repeating it again. IT IS AWESOME. Alright, why is it awesome? Because it matures and transforms in the same way that Ethan does. Ethan keeps on discovering, by himself and out of necessity new spells to use and understanding what his opponents do. This is what makes this magic system so attractive to me, it is straightforward but the uses are unlimited, it's all about spelling. Even the most powerful and accomplished spellers aren't invulnerable, there is a weakness somewhere you just have to look carefully and phrase you spell correctly!
With
Dead Man's Reach
D.B. Jackson deliverers a spectacular ending to the Thieftaker Chronicles. The whole build up of this story D.B. Jackson leaves you wondering who is messing with Ethan and to what purpose, you are actually thinking could it really, really be that guy or is Ethan just mistaking? But well once you find out the horrible truth, you will be suprised. The story already had a great pacing, but once the truth is out the pacing is ramped up even more. A great race to the finish. Though this is said to be the final volume in the Thieftaker Chronicles I surely hope that this isn't the last thing we have seen from Ethan Kaille!
Read the full review here