Best Science Fiction of 2015
Best Science Fiction of 2015
Science Fiction. The genre that excites, invents and build grandiose invents. Science Fiction has always been the books that inspire technology, look at Star Trek tablets anyone? The counts for the light sabers of Star Wars an Harvard - MIT collaboration resulted in a break through (link). So you never know what the next big thing will be! Last year Catherine Webb aka Claire North surprised me with Harry August a terrific book about time traveling. During LonCon3 in London in 2015 I learned about a new book of Catherine, a book where you can jump bodies by touching. If that doesn't get your hopes up I don't know what will. Cathrine Webb writes once again anastonishingstory fast paced, pitch perfect thriller. Adrian Tchaikovksy. The man with a thousand-and-one ideas. After finishing his Shadows of the Apts series he brought two stand alone book this year. One of them was Children of Time a scifi space opera. Which you can imagine is quite something different compared to his steampunk epic fantasy series. The idea of Adrian Tchaikovsky's with the world inhabited by intelligent and evolving spiders is definitely one the wildest I read this year (meaning this in the best possible way of course). With Crashing Heaven Al Robertson returns to the essence of hard boiled scifi (where you can boil it anyway). As I said with Jack Forster and Hugo Fist, a brilliant duo. Even though some themes are as you would expect with scifi, Al Robertson is still pushing more than enough boundaries to make something new. Time Salvager by Wesley Chu is an incredible read. Complex characters and intriguing relations. It also proves that no matter the lies the truth will always surface. David Walton's Superposition was a definite game changer in the field of Science Fiction. Idea wise it is similar to those of Hannu Rajaniemi, integrating math and physics into the story to bolster the science of the fiction. Great stuff.
So what finally remains to said is: Read this book! Claire North's is on a sure fire winning streak. Just as with The First Fifteen Lives, Claire North has gone out of her league with the story of Touch. Touch for me was a definite darker tinge story that The First Fifteen Lives, owing to the chasing and also with the body jumping. Kepler is shown as a very interesting and enjoyable protagonist and has his work cut out for him. One thing that I totally forgot to mention was the control that Claire North has with body jumping, it is easy to jump from person to person, but in all case none of the ghosts do this. The details and bigger picture that Claire North shows with body jumping and inhabiting it, an action reaction sequence makes a very nice whole to the story. And let's not forget the world building in Eastern Europe. Just pitch perfect, a brilliant atmosphere! The story of Touch could readily, no let me rephrase, should readily be opted to be turned in a movie. Forget all the other thrillers, this is one of the biggest things this year. make sure you read this one.
Read the full review here
Children of Time by Adrian Tchaikovsky
The world building in Children of Time is awesome. The story does take place on Kern's World or in the atmosphere of Kern's World aboard the Gilgamesh. The former site is explored in more detail and as with the characters the world of the spiders is so rich in detail. Of course I have no idea how they perceive a world but I felt like a spider. How they fought against the ants it was very intense on such a small scale (these insects aren't really big). If you take the Gilgamesh and the backdrop of the story also into account I think it is difficult to get a bigger sense of wonder that what you see in Children of Time.

Do you want to read a Science Fiction book that has big and bold ideas that are worked out into the fine details? Look no further. Adrian Tchaikovsky had already written a winner in the Alternate History subgenre earlier this year and once again shows that he means business with Children of Time. This book is just filled with awesome and cool idea's that will make you think. For me what made this story a true winner was Portia's side of the story. Of course Science Fiction stories where the last of humankind is searching for new plants exists BUT not in the way that Adrian Tchaikovsky has written his story. Children of Time is handsdown one of the best Science Fiction book that I will be reading this year, I know it is just June and there are still six months to ago, but I will take a really good book to trump Children of Time! (I would say it is impossible).

Read the full review here
Crashing Heaven by Al Robertson
When it comes down to technology, Science Fiction has always been a forerunner look at Star Trek, ok we cannot completely beam ourselves up but some other bits... In Crashing Heaven Al Roberston introduces some very cool technology aspects, first of all the implanting of AI's in peoples mind, pretty awesome right? The concept is shown to the fullest in the relation between Jack and Hugo. Added to this comes another high tech thing known as weavewear. A virtual reality community made reality, sort of. A lot of things happen in it, you get to see the ins and outs and how Hugo can interact with it. All in all, pretty awesome and most impressive.
With Crashing Heaven Al Robertson has produced a very solid debut in Science Fiction. This subgenre of fantasy is all about pushing boundaries and this is precisely what he shows in Crashing Heaven. The whole world building with the classical elements in Science Fiction combined with a noir and grim thriller cyberpunk setting results in something very unique. As I already said above, what makes this book just plain awesome are the characters: Jack Forster and Hugo Fist, these two, and namely Hugo is a piece of work. Another winning debut from Gollancz!

Read the full review here
Time Salvager by Wesley Chu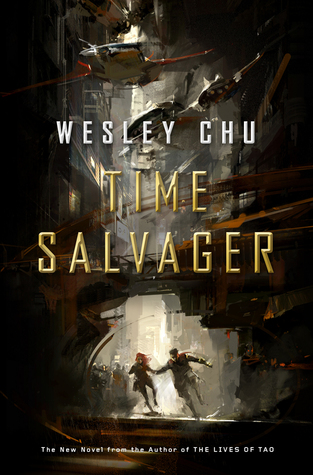 The whole setting of Time Salvager just has this very realistic feeling (as far as I can imagine what the future might be). This must be owed to the clear writing style of Wesley Chu, there is so much going on in the story, but there is no sacrifice in not explaining certain events or how technology works, Wesley Chu provides all this information in a learning sort of way, no dump where you are presented with blue prints but you learn as you go. This kept up the pacing of the story very nicely. In showing the world, Wesley Chu shows it as it is. It's destroyed, it's dark and grim and ruled by a few big companies who only have a say in certain decisions. Of course with a the time travel going on, this book has a definite coolness factor to it (A++), from the way the jump is initiated to the cool gadgets they have like the different bands, especially the exo power. I want one! Just awesome.

With all that Wesley Chu has showed so far in Time Salvager this book and series is off to a very good start. From beginning to end this book won't let you down. Wesley Chu begins the story with a bit lighter material, but not long before he slowly builds up more and more tension towards the inevitable turning point of the story and the eventual race to the finish. This whole book screams for a translation to the big screen. I'd say: 'Michael Bay, I know you want to turn this one in a blockbuster'. Definitely cool stuff. I wish I had the sequel at hand already. Make sure you don't miss out on this one guys. Highly entertaining. And that plot twist. WOW!

Read the full review here
All this taken together from the plot of Superposition to the big and bold idea's in the field of Quantum Physics that the story hold right down to the character this book is a definite win. I don't say this very often but Superposition with definitely be in many top favorite lists at the end of the year, if it isn't, it is because they haven't read the book, which in turn is a big big big shame. David Walton once again proves that his writing is just A-game material, he knows he stuff, not only the technical side of it all but also the humane side. Superposition is a book NOT to be missed. Read this book and a whole new world will open for you!
Read the full review here