Book Review: Redzone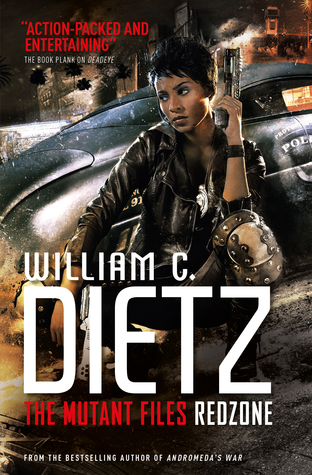 Redzone by William C. Dietz, The Mutant Files #2
The year is 2065, almost thirty years since a bioterrorist attack decimated the population. The world has been divided, and new nations have formed. Those mutated from exposure inhabit the red zones, while "norms" live in the green zones.

In the nation of Pacifica, Los Angeles detective Cassandra Lee is in charge of investigating a disturbing case, tracking a cop killer dubbed the Bonebreaker. But strange new murders have occurred, falling outside the normal pattern and leaving Lee and her team wondering if the serial killer has become unpredictable—or if he's no longer acting alone…

To make matters worse, Lee's attention is diverted after she receives a letter from her long-lost mother. Now she must venture into the red zone, a lawless land where might makes right—and where the biggest danger may be her own family.
Just a few months ago I listened to the first book in William C. Dietz' The Mutant Files: Deadeye. I have read some of his other books of the Andromeda series, a Military Science Fiction
series that I am thoroughly enjoying. The Mutant Files is something completely different. Granted it is still Science Fiction but with a police twist. About thirty years ago a terrorist released a deadly contagion, Bacillus nosilla, that when you contracted it, you would either die or be left a mutant. And not all mutations have proven to be "subtle". The mutants have been locked in the red zone, in order to contain B. nosilla. Yes it is still active! You can imagine that this is quite the different story compared to a Deep Space Opera story with mechs.
The story of Redzone picks up directly after the events of Deadeye. Cassandrea Lee is back at the force but not all in happy spirits as in the ending of Deadeye her chief got murdered by the Bonebreaker, the criminal she is on the hunt for, as the Bonebreaker also murdered her father. As Cassandra is attending the funeral of her chief, she lets the better being taken of her when a reporter asks her a confronting questions. Cassandra in turn punches the reporter in the face and well Cassandra gets taken into custody. Quite a interesting first few pages of the book! Soon afterwards Cassandra's only way of getting out of a lawsuit is to have an interview with said reporter. After this interview a bigger PR stunt is made to lure the Bonebreaker out of its den. The newly in charge chief makes a public statement saying that Cassandra is put full time on the case of the Bonebreaker. But of course this a well thought through plan. As Cassandra is the lure, she has the necessary shadows watching over her, so when the Bonebreaker strikes she has the backup. Just as the investigation gets rolling, Cassandra receives a letter from her mother, who she hasn't seen for a very long time. Cassandra's mother went to the redzone but never returned. The letter contains some unpleasant news and here Cassandra finds herself at a crossroads, as the Bonebreaker is also making new appearances. In the end she decides to take the venture into the redzone, which isn't without it's own danger. Without the proper protection Cassandra could well get infected and there is no police to take care of her... In the redzone Cassandra makes some shocking discoveries and in the end is forced to abandon it. Now after this Cassandra isn't out of work yet as the Bonebreaker has stuck again, is it really the Bonebreaker or is it a copy cat? Cassandra is once again in for a dangerous adventure. But will she finally be able to close in on her fathers murderer?
In the first book, Deadeye, William C. Dietz laid down a very clear groundwork of the world itself and in this sequel, more and more if build on it. Even though it is not really necessary to have read the first book as the beginning offers a nice recap of the events that changed the world and what happened in the first book. As I mentioned above, Cassandra takes a short detour to the redzone in search of her mother and this was a nice move to do, the sequel is a tricky part and with this William C. Dietz managed to add something refreshing to Redzone. Because in this part you learn much more about how dangerous this area is and William C. Dietz just lifts the veil a bit of what is possible, from gangs that control complete town to freakish mutants and animals that have been struck by B. nosilla. The scene where Cassandra was fighting of the mutant dogs was pretty cool executed. William C. Dietz even turned the perspective towards that of the dogs, these highly intelligent (due to B. nosilla) creatures really have a mind of their own and made this particular scene even more cooler. It really got me to the edge of my seat!
As for Cassandra herself. Her life up until now hasn't been easy and isn't being made easier. she is a dedicated police officer who will do anything to make the truth surface and catch bad guy, even though if that means working with the enemy. Cassandra is a kick ass women who doesn't back down when there is challenge or a wall to conquer. She knows what she is worth and what she is capable of, she doesn't approach a situation with a reckless attitude but always tries to weigh out the pros and cons. It is with this kind of attitude that her character has that makes her protagonist so much fun to read about. Now this doesn't mean that she is a robot, no there is still the occasional moment where she acts on the spot, making her much more human. Next to her character, there are some other police officers and other mutants that make for a nice secondary cast, but the story is really told as to how Cassandra perceives it and thus they don't receive that much air time. What I did like about Redzone was that the Bonebreaker got some very nice attention and this gave a much more thrilling dynamic to the overall story. A nice action-reaction kind off way.
With Redzone, William C. Dietz continues the action packed story that he put down in Deadeye. He build very nicely on the foundation that he put down in the first book but with enough twists and turn to keep you to the edge of your seat. One thing that I have noticed in the writing style of William C. Dietz is that at certain points in the story he ramps up the pacing to create tense action scenes (as with the dog scene) and than slowing it down and letting you as a reader catch your breath once more before ramping it up again. A great way to keep you glued to the pages. The last third of the book offered something really interesting in terms of cooperation and catching the bad guy. How the third book Graveyard will turn out can be anybodies game. All I know is that it will be pretty darn cool.