Best First in Series of 2014
Best First in Series (no debut!)
The first in series is a category I actually just came up with. I wanted to mention some books that aren't debuts but that do kick off a new series as most new series are often debuts. Why I wanted to name this category in particular is to show that many authors write second series that are just as or even better as there first. Writing books is difficult but coming up with a compeltely new series ust be even more difficult (I think). Authors oftentimes also write a new series in their earlier divided universe which in itself is also difficult as some storylines have been established in the earlier series so you have to thread carefully, ensuring all that has been written before. This brings me to the first book on the list. Prince of Fools by Mark Lawrence. Taking place in The Broken Empire but following a completely new protagonist. In Prince of Fools Mark Lawrences' writing never falters and produces another winner, though the universe is the same the new protagonist Jalan is something completely different. The Oversight really managed to surprise me. Charlie Fletcher is well known from his children's books, The Oversight is something completely different more for the adult audience but sharing something supernatural. Brandon Sanderson has written many succesfull series completing Robert Jordan's Wheel of Time, launching his own Stormlight Archive and Mistborn amongst others and now the Reckoners, Steelheart showed for me a new perspective in the superhero genre. I am getting tired of the Marvel things so this view of evil oppressive superheroes was very refreshing to read. The last two books of new series are in the hands of Steven Erikson, I am sorry bit his books just manage to intrigue me. I am a big fan of The Malazan Empire of the Fallen so being able to glimpse in the years before the series is just brilliant, Forge of Darkness is the perfect addition to the Malazan universe. The other nomination is Steven Erikson's first venture into deep space SF. Willful Child is described as a mash up between star trek and american dad, it's an over the top space opera which will make you laugh out loud. You might think that this was a stand alone but in an interview Steven Erikson let know that he has more plans for this universe!
----------------------------------------------
- Prince of Fools by Mark Lawrence, HarperVoyager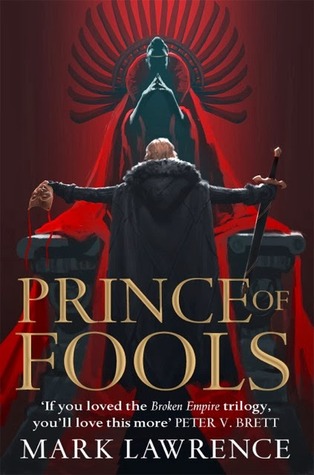 So the bottom line. Prince of Fools is one AWEsome read, what else if there to say? . Mark Lawrence had already established himself as one of the genre writers on the rise and he done so again with his new series: The Red Queen's War and the first entry Prince of Fools. He further proves that his writing wasn't a one time deal, Prince of Fools is just as solid in writing and has just as an interesting storyline and concept as his earlier stories, what adds even more to Mark Lawrence's skill is that he has written a completely different story than that of Jorg, nicely diversifying his repertoire and adding a few extra layers to his Broken Empire universe. Jalan and Snorri are both great protagonists that despite the flaws in their characters make up for a great time and readily pull the story forwards. Being set in the same time frame as that of Jorg's story I can imagine that it must have been hard writing a story that takes place in the same time with a bit of an common enemy and character that appear of both story but Mark Lawrence pulls this off as it should. Top notch. Where magic was mostly in the background of Jorg's series, in Jalan's part it takes on a more prominent role. Just as when I finished each book of the Broken Empire series, I need the sequel NOW! period. Prince of Fools is set out to be released 5th of June. Make this your summerread guys and girls, it really is that good. There isn't any info yet about the sequel, I have my fingers crossed for next year hopefully.
Read the full review here
- The Oversight by Charlie Fletcher, Orbit
I think you can pretty much make up that I thoroughly enjoyed The Oversight, Charlie Fletcher has created a very solid entry withing the Urban Fantasy genre, one that will knock some books of their pedestals. I haven't read Charlie Fletcher's Young Adult series so I can't draw a comparison on that front, but the writing that he shows in The Oversight is engrossing to say the least, from the first page you will be sucked into the story and he just won't let you go to take a break, it's highly addictive. The strong narration combined with the engrossing world and intriguing characters definitely make The Oversight a winner for me. If you are still looking for a vacation read be sure to pack this one in your bag. Charlie Fletcher leaves the story of The Oversight on an interesting premise, we have seen some of the necessary details of the many different characters, but a lot of questions have been raised. The Oversight is a solid foundation, one that Charlie Fletcher can readily use to write a sequel, can't wait to dive into it.
Read the full review here
- Willful Child by Steven Erikson, Bantam Press/Tor
This venture of Steven Erikson into the dark reaches of was a very wild, fast and rip roaring adventure that for me succeeded in many ways. Not only does Steven Erikson show that he is a brilliant writer switching from writing Epic Fantasy to Science Fiction, also the story alone is jsut so much fun to read and this was clearly the intention that Steven Erikson had in mind, bringing down several tropes often seen in Science Fiction and creating humorous scenes around them. Captain Hadrian Sawback is really a piece of work, many will hate his arrogance but there is also much to like and I think deep down the reason why you might hate Hadrian is that he just does what he likes and we are often bound by rules and protocols. Willful Child is a superb read and excellent escape from reality. After an eventful mission, Captain Hadrian goes about his constitutive mission in space, so lets hope we will see more of his adventures in the future. Highly recommended.
Read the full review here
- Steelheart by Brandon Sanderson, Gollancz
Also Brandon Sanderson doesn't shy away to give the evil Epic also some face time where you learn a lot about their background making them more than just evil persona's in the story. Highlighting where they are good at, their powers but also their weaknesses and when the action takes place between the Reckoners and the Epics you are just waiting when the trap is being sprung. Great lively and dynamic character cast.


This all combined make Steelheart just one awesome read. I read most of Brandon Sanderson earlier books and with Steelheart he continues his winning streak. Whether you are an adult of a teenager looking for a fast paced, action packed superhero story, shown from a new perspective, Steelheart is a must read for you. I really liked that Brandon Sanderson showed a different perspective with his story, normally you always have the good superheroes but what if they weren't so nice and forced the innocents into working for them? I recently got the copy of a short story in the Reckoners series, Mitosis, looking forward to reading it. Firefight the sequel to Steelheart will be out early January. 2015 is going to start of pretty heated I reckon!
Read the full review here
- Forge of Darkness by Steven Erikson, Bantam Press/Tor
With Forge of Darkness, Steven Erikson single handily shows that he is one of the major voices currently writing fantasy. I have enjoyed his Malazan series with full pleasure and Forge of Darkness is just the same. It's a terrific read and I cannot say this too often but if you are a fantasy reader you really have to have read his books, or go stand in a corner and shame on you! Forge of Darkness takes the reader back about 300.000 years before the first book Gardens of the Moon, and tells the story on how the Tiste lands are on the brink of war and how corrupt and backstabbing they can be, having had the pleasure of this revisit I got many of my questions answered but what would a great author be if he wouldn't raise me tenfold! This is definitely another winner. Fall of Light, the second book in the Kharkanas Trilogy is out 2015! write it down in your agenda!!
Read the full review here