Best Epic Fantasy of 2014
When you tell that you are a big fantasy reader people always ask me if I like Lord of the Rings, I say yes. But from this question you can see that a lot of people automatically associate the fantasy genre with Epic Fantasy. In essence Epic Fantasy has rules and regulations and is a genre that many authors have ventured into, with good and sadly sometimes also bad results. However the current books that are published in this genre all have something interesting working for them. They are and aren't comparable to Lord of the Ring, yes that have the same elements but the writing style is much more from our time. The authors below are helping to breath new air into this age old genre. Mark Lawrence's Prince of Fools, is the sort of continuation sort of not continuation of his The Broken Empire series which he finished last year, creating a new protagonist that is flawed and an cowered, but taking place in the Jorg era, his writing style is super. Forge of Darkness is the "spin-of" series to the Malazan Empire of the Fallen series of Steven Erikson, taking place well before the original series and showing the perspectives of the ancient races. Blood Will Follow shows a very strong turn of events, I liked the direction that Snorri Kristjansson ventured into. From the first book of Scott Lynch, The Lies of Locke Lamora, he has created a very strong world with some exotic influences, one of the best things in this books is powerplay of magic through the bondsmagi which is a very fresh interpretation of a magic system. Talking about magic systems, one of the best crafstmen of current Epic Fantasy is Brandon Sanderson and his Stormlight Archive, this is perhaps the best example of rewriting the rules of Epic Fantasy.
---------------------------------
- Prince of Fools by Mark Lawrence, HarperVoyager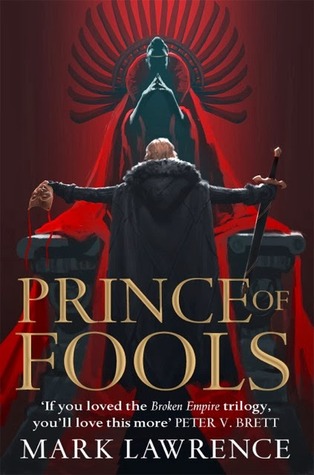 So the bottom line. Prince of Fools is one AWEsome read, what else if there to say? . Mark Lawrence had already established himself as one of the genre writers on the rise and he done so again with his new series: The Red Queen's War and the first entry Prince of Fools. He further proves that his writing wasn't a one time deal, Prince of Fools is just as solid in writing and has just as an interesting storyline and concept as his earlier stories, what adds even more to Mark Lawrence's skill is that he has written a completely different story than that of Jorg, nicely diversifying his repertoire and adding a few extra layers to his Broken Empire universe. Jalan and Snorri are both great protagonists that despite the flaws in their characters make up for a great time and readily pull the story forwards. Being set in the same time frame as that of Jorg's story I can imagine that it must have been hard writing a story that takes place in the same time with a bit of an common enemy and character that appear of both story but Mark Lawrence pulls this off as it should. Top notch. Where magic was mostly in the background of Jorg's series, in Jalan's part it takes on a more prominent role. Just as when I finished each book of the Broken Empire series, I need the sequel NOW! period. Prince of Fools is set out to be released 5th of June. Make this your summerread guys and girls, it really is that good. There isn't any info yet about the sequel, I have my fingers crossed for next year hopefully.
Read the full review here
- Forge of Darkness by Steven Erikson, Bantam Press/Tor
With Forge of Darkness, Steven Erikson single handily shows that he is one of the major voices currently writing fantasy. I have enjoyed his Malazan series with full pleasure and Forge of Darkness is just the same. It's a terrific read and I cannot say this too often but if you are a fantasy reader you really have to have read his books, or go stand in a corner and shame on you! Forge of Darkness takes the reader back about 300.000 years before the first book Gardens of the Moon, and tells the story on how the Tiste lands are on the brink of war and how corrupt and backstabbing they can be, having had the pleasure of this revisit I got many of my questions answered but what would a great author be if he wouldn't raise me tenfold! This is definitely another winner. Fall of Light, the second book in the Kharkanas Trilogy is out 2015! write it down in your agenda!!
Read the full review here
- Blood Will Follow by Snorri Kristjansson, Jo Fletcher
Swords of Good Men was a very solid debut, and with Blood Will Follow Snorri Kristjansson has really outdone himself. I do have to say that the tone in Blood Will Follow is different from what I read in Swords of Good Men, where there was first a lot of action, Snorri Kristjansson now slows down the pacing of the story and takes him times to completely develop the premise of his story. But just as what I have come to learn from the first book, there is never a dull moment in the story. For this development of both the story and the characters Snorri Kristjansson took an interesting approach that made them grow in their own way giving you as a reader much more grip on them. Adding the third perspective from Valgard added a lot of new possibilities which I am eager to see how Snorri Kristjansson will develop in the third book. And just lastly Snorri Kristjansson shows Vikings are pretty damn awesome! Bring on the next, I am hooked.
Read the full review here
- Republic of Thieves by Scott Lynch, Gollancz
The Republic of Thieves is a terrific read that further roots down the Gentlemen Bastard series on it's rightful place for me as one of the best fantasy series that I have come across. It is for these kind of books that I read fantasy. Of course a book stand and falls by how the author executes his story but for me Scott Lynch hasn't faltered any moment in any of his books so far. They are fresh, original and a lot of fun to read. Where the first two book really build-up the story and the world of the Gentlemen Bastard series, The Republic of Thieves starts to explore much of the early presumed events making the series that much more dynamic. Characterwise and story wise The Republic of Thieves is rock solid and a lot of readers will enjoy that finally the enigmatic character of Sabetha is explored in more detail. Plotwise you will be in for a lot of surprises. This is a series where the books, eventhough they are 600+ pages are just over too soon. The Thorn of Emberlain will be released in November later this year, but with already three strikes in a row I know the fourth book will be just as great and luckily no wait of a few year just a few months... but they will start to feel that way very soon...
Read the full review here
- Words of Radiance by Brandon Sanderson, Gollancz/Tor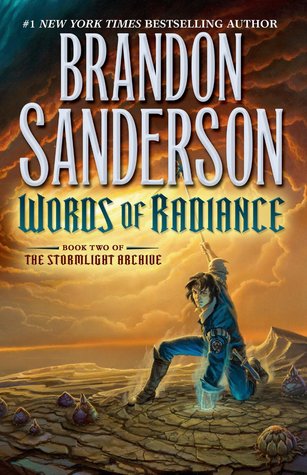 With Words of Radiance, Brandon Sanderson greatly builds up on the success of its predecessor The Way of Kings. What I have come to learn from his writing is that if you pick up one of his books you are in for a ride. Brandon Sanderson writes with a clear confidence and utterly engaging writing style, one that will pull you in from the first page onwards and doesn't let you go when you finish page 1000. The best thing here is that even though his books are tomes and would make for an excellent blotting weight, they don't feel like 1000 pages, more on the contrary, he makes them seem 300 pages and when you finish Words of Radiance you will be screaming for more. It's all over to soon, sadly. One important thing when it comes to sequel is to not let the story falter and this is exactly what Brandon Sanderson shows. He keeps everything exciting and on one hand greatly builds on the world that he had introduced in The Way of Kings, but also keeps on expanding and adding new things to his world. This gives a nice boost to the worldbuilding itself and overall character development. Brandon Sanderson has answered a few question regarding the world and characters in Words of Radiance but as any great storyteller he has raised many and many more. And just as with his predecessor he lets Words of Radiance end on a cliffhanger moment again with the Wit. I really start to enjoy reading about the Wit and I know there must be more to what we have seen so far... could he be a higher entity?? The next book in the Stormlight Archive named Skybreaker has a expected publication in 2015 and will focus on Szeth, YES!! Because stuff happened to him in Words of Radiance that explains some answers! As for the bottom line: pick up this series or... well you will be missing out on one of the best epic fantasy series ever, you don't want make that mistake trust me.
Read the full review here