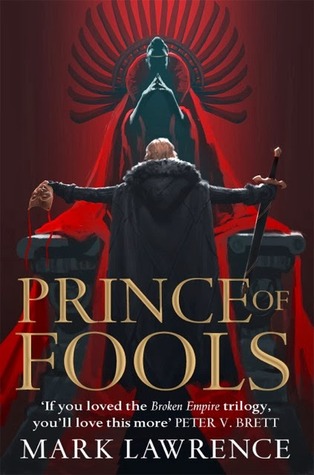 Prince of Fools by Mark Lawrence, The Red Queen's War
The Red Queen is old but the kings of the Broken Empire fear her as they fear no other.

Her grandson Jalan Kendeth is a coward, a cheat and a womaniser; and tenth in line to the throne. While his grandmother shapes the destiny of millions, Prince Jalan pursues his debauched pleasures. Until he gets entangled with Snorri ver Snagason, a huge Norse axe man, and dragged against his will to the icy north.

In a journey across half the Broken Empire, Jalan flees minions of the Dead King, agrees to duel an upstart prince named Jorg Ancrath, and meets the ice witch, Skilfar, all the time seeking a way to part company with Snorri before the Norseman's quest leads them to face his enemies in the black fort on the edge of the Bitter Ice.

Experience does not lend Jalan wisdom; but here and there he unearths a corner of the truth. He discovers that they are all pieces on a board, pieces that may be being played in the long, secret war the Red Queen has waged throughout her reign, against the powers that stand behind thrones and nations, and for higher stakes than land or gold.
One of the biggest names for me in the current fantasy genre has to be Mark Lawrence. Last year I read his Broken Empire trilogy: Prince of Thorns, King of Thorns and Emperor of Thorns, and what can I say that others haven't said before me? These books are definitely the good stuff and one of the best fantasy series ever. When I finished Emperor of Thorns I found a that Mark Lawrence would be publishing a new book this year titled: Prince of Fools. I did what a lot of other fans must have done, a little dance! And did another one when the ARC dropped in the postbox, big thanks Harper Voyager! Prince of Fools features a whole new protagonist and new original story but it does takes place in the same universe as Prince of Thorns, King of Thorns and Emperor of Thorns: the amazingly rich and intriguing Broken Empire. I will try to steer away from making too much of a comparison with Mark Lawrence's earlier books.
Ok, lets get on with Prince of Fools. Is it any good?
YES! It was mentioned in the beginning that the tone of Prince of Fools would be different than that of the Broken Empire series and this is notable from the first page onwards,
the general tone of the book which is bolstered by the protagonist Jalan Kendeth, has a more humorous tone to it.

Though the book does share some dark and gritty moments that you have come to expect from Mark Lawrence. The first thing that felt to note was the way how easily I got into Prince of Fools, Mark Lawrence has a very unique writing style that makes it for me easy to connect with the characters and the story itself. It could also be made that much easier by having read his other books that featured in the same world. But the characters of the book are different and hereby it really comes to show that Mark Lawrence knows how to create some very fine characters. It's spot on. Jalan and Snorri are completely different characters from what you have seen from Mark Lawrence before.
In Prince of Fools Mark Lawrence kicks off a completely new story centering around main protagonist Prince Jalan Kendeth, grandson of the (in)famous Red Queen. When I read the first scenes featuring Jalan I had a big ear to ear smile on my face. In the synopsis he is mentioned as a womaniser, coward and someone who likes to gamble and cheat. This is exactly what you get in Jalan's character. He prefers to live the easy life of luxury without any hassles and consequences. As long as he has fun. His type of character reminded me directly of some that I read about in different books and it's with such characters, the ones that get established early on with certain character flaw and virtues, that will make the story come to life. Jalan in Prince of Fools is no exception to this. But of course there is much more to Jalan's character than just the aforementioned characteristics. You might say well, he is the joker, so along the way he develops a conscience etc. This does happen but it is far from the "stereotypical" development that you normally see. Mainly because Jalan can be such a pain in the ass sometimes and yes he does give in a bit especially when Jalan and Snorri become more dependent on each other. One of the best things about Jalan's character is that when surrounded and cornered, he acts in a surprisingly vicious manner and his nature changes. On the front he would much rather avoid confrontation then face it but when there is only one choice left, that of facing his challenge he acts in ways that I think even he hadn't thought he could do, even by his training. With Prince Jalan Kendeth, Marks Lawrence has again created a very humane, easily relatable and troubled protagonist that you will start to feel for from the beginning, Jalan also has a lot of room to grow and develop, I am eager to see where Mark Lawrence will take Jalan next.
Besides Prince Jalan Kendeth, Mark Lawrence introduces another character Snorri ver Snagason. Though the main story is told from the first person narration of that of Jalan, Snorri makes up for a large part of the story and his fate is tightly interwoven with that of Jalan or should it be the other way around? As Snorri's name implies, he is from the frozen North, he is a Viking from the frigid wastes. Snorri is perhaps everything that Jalan isn't on first appearance, he is bear of a man, just what you can come to expect from a axe wielding Norse man, he is violent and prefers to solve all his issues with his axe. Just as with the case of Jalan's character, Mark Lawrence neatly develops Snorri's personality and character in a great way, the main motivation of Snorri's journey back to the North is his quest for saving his family. On the first take you might not expect this when you read about Snorri but he is a warrior with a heart... well at times and only to those he likes, you don't want to end on his bad side. Jalan and Snorri seem like an odd couple to make a journey, one being a coward and the other charging into battle with berserker rage, they do make up a great couple. Initially their relation suffered from start up problems, but after accepting that they are better off together, things do turn out for the better. Furthermore their personalities are so different with Jalan being a trickster and the most Snorri reveals is a grunt as acceptance that this inevitably leads up to some fun banter between them.
Jalan and Snorri make up for the most of the story, but there are plenty of more characters that make an appearance, even some of who we have read about before. Yes, for the curious ones, Jorg is mentioned. Some other interesting additions to the story of Prince of Fools are Katherine Ap Scorron and even that bastard Sageous. The new secondary characters include: The Red Queen herself, her involvement in everything in the world does become notable as the story progresses and added a great flavour to the story in terms of how dire the war is. The same counts for the Silent Sister who resides behind the throne of the Red Queen, this old crone of a sorcerer has a lot of influence and lets not forget the brief but powerful confrontation with the ice witch Skilfar, who gives some sound advice to the young and often naive Jalan. As I already mentioned with the main characters, Jalan and Snorri, Mark Lawrence has a great way to show his characters and the same goes for the secondary characters, they are fleshed out in detail and all act in their own personal ways, no copies whatsoever, this makes the dialogues that follow dynamics and great to read.
So what of the story itself? There are some hints given in the above text but a small summary follows. Prince Jalan Kendeth, the typical womaniser and gambler suddenly finds his fate interwoven with that of the Norse Viking, Snorri. Their fate got intervowen by some dark magics of the Silent Sister. With no other options left, Snorri and Jalan flee from the Red Queen's to find a cure for this curse. But along the way they learn that there are two ways to lift the curse... After debating they accept their fate and find that there is nothing left but to accept their curse and do what they have to do. The thing that readily propels the story forwards is the personal quest of Snorri, his quest is to travel North to save his family. But some dark things are happening in the North. The Dead King is on the rise (do you still know him from the Broken Empire?). It was very nice to see a more prominent focus on the Dead King and his Unborn on the rise, dark necromancy is at play here. The trek isn't easy as they do encounter these Unborn. I have to admit that the dark and gritty influences on the story do come from the Dead King and his Unborn, it goes on the macabre when you learn how they are made, but it is nicely thought out and executed so that is fits perfectly in the story and creates a nice diversity. In between the journey of Jalan and Snorri, Katherine and Jorg do make an appearance, as well as Sageous, and you learn to Prince of Fools takes place at the same time as that of Jorg's in the Broken Empire. I won't spoil the ending of the story, but let me just say the story gets a darker air as the pages fly by and in the end it gives a nice final battle/confrontation between mighty forces, viking battles, and plenty of twists, edge of your seat stuff. Once you get going in Prince of Fools, cancel _all_ your plans. You won't be able to put it down.
Yes there is one thing that I do have to say, some are going to say, yet again? Yes. So what is it? It's the world of the Broken Empire universe. The story in the Broken Empire was contained to only a few place, but in Prince of Fools, Mark Lawrence readily starts to explore his world into much more detail showing different countries, naming places all that fall in the European style but named just a bit different. Using such an altered European always inspires me to think about the places in my mind, following Jalan and Snorri's journey without a map. Added to this comes the influence of the "Builders" to the world. I mentioned in my reviews of the Broken Empire that the era of this universe is something of a guess, but my guess would be something of a post apocalyptic kind of something. Again Mark Lawrence reveals some tech of the Builders that must imply something of electricity or some such, dropping these few hints of technology in his story really made me stop and wonder and think a bit extra about his world. The Broken Empire universe for me is really reminiscent to the world that Stephen King created in his Dark Tower series, once that will never stop to amaze me.
So the bottom line. Prince of Fools is one AWEsome read, what else if there to say? . Mark Lawrence had already established himself as one of the genre writers on the rise and he done so again with his new series: The Red Queen's War and the first entry Prince of Fools. He further proves that his writing wasn't a one time deal, Prince of Fools is just as solid in writing and has just as an interesting storyline and concept as his earlier stories, what adds even more to Mark Lawrence's skill is that he has written a completely different story than that of Jorg, nicely diversifying his repertoire and adding a few extra layers to his Broken Empire universe. Jalan and Snorri are both great protagonists that despite the flaws in their characters make up for a great time and readily pull the story forwards. Being set in the same time frame as that of Jorg's story I can imagine that it must have been hard writing a story that takes place in the same time with a bit of an common enemy and character that appear of both story but Mark Lawrence pulls this off as it should. Top notch. Where magic was mostly in the background of Jorg's series, in Jalan's part it takes on a more prominent role. Just as when I finished each book of the Broken Empire series, I need the sequel NOW! period. Prince of Fools is set out to be released 5th of June. Make this your summerread guys and girls, it really is that good. There isn't any info yet about the sequel, I have my fingers crossed for next year hopefully.