Best Horror of 2014
Best Horror books of 2014
Who doesn't like a good scare once and a while? My reading has been mostly focused on the true fantasy genres like Epic and Urban fantasy. I had taken to saying to myself to read more outside the box and venture amongst others in the horror genre. Well what can I say,it has proven very fruitful. I think I have just discovered a new tip of the iceberg, the horror stories currently are very diverse not solely focusing on one big scary thing but you often see that writer play into the small fears, something supernatural that isn't explainable or the even smaller, things that can hardly be seen by the naked eye. Yes microbes like bacteria, viruses and fungi, nature can be just as cruel or even crueler. This brings my to my first pick, The Girl with all the Gifts, this shows just how cruel nature can be. In the big picture it's zombie fiction but not cause by a virus, but something different... and in the heart of this story lies a very emotional drive, haunting and beautiful at the same time. Stephen King published two books this year Mr. Mercedes (a sort of pulp detective) and Revival (a supernatural thriller/horror). Revival is the return to the classic supernatural King in the start of the story everything seems more than normal but soon supernatural things start to happen with electricity, the ending reveals something mighty interesting. The Three by Sarah Lotz is just downright scary. No serious I mean it. This is a perfect story to scare you. Sarah Lotz plays into the fears of society with what happens in the book, but adds a lot more to it in with human reactions and emotions and the reveal at the end. WOW. Sarah Pinborough's Murder is the sequel to Mayhem, and is a Victorian detective story with a definite supernatural twist, where other authors invent some scare factor of her own, Sarah Pinborough introduces some folklore into her story. Sarah Pinbourough produces quite the disturbing ride, but in the best possible way! Mira Grant's Parasite is a terrifying view of our possible future. I like this kind of horror books with a science twist added to it, since I know, from my schooling just how some of these things work. Some books have proven to be unbelievable in the painting of the future but Mira Grant creates a very dooming prospect with Parasite.
- The Girl with all the Gift by Mike Carey, Orbit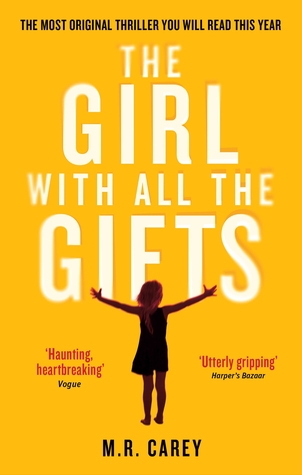 The Girl with All the Gifts is one of the best post apocalytic zombie stories that I have read so far. I only read the synopsis before starting the book, I had no clue that it would turn out this way! M.R. Carey builds up his story in a perfect manner first introducing you to several important characters and then dropping some hints that not everything is a rose colored as it seems, confronting you with an utterly destroyed world that has been taken over by hungries. In the midst of this all you have one brilliant protagonist the innocent 10 year old girl Melanie who doesn't know any better than learn new things from Miss Justineau. Just a few chapters in M.R. Carey readily transforms his story and throws it all in a rapid right until the end. There is a climax nearing the ending of the book and continuing from this point on, the last few pages again inspire a definite delicateness to the story with Melanie and Miss Justineau. The Girl with All the Gifts is in many parts a dark story when it comes to the influences, but Melanie really makes the sun come out and brightens the day. Great stuff and definitely a must read.
Read the full here
- Revival by Stephen King, Hodderscape
With Revival Stephen King has written a rich, suspenseful and dynamic story. This is a great return to what Stephen King is best in. Writing a nail biting and highly addictive story that when as soon as you reach the end it will slap you wide awake. I haven't read such a story in a while but everything about Revival is just on par with the excellent writing skill of Stephen King. When you read his books you are in the hands of a master. Let's hope next year will also see some great King releases

Read the full review here
- The Three by Sarah Lotz, Hodderscape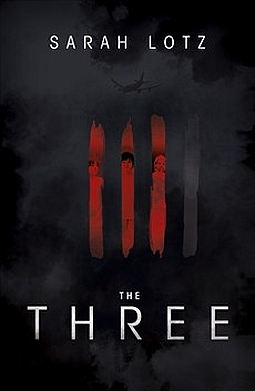 With The Three, Sarah Lotz has created on of the best Horror/Thriller stories that I have read so far. From idea down to execution this is just the perfect story to give you a terrific scare. On the first premise it might seem that everything is ordinary about the children, only that they were the lucky few able to survive such a horrible crash but this soon turns out to be some different. I am very impressed with how Sarah Lotz played around with human emotions in her story and this only helped to let the "impending doom" sense of the story resonate even stronger. When you get down to the ending of THe Three I think that everyone will be surprised by it. I was. It's one of those things that hits you hard on the right place. Sarah Lotz has just written the perfect horror story. This will be undoubtedly one of the best horror stories published in 2014. And luckily this is only the first, Hodder and Stoughton have announced that they will publish more stories of Sarah Lotz! The Three is out May 22nd. Make sure you don't miss this book.
Read the full review here
- Murder by Sarah Pinborough, Jo Fletcher
With Murder, Sarah Pinborough has really stepped up her game. I thoroughly enjoyed Mayhem, and had high hopes for Murder. Sarah Pinborough went above and beyond my expectations. If I look back on the first story it was great stuff but looking over the whole duology and the twist in the plot of Murder surrounding Thomas was just perfect. The follow-up of this twist spun another few layers of darkness over her story. The Mayhem series (Mayhem and Murder) is a must read for everyone who likes to read something very, very good in the genre. It's a non-stop, quite disturbing ride through one of London's darkest parts of history, with an amazing cast and brilliant storyteller! I will be keeping an eye out to what Sarah Pinborough will write next, and so should you, this is the stuff that will keep you up at night, sleeping with a light on.
Read the full review here
- Parasite by Mira Grant, Orbit
When I started reading Parasite I had no clue as to where the story might finish. Mira Grant shows that she knows just how to write an excellent horror/thriller story inspired by a pharmaceutical company with a monopoly position. Parasite is a pulse pounding thriller that is leaving me with a definite aftertaste wanting more. I really liked the focus on the science part with the genetic engineering and though it is shown in basic detail it still inspires me with this fear of anything is possible and I don't want to think about what some of the big current pharma companies are up to behind their closed laboratory doors. The accuracy and confidence that Mira Grant uses to write these science scenes really help to bolster the overall feeling of danger and unpredictability that has to accompany such a book, it leaves you on the edge of your seat. The increase in pacing after the halfway mark when some important revealing have been made was nicely done, this really threw me as a reader even further into the story and i just had to finish Parasite. The characters, and namely Sally, well designed and are fleshed out into the details. Using the accident of Sally and her subsequent recovery, and the duality that was accompanied added a great many layers to Sally's character. Parasite leaves the first story of the Parasitology trilogy on a nice cliffhanger moment which I am eager to see explored in the sequel. I have high hopes for this series!
read the full review here