Review Round-up November
Review Round-up November
1. Willful Child by Steven Erikson, Bantam Press/Tor
This venture of Steven Erikson into the dark reaches of was a very wild, fast and rip roaring adventure that for me succeeded in many ways. Not only does Steven Erikson show that he is a brilliant writer switching from writing Epic Fantasy to Science Fiction, also the story alone is jsut so much fun to read and this was clearly the intention that Steven Erikson had in mind, bringing down several tropes often seen in Science Fiction and creating humorous scenes around them. Captain Hadrian Sawback is really a piece of work, many will hate his arrogance but there is also much to like and I think deep down the reason why you might hate Hadrian is that he just does what he likes and we are often bound by rules and protocols. Willful Child is a superb read and excellent escape from reality. After an eventful mission, Captain Hadrian goes about his constitutive mission in space, so lets hope we will see more of his adventures in the future. Highly recommended.
Read the full review here
2. Retribution by Mark Charan Newton, Tor
Retribution is a terrific continuation of the ground work that Mark Charan Newton put into place in Drakenfeld. There isn't much to do besides loving this series. The whole world that is envisioned in these books is one-of-a-kind and has a lot of great elements working in it's favor. The elements that make up this world are all gathered from different directions of fantasy, which Mark Charan Newton skillfully combines. Added to this comes a set of protagonists that are just as rich and interesting as the world itself. They aren't your standard boastful all powerful all knowing kind invulnerable kind of characters, but they have flaws. Flaws that they have come to understand and use and live with, both Lucan and Leana are very well portrayed, perhaps one of the best humanlike characters I have read so far. So all in all, yes Retribution is a awesome read and will definitely be placed in my top of 2014 list. I kindly urge you to pick it up as well, asap.
Read the full review here
3. Revival by Stephen King, Hodder and Stoughton
With Revival Stephen King has written a rich, suspenseful and dynamic story. This is a great return to what Stephen King is best in. Writing a nail biting and highly addictive story that when as soon as you reach the end it will slap you wide awake. I haven't read such a story in a while but everything about Revival is just on par with the excellent writing skill of Stephen King. When you read his books you are in the hands of a master. Let's hope next year will also see some great King releases!
Read the full review here
4. Steelheart by Brandon Sanderson, Gollancz
This all combined make Steelheart just one awesome read. I read most of Brandon Sanderson earlier books and with Steelheart he continues his winning streak. Whether you are an adult of a teenager looking for a fast paced, action packed superhero story, shown from a new perspective, Steelheart is a must read for you. I really liked that Brandon Sanderson showed a different perspective with his story, normally you always have the good superheroes but what if they weren't so nice and forced the innocents into working for them? I recently got the copy of a short story in the Reckoners series, Mitosis, looking forward to reading it. Firefight the sequel to Steelheart will be out early January. 2015 is going to start of pretty heated I reckon!
Read the full review here
5. Forging of a Knight, Prison Planet of the Mah-Lahkt by Hugo V. Negron, Self-published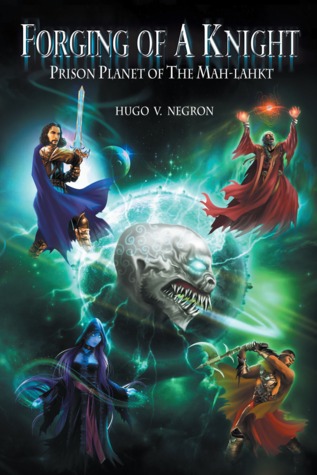 Prison Planet of the Mah-Lahkt is a terrific ending to the first Forging of a Knight series. Hugo Negron has gotten better at writing with every single book. As I already said from the first book he was on my radar and he kept on it with his second book. Writing a series as a self published author is difficult but his second book didn't falter and with this third book Prison Planet of the Mah-Lahkt Hugo Negron pulled all the stops to create one spectacular ending. I already mentioned a big plot twist and I will keep on saying it, this really transformed the story thusfar and will propose and interesting start for continuation. The characters all over the series never stop developing and this is something that helps to get the story further. It seems that you have never learned everything just yet about the characters and the world. Though the premise of the story of Prison Planet of the Mah-Lahkt might sound like a simple journey, your wrong, it's far from it. Hugo Negron keeps on building his world and characters and keeps on revealing more backstory, there is never a dull moment in this book. Hugo Negron has already written three very strong books, he has already let know that he is a few pages in the fourth book, I am eager to find out the direction of that story. Recommended!
Read the full review here