May Review Round-up
May Review Round-up
1. Words of Radiance by Brandon Sanderson, Tor/Gollancz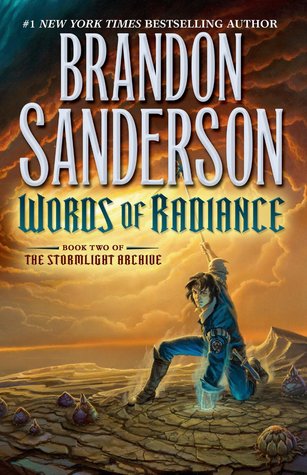 In April I read the start of the Stormlight Archive, The Way of Kings and was immediately sucked into the amazingly rich world that Brandon Sanderson managed to show in it. I was fortunate enough not to have to wait a few years for the sequel to be released as it was already sitting on my TBR pile. In Words of Radiance, Brandon Sanderson nicely broadens the scope of his story still lying the focus on Kaladin and Shallan but also involving more and more different characters to neatly draw a complete picture. Both the books have been clocking in at about 1000-1100 pages and with such an epic scope it's can be hard to keep the focus on the main drive of the story, here it clearly comes to show that Brandon Sanderson has gained a lot of experience from continuing Robert Jordan's Wheel of Time series. There is never a dull moment in Words of Radiance, Brandon Sanderson managed to grab me from start to finish with his sequel. Luckily there are plenty of more book planned in the Stormlight Archive, Brandon Sanderson is on it's way to score the next big Epic Fantasy hit!
Read the full review here
2. The Crimson Campaign by Brian McClellan, Orbit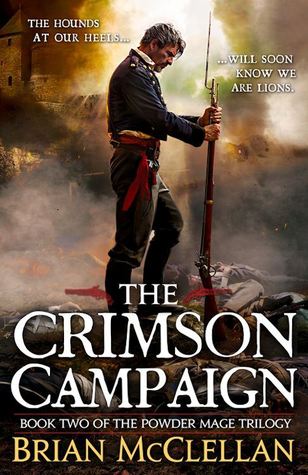 Last year the first book of Brian McClellan's The Powder Mage Trilogy, Promise of Blood was released and was one of the first "flintlock fantasy" books that I had the pleasure to read. In this first book, Brian McClellan introduced many cool aspects, elemental mages like the privileged and the powder mages the marked, to just name two of them. Ow wait I totally forgot to mention that Gods also walked the Earth once more! The story of the first book was left on a cliffhanger moment and I was eager to see just what would happen in the sequel. The Crimson Campaign picks up directly from where Promise of Blood stopped, there had been some interesting revealings nearing the end of the first book and they all soon become apparent. One of the Gods is helping Kez opposition and it's Tamas' task to destroy their armies but nothing is working in his favor and he soon becomes separated from his main army and now has to fend for himself behind enemy lines. It all comes down to one treacherous general within Tamas' force which caused this to happen. Taniel, Tamas' son has suffered greatly from the blowback from having shot Kresimir in the eye but when he hears the new of the possible death of his father he suddenly has a change of heart and put everything into motion to reach the frontline asap. When I compare the first and second book there is a slight difference in the tone, where Promise of Blood introduced everything of the world, The Crimson Campaign builds on what has already been told and allows Brian McClellan to readily take his story further.
Read the full review here
3. Blood Will Follow by Snorri Kristjansson, Jo Fletcher
Another great debut from last year was Snorri Kristjansson's Swords of Good Men. I can be straightforward and say that this is just a story about Vikings, but that wouldn't be fair by far, not it was far more than that. Blending Viking folklore, dark and gritty action, Epic Fantasy and some magic in the mixer and you get it perhaps a bit right. It was a unique blend that I hadn't seen and read before. In Blood Will Follow, Snorri Kristjansson steps up his game in about a 100fold. I had certain expectations and I readily enjoyed Swords of Good Men but what I read in Blood Will Follow just blew me away. This for me was a prime example of how to take your story those few steps further. Where the first book was a bit chaotic when jumping from scene to scene, Blood Will Follow comes over in a most natural way and it seems that Snorri Kristjansson is really taking his time to show just what he wants to show and prepping up his story for the third book in the series. Yes, of course there are still enough bloody battles to be found, just look at the titles. But what struck me as the best element of this story was the calm be for the storm, it seems that one big encounter is on it's way and with Gods interfering or hinting at some characters, who know what can happen!
Read the full review here

4. Prince of Fools by Mark Lawrence, Harper Voyager
If you say Mark Lawrence's name to many a SFF reader he or she will be saying Broken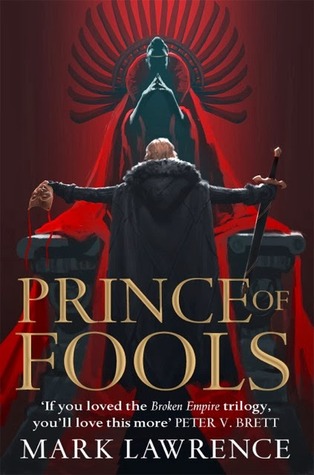 Empire on the spot, else it wouldn't be an SFF reader! Last year saw the unfortunate closing of the Broken Empire series with Emperor of Thorns. Each of these books was just one hell of a book one after the other. Mark Lawrence showed that he had the skill. Back in 2013 it was already noted that 2014 would see the release of the next series, Red Queen's War, which would also take place in the universe of the Broken Empire, I think that I wasn't the only one who did a little dance of joy when he or she heard this news. Prince of Fools the first book in the new series has a different tone than the earlier Broken Empire book and introduces you to a new protagonist as well, Jallan Kendeth who is more or less the opposite of Jorg, he is a ladiesmen, a gambler and doesn't mind taking the occasional drink. Jallan gets himself in over his head soon enough and this kick off a brand new and highly enjoyable story in the Broken Empire universe. With Prince of Fools Mark Lawrence shows more and more of the geography of his world and readily helps to bolster a definite feeling of epicness to this story. And like I have already mentioned in my review of his three earlier books, this Broken Empire world is just awesome!
Read the full review here
5. Morningside Fall by Jay Posey, Angry Robot
Another one of those inescapable debuts of last year was Three by Jay Posey. Well to be honest I did miss the press release but a gentle nudge from Angry Robot cleared my eyes. Three was in many ways one of the best SF debuts that I read last year. I had very high hopes for Morningside Fall and Jay Posey showed that he doesn't falter with his sequel. I do have to say that I was expecting a different kind of book, like many reviewers have already mentioned the tone that Jay Posey introduced in Three is absent in Morningside Fall, Three left the party and in Morningside Fall the focus is now on Wren. Judging Morningside Fall not by what I wanted to see but what I got places this book in the category of "couldn't have wished for a better sequel". Wren is the governor of Morningside because he can do things to Weir that no other can. However the living isn't easy withing Morningside eventhough they are now protected from the Weir and Wren has to flee in fear of his life. This brings him and his friend back to where they started out on the open desolated plains with Weir threats around each corner... With Morningside Fall Jay Posey neatly expands his Legends of the Duskwalker series, with already to different tones, I am eager to see where he will take his story next.
Read the full review here
---------------------------------
Which books
did you enjoy the most last month?
Cheers,
Jasper