(p)review forecast June part 1
(p)review forecast June part 1
Here is my selection of books that I will be reading in the first two weeks of June.
What will you be reading?
Chicago, 1932. Mick Oberon may look like just another private detective, but beneath the fedora and the overcoat, he's got pointy ears and he's packing a wand.

Oberon's used to solving supernatural crimes, but the latest one's extra weird. A mobster's daughter was kidnapped sixteen years ago, replaced with a changeling, and Mick's been hired to find the real child. The trail's gone cold, but what there is leads Sideways, to the world of the Fae, where the Seelie Court rules. And Mick's not really welcome in the Seelie Court any more. He'll have to wade through Fae politics and mob power struggles to find the kidnapper – and of course it's the last person he expected.
2. Veil of the Deserters by Jeff Salyards, Night Shade Books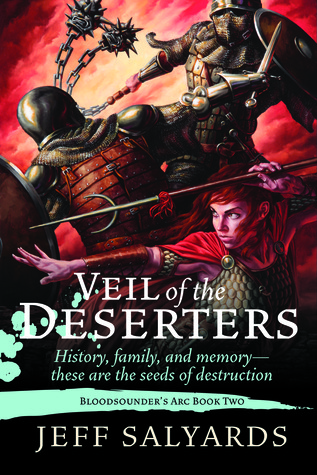 History, Family and Memory… these are the seeds of destruction.

Bloodsounder's Arc continues as Captain Braylar Killcoin and his retinue continue to sow chaos amongst the political elite of Alespell. Braylar is still poisoned by the memories of those slain by his unholy flail Bloodsounder, and attempts to counter this sickness have proven ineffectual.

The Syldoonian Emperor Cynead has solidified his power base in unprecedented ways, and demands loyalty from all operatives. Braylar and company are recalled to the capital to swear fealty. Braylar must decide if he can trust his sister, Soffjian, with the secret that is killing him. She has powerful memory magics that might be able to save him from Bloodsounder's effects, but she has political allegiances that are not his own. Arki and others in the company try to get Soffjian and Braylar to trust one another, but politics in the capital prove to be far more complicated and dangerous than even Killcoin could predict.

Deposed emperor Thumarr plots to remove the repressive Cynead, and Braylar and his sister Soffjian lie at the heart of his plans. The distance between "favored shadow agent of the emperor" and "exiled traitor" is an unsurprisingly short road. But it is a road filled with blind twists and unexpected turns. Before the journey is over, Arki will chronicle the true intentions of Emperor Cynead and Soffjian. And old enemies in Alespell may prove to be surprising allies in a conflict no one could have foreseen.
The year is 1955 and something is very wrong with the world. It is fourteen years since Churchill died and the Second World War ended. In occupied Europe, Britain fights a cold war against a nuclear-armed Nazi Germany.

In Berlin the Gestapo is on the trail of a beautiful young resistance fighter, and the head of the SS is plotting to dispose of an ailing Adolf Hitler and restart the war against Britain and her empire. Meanwhile, in a secret bunker hidden deep beneath the German countryside, scientists are experimenting with a force far beyond their understanding.

Into this arena steps a nameless British assassin, on the run from a sinister cabal within his own government, and planning a private war against the Nazis.

Now the fate of the world rests on a single kill in the morning . . .
4. Reckoning by Kerry Wilkinson, Pan Macmillan / Tor UK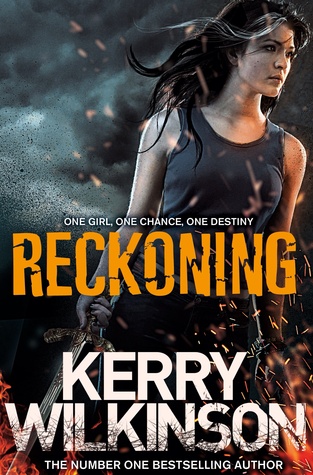 In the village of Martindale, hundreds of miles north of the new English capital of Windsor, sixteen-year-old Silver Blackthorn takes the Reckoning. This coming-of-age test not only decides her place in society - Elite, Member, Inter or Trog - but also determines that Silver is to become an Offering for King Victor.

But these are uncertain times and no one really knows what happens to the teenagers who disappear into Windsor Castle. Is being an Offering the privilege everyone assumes it to be, or do the walls of the castle have something to hide?

Trapped in a maze of ancient corridors, Silver finds herself in a warped world of suspicion where it is difficult to know who to trust and who to fear. The one thing Silver does know is that she must find a way out . .
5. American Craftsmen by Thomas Doyle, Tor USA
In modern America, two soldiers will fight their way through the magical legacies of Poe and Hawthorne to destroy an undying evil—if they don't kill each other first.

US Army Captain Dale Morton is a magician soldier—a "craftsman." After a black-ops mission gone wrong, Dale is cursed by a Persian sorcerer and haunted by his good and evil ancestors. Major Michael Endicott, a Puritan craftsman, finds gruesome evidence that the evil Mortons, formerly led by the twins Roderick and Madeline, have returned, and that Dale might be one of them.
Dale uncovers treason in the Pentagon's highest covert ranks. He hunts for his enemies before they can murder him and Scherie, a new friend who knows nothing of his magic.

Endicott pursues Dale, divided between his duty to capture a rogue soldier and his desire to protect Dale from his would-be assassins. They will discover that the demonic horrors that have corrupted American magic are not bound by family or even death itself.

In Tom Doyle's thrilling debut, American Craftsmen, Seal Team Six meets ancient magic--with the fate of the United States hanging in the balance . . .
--------------------------------
Jasper