Book Review: Hallow Point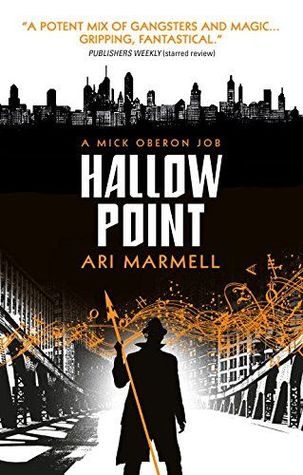 Hallow Point by Ari Marmell, Mick Oberon #2
The Spear of Lugh, one of the four Kingly Hallows of Ireland is in Chicago. And everyone,
everyone
wants it, for it is said that he who carries the spear into battle cannot be defeated. Among those who seek it are an agent of the infamous Wild Hunt; a mobster who knows far more about these things than he should; and of course both the Seelie and Unseelie Courts – the
last
people PI Mick Oberon would want getting hold of the spear...
Last year Titan books unexpectedly published the first book,
Hot Lead, Cold Iron
in Ari Marmell's latest series, Mick Oberon. Before this I read Ari Marmell's Widdershins adventures. A young adult sword and sorcery and thiefing series. Which compared to this Mick Oberon series is quite something different. If you read my review of
Hot Lead, Cold Iron
, you know I liked the book and when I was offered to read
Hallow Point.
How could I say no?
Hallow Point
once again puts you right next to Personal Investigator Mick Oberon. If you read
Hot Lead, Cold Iron,
you know that Mick Oberon isn't your average joe. He is a Fae, with pointy ears included. He is the man in Chicago for solving the supernatural weird. In solving these crimes he doesn't use a gun as a sidearm but something much cooler in my opinion, a wand, and not just any wand. A Luchtaine & Goodfellow one.
Hallow Point
starts of in a rather eventful way. Mick is currently running away and trying to get out of a nasty situation alive. He is fighting a big monster in a museum, and even with the fae powers that he holds, he is still being outmatched and in this process he does loose the tip of his ear, which is of course highly annoying as it does make he fedora hat sit a bit awkward. Yes, fedora's are still in, in Mick's time 1930's Chicago! Mick soon find out that there is much more to this all, the creature he met at the museum is partly an acquaintance so to say... What happened at the museum doesn't go unnoticed and soon Mick finds himself right in the middle of everything. One important item has reached the city of Chicago, The Spear of Lugh, a very powerful relic, which every important player wants to get their hands on. As I already mentioned there is more than one person who want to have this spear, not only one of who runs the Wild Hunt, but also Seelie and the Unseelie courts. Courts where Mick is even more better acquainted with. And if that isn't enough, some other Chicago locals want to have this spear for their collection. It is up to Mick to make sure this spear doesn't fall into the wrong hands and of course to firstly locate it. A lot is depending on Mick's shoulders, if he fails, a lot more can and possible will.
If I look at the first story, Hot Lead, Cold Iron and this story, it definitely falls to note that Ari Marmell doesn't hesitate one bit in building on the first story, so I do recommend that you start at the beginning of reading this series. That taken aside, Hallow Point, feels as a much more mature story. As Ari Marmell directly build on the storyline of the first book and on the foundation laid therein. This is something that I learned of him in his Widdershins adventures and there is showed it worked as it does so again in Hallow Point. By this Ari Marmell manages to keep the pacing very high and keeps you addicted and wanting to find out more. But as I said it does come at a small that makes jumping in with the second book difficult.
One aspect that made Hot Lead, Cold Iron and that makes Hallow Point a blast to read is the main protagonist Mick. I love this guy. The way that he acts and thinks and reacts on certain events is just funny. Mick Oberon is as I mentioned above a Fae, and has a lot of connections in the Seelie and Unseelie courts and with other supernatural creatures. He does all his investigations in a long coat and a fedora hat which hides his point ears as well as his holstered L&G wand. And since the story takes place in the 1930's Chicago with mobster running loose, Ari Marmell has chosen to let this influence Mick's character. He talks just like you would expect someone of that time. It's done pretty cool, I really felt myself talking in that way after just a few chapter.
Taking all this together: the once again breakneck pacing story and the marvelous character that is Mick Oberon, and the whole setting of the book, make
Hallow Point
a more than great follow-up. Ari Marmell doesn't let you as a reader took look away once from the story. As I already mentioned, the story of
Hallow Point
feels more matured and actually also a bit darker than that of
Hot Lead, Cold Iron
. Just as great and perhaps that much better as we now get to see what is making several things work. Ari Marmell builds greatly on the foundation that he laid down in
Hot Lead, Cold Iron
. The last question that remains to be answered is, what will Mick Oberon's next job be?