Review Round-up February
Review Round-up February
Here are my favorites of February, which books did you enjoy reading the most?
Cheers,
Jasper
---------------------------
1. Touch by Claire North, Orbit
So what finally remains to said is: Read this book! Claire North's is on a sure fire winning streak. Just as with The First Fifteen Lives, Claire North has gone out of her league with the story of Touch. Touch for me was a definite darker tinge story that The First Fifteen Lives, owing to the chasing and also with the body jumping. Kepler is shown as a very interesting and enjoyable protagonist and has his work cut out for him. One thing that I totally forgot to mention was the control that Claire North has with body jumping, it is easy to jump from person to person, but in all case none of the ghosts do this. The details and bigger picture that Claire North shows with body jumping and inhabiting it, an action reaction sequence makes a very nice whole to the story. And let's not forget the world building in Eastern Europe. Just pitch perfect, a brilliant atmosphere! The story of Touch could readily, no let me rephrase, should readily be opted to be turned in a movie. Forget all the other thrillers, this is one of the biggest things this year. make sure you read this one.
Read the full review here
2. Those Above by Daniel Polansky, Hodderscape
With Those Above, Daniel Polansky proves himself once more that he is an author to watch out. He is not only a great author when it comes to the dark noir detective genres, but he can also write the classic Epic Fantasy genre very vividly. I might have called him an underdog one time with his Low Town series, not many people have heard of it, and he again has this position within the Epic Fantasy genre. Watch out is all I can say. In Those Above Daniel Polansky hits all the right snares for a terrific Epic Fantasy story and series to be. Introducing enigmatic and likable and diverse protagonist and even though they might act in less savory ways, you will be rooting for them in the end. The immortal Those Above are very nicely portrayed as oppressors and ultimate rulers. You could really see the tension building up all along the story and I think in the second book something will definitely give. Or break. Or explode perhaps. And next to this all comes a complex and dynamic world. As with Daniel Polansky's other books, Those Above once again comes highly recommended. It's out 26st of this February.
Read the full review here
3. A Darker Shade of Magic by V.E. Schwab, Titan/Tor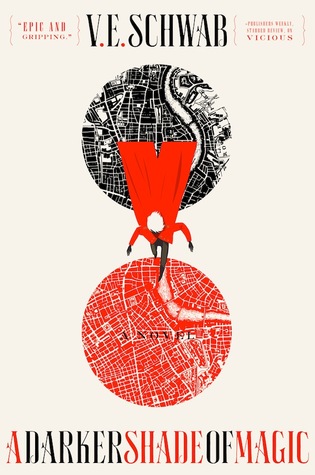 Which brings me to the following conclusion: WOW! With A Darker Shade of Magic, V.E. Schwab has really out done herself. With Viscous last year and A Darker Shade of Magic, she is on a winning streak, these book are just plain awesome. V.E. Schwab knows how to write engaging and in this case multidimensional characters, how to construct interesting, appealing and shocking worlds and events to in the end produce an impressive book. A Darker Shade of Magic has this all and much more. This is one of the must reads for 2015. I don't say this very fast and often, but this is already one of my nominees for the best of list at the end of the year. Really you don't want to miss out on this book.
Read the full review here
4. Guns of the Dawn by Adrian Tchaikovsky, Tor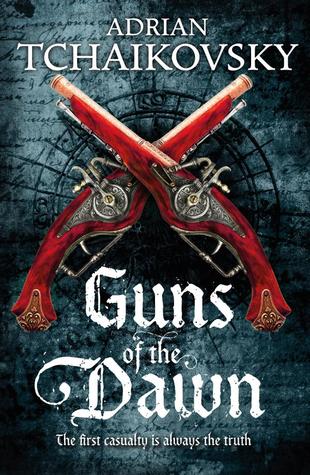 With Guns of the Dawn Adrian Tchaikovsky proves that after his Shadows of the Apt series he still has enough big and cool ideas for many cool books. Guns of the Dawn is something completely different than what he has wrote before but just as great and perhaps even better. I have become a big fan of his writing, it's easy, natural but loaded with details. He tackles some heavy subjects in Guns of the Dawn but doesn't make them feel like a ton. I do have to be honest, I haven't read Jane Austen so all those references were missed by me. All I can say in the end is that I thoroughly enjoyed Guns of the Dawn. The aspect of neighboring countries at war is the biggest one but as expected of Adrian Tchaikovsky he address this in full details, showing a war effort and how it effect each and every one and at the heart a coming of age story of a very strong and likable protagonist: Emily. I so wish this wasn't a standalone!
Read the full review here
5. Firefight by Brandon Sanderson, Gollancz
This all combined makes the story of Firefight is a non stop action packed wet and wild rollercoaster ride that you don't want to miss out on. Though this is marketed as a young adult book I know that the majority if not every adult reader who reads the Reckoners books will enjoy them just as well. Brandon Sanders is a master storyteller and his books should be made compulsory reading material. In Firefight he expands the whole Reckoners universe in full color, choosing a different city to let the story take place was a wise decision as nicely avoided any possible repetition of events in the first book. It allowed Brandon Sanderson to invest time in introducing the new surrounding and new characters that live in Babylon Restored. However as I said a new place doesn't make it a great sequel alone, Brandon Sanderson also invests a lot of time and effort in developing his characters, he does start to blur the lines when it comes to Epics, are there good and bad Epics or is every Epic evil? Many questions are answered but even more are raised, also a hallmark of a good sequel. The wait now will be long as the third book in the Reckoners series, Calamity, will be released in the spring of 2016. But if you haven't picked up this series yet, you have the time to read all three books so far!
Read the full review here