Book Review: Heir to the Jedi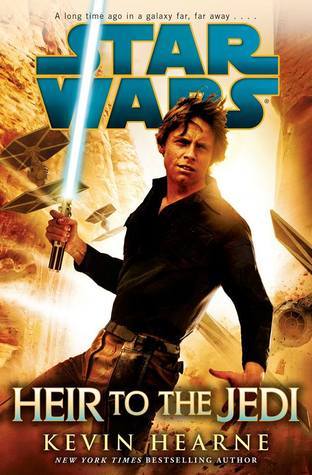 Heir to the Jedi by Kevin Hearne, Empire and Rebellion #3
The Galactic Civil War rages on after the destruction of the Death Star and Luke Skywalker struggles to learn more about the Force without the aid of Obi-Wan Kenobi – or indeed without any aid at all. But the few memories he has of Obi-Wan's instruction point the way to a stronger control of the Force, and he is encouraged to pursue it by a new friend in the Alliance. When Luke, R2-D2 and his new ally are tasked with liberating a valuable asset from the Empire and delivering her to a safe planet where she can aid the Alliance, their journey across the galaxy is fraught with peril – and opportunities for Luke to discover the mysteries of the Force.

Back in 2013 a new Star Wars extended universe was launched by completely new voices to the books. The two big names (and three writers) that preceded Kevin Hearne were Martha Wells with Razor's Edge (book one) which focused on Princess Leia and James S.A. Corey with Honor Among Thieves (book two) which focused on the scoundrel Han Solo.What you perhaps can make up from the cover is that Heir to the Jedi focuses on Luke Skywalker. His perspective was lacking up untill this point. I do have to say in advance that Kevin Hearne gave Luke a very good voice in the book, I was really, really surprised with the outcome. Just a small note on Kevin Hearne's background he is of course the author of the bestselling Iron Druid Chronicles!
So as I already mentioned, the focus in Heir of the Jedi is on Luke Skywalker. The story itself takes place just after the destruction of the Death Star where Luke lost his mentor Obi Wan Kenobi. In this battle Luke was aided by the Force and now finds himself with a lot of unanswered questions. Being named the hero by the Rebel Alliance, Luke soon fins himself with a new task set upon him by Princess Leia and General Ackbar to retrieve something special to further the cause of the Alliance. Now this special something doesn't come in the size of a box but rather Luke has to rescue a person, an alien cryptographer who is held captive by the Empire. Even though this cryptographer is more on par with the cause the alliance, she does want something in return is she is to help the alliance and this is reuniting her with her family. Now Luke has his work cut out for him to save her from the clutches of the Empire. Luckily for Luke he isn't on his own as he is always accompanied by his trusty robot sidekick R2-D2 and this time around also by the daughter of a more than well known biotechnology lord, she goes by the name of Nakari Kell, who is in her own way very proficient when it comes to military. They set off, not in an X-Wing but with a very fancy spacecraft that Nakari supplies. From this point onwards it's a story that moves with nonstop action. As it is with many of the other EU stories in the series, they aren't big reads, Heir to the Jedi is about 250 pages long, so therefore giving a longer explanation would spoil it to much, but just let me say this. When Luke is on his mission he encounters much more than he had dared bargained for, parasites that like to eat your brain, a complete alien race that only gives respect when you challenge them with a mathematical equation, and not an approximation! And of course lets not forget some very tight spaceship dog fights and the occasional blaster shoot outs, yes, Luke also uses his blasted instead of his lightsaber, with which he has yet to become comfortable with. All in all you can see that this is a very eventful story. How I wish that some of these EU books would be made into films or short series.
Now where Heir to the Jedi, really gets its strength from is the way that Kevin Hearne sheds light on the character of Luke Skywalker. When I finished the book I directly tweeted that Kevin Hearne gave Luke's character much more depth. This is something that I was seeking in the EU book, authors that give more depth to the existing characters. The preceding books to Heir to the Jedi, Razor's Edge and Honor Among Thieves did a great job in showing both Leia and Han Solo. But that was how we knew them. Luke's character has always been of particular interest to me and finally I got to see some glimpses of his earlier years before being the full Jedi that we know him for, but also before the training with Yoda. Because this books takes place inbetween those episodes. On his mission Luke is all alone trying to figure out what to do with the Force, how it works and how to manipulate it. Some very nice dialogues came forth when he was showing the Force to the Givin, how they tried to explain it with their mathematical knowledge. But Kevin Hearne really goes the distance because that is not all of it. I also know Luke as a guy only wants his revenge on Darth Vader and the Empire, though there are some special connections with Leia that you see in the original series, he is more bent on getting his revenge done, in Heir to the Jedi, there is nice depiction of a more emotional Luke, the bond that he made with Nakari really showed a human Luke Skywalker, making him for me much more approachable.
Even though in my opinion Kevin Hearne gives a lot more to the character of Luke Skywalker he does keep true to the whole setting of Star Wars. From the start to finish this book fits directly in the bigger picture of it all. Especially when I read the last sentence of the book, which was just perfect. This really made my day and of course finished this book with a big smile on my face.
All this taken together shows that Kevin Hearne's addition, Heir to the Jedi, to the Extended Universe books is one that shouldn't be missed. I have been full of praise for the other books in the Empire and Rebellion series but I do have to admit that this one is my favorite so far. I hadn't thought it to be such evocative and show much more depth to Luke's character. Let me repeat myself once again, if you call yourself a Star Wars fan, you should definitely be reading this book and the whole series.