Book Review: Karen Memory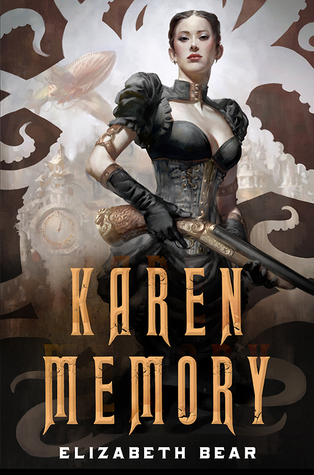 Karen Memory by Elizabeth Bear
"You ain't gonna like what I have to tell you, but I'm gonna tell you anyway. See, my name is Karen Memery, like memory only spelt with an e, and I'm one of the girls what works in the Hôtel Mon Cherie on Amity Street. Hôtel has a little hat over the o like that. It's French, so Beatrice tells me."

Set in the late 19th century—when the city we now call Seattle Underground was the whole town (and still on the surface), when airships plied the trade routes, would-be gold miners were heading to the gold fields of Alaska, and steam-powered mechanicals stalked the waterfront, Karen is a young woman on her own, is making the best of her orphaned state by working in Madame Damnable's high-quality bordello. Through Karen's eyes we get to know the other girls in the house—a resourceful group—and the poor and the powerful of the town. Trouble erupts one night when a badly injured girl arrives at their door, begging sanctuary, followed by the man who holds her indenture, and who has a machine that can take over anyone's mind and control their actions. And as if that wasn't bad enough, the next night brings a body dumped in their rubbish heap—a streetwalker who has been brutally murdered.
I have always wanted to read a book of Elizabeth Bear. In the blogosphere her books are well received, and I read that her Eternal Sky was groundbreaking. With so much praise, you just can't go wrong with one of her books. Now just last month Tor published her latest book, Karen Memory, a imaginative wild western steampunk influenced story. In the last two months I read some very good western books that really got me fired up, and with Karen Memory it just got even more heated. This is a really cool book!
The story picks up readily with Karen Memery, this is not a typo, but precisely how you should speak out the words, there is more! Karen serves as both the protagonist to the story as well as the perspective of the narration, everything is told from her experiences. She currently lives in the city of Seattle and works in Madame Damnable's bordello, Hotel Mon Cherie, as a seamstress, do take note that a seamstress of course is just a different word for something else. In the early parts of the story you get a clear description of the runnings of
Hotel Mon Cherie

and various other girls, all with the interesting and vivid descriptions of Karen of course. And to be frank, everything is just pitch perfect for the girls of
Hotel Mon Cherie

, they have protection and are treated fair and square. However such a picture can be shattered in an instant. Because soon a bloodied and injured girl knock on
Hotel Mon Cherie

seeking help and refuge. This young girl goes by the name of Priya and comes from a rival brothel that is run by Peter Bantle and viscous and ruthless man who is only in to make a profit, as big as possible, and thus exploits everyone, his customers but also his girls. Frustrated by having lost on of his girls and being made the better of by Madame Damnable, Peter swears to get his revenge in any way possible. He is hellbent on getting it ans will go over corpses. Now comes the cool part of the story as Peter has more up his sleeve than could have thought of. Peter has a nifty gadget that allows him to control the minds of other people... But this isn't all that happens in the once so quite city of Seattle. A sherrif comes into the city who is hunting down a criminal. His effort is not enough and therefore he teams up with the kickass heroine of the story, Karen. She is resourcefull and has a no-nonse attitude what more can you wish for?
The story of Karen Memory really surprised me and I do have to say that what all the other bloggers and reviewers mentioned about Elizabeth Bear's writing skills is more than true. She has created a very cool and highly eventful story with a very unique setting. This brings me directly to the world building that takes place in Karen Memory.
I have read some Weird West stories, those of MIke Resnick come very much to mind here. However those stories do have something different working for them, it feels for me that it is more reigned in, showing alternate history more. For Karen Memory you have to think big and bold. Though all I can say is that it is wild west with steampunk and that might not sound that exciting, but trust me it will blow your socks of. Because in the end it comes down on how you build your world and how you use the elements within that makes it unique. And this is precisely what Elizabeth Bear does. For starters the accent with which our narrator Karen speaks, this is exactly how I would imagine the language to be spoken in that time. Though I have to be honest it did took come extra rereading to get everything. And this first thing just build a very vivid picture because with the use of this language the whole surroundings, be it Hotel Mon Cherie or the other places visited or the character become much more interesting to read about. Added to this you have a whole plethora of steampunk devices and influences to completely finish the world.
As for the characters. I loved Karen Memory and walking through he thoughts. She is far from dumb, dares to speak her mind and when push comes to shove she will definitely push you back twice as hard. Her narration is both there to bring the story further but what comes with an I perspetive is that you also have some thoughts of the character that are irrelevant to the story, now in the case of Karen's thoughts I didn't have any feeling of this. After the was calm introduction the story picks up pace and it all becomes one whole.
All in all Karen Memory is a memerable book for sure. When I look back at the book an what my expectations were, Elizabeth Bear went beyond them by far with this story. I am always a big fan of stories with an extra message not everyone does it well but an author of Elizabeth Bear's calibre does a very good job. It might not be obvious on when you are reading the story but if you stop and recollect everything that has happened you will start to appreciate the beauty of the story. A wild western indeed with enough twists and turns to keep you excited and lets not forget a awesome protagonist.