(p)review forecast March part two
(p)review forecast March part two
These are my selections for the second half of March, what will you be reading?
Cheers,
Jasper
1. The Rain-Soaked Bride by Guy Adams, Del Rey UK
A number of influential South Korean nationals are committing suicide on UK soil. In all cases they seem to simply drop whatever they're doing and swiftly -- almost vacantly -- end their own lives. An electronics importer falls from the top floor of his high-rise office, the ambassador to the UK shoots his chauffeur and drives his own car off London Bridge, an actor sets fire to himself during a movie premiere...

August and Toby investigate and slowly uncover the ancient force of the Rain-Soaked Bride, a ghostly spirit of vengeance that drags her enemies to their deaths.

Once summoned the spirit cannot be dismissed until it takes the life it is charged with, it will be unstoppable in its pursuit of the mortal it has in its sights. Unfortunately, after getting too close to the source of the spirit, that mortal is now Toby Greene.
2.
The Hidden Masters of Marandur by Jack Campbell, Audible Inc
Someone wants to kill Mari, a young Steam Mechanic in the Guild that controls all technology. She has learned that her world of Dematr is headed for a catastrophe that will destroy civilization, and that Mages really can alter reality for short periods. Someone also wants to kill Alain, a young Mage who has learned that Mechanics are not frauds as his Guild teaches, and that Mechanic Mari is the only person who can prevent the oncoming disaster.
Narrowly escaping death, the Mechanic and the Mage stay alive thanks to their combined skills, an alliance never before seen. But it becomes clear that both of their Guilds, the most powerful forces in the world, are trying to destroy them. Other powers, like the great Empire and a mysterious secret Order, also seek to kill or capture them, using every weapon from Imperial Legions to Mage-created trolls, dragons, and rocs.

Trying to survive and learn the truth about their world so they will know how to save it, Mari and Alain realize that the answers they seek may lie in the dead city of Marandur. But Marandur is guarded by the legions that have sealed it off from the rest of the world for more than a century. Mari and Alain's only hope may rest with the unseen Masters of Marandur.
3. Dark Intelligence by Neal Asher, Tor
One man will transcend death to seek vengeance. One woman will transform herself to gain power. And no one will emerge unscathed...

Thorvald Spear wakes in a hospital to find he's been brought back from the dead. What's more, he died in a human vs. alien war that ended a century ago. Spear had been trapped on a world surrounded by hostile Prador forces, but Penny Royal, the AI inside the rescue ship sent to provide backup, turned rogue, annihilating friendly forces in a frenzy of destruction and killing Spear. One hundred years later the AI is still on the loose, and Spear vows for revenge at any cost.

Isobel Satomi ran a successful crime syndicate, but after competitors attacked she needed power and protection. Negotiating with Penny Royal, she got more than she bargained for: Turning part-AI herself gave Isobel frightening power, but the upgrades hid a horrifying secret, and the dark AI triggered a transformation that has been turning her into something far from human…

Spear hires Isobel to track Penny Royal across worlds to its last known whereabouts. But he cheats her in the process and quickly finds himself in her crosshairs. As Isobel continues to evolve into a monstrous predator, it's clear her rage will eventually win out over reason. Will Spear finish his hunt before he himself becomes the hunted?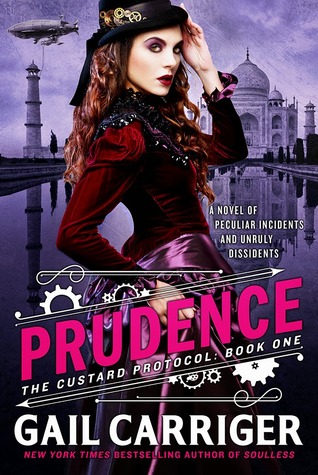 4. Prudence by Gail Carriger, Orbit
When Prudence Alessandra Maccon Akeldama (Rue to her friends) is given an unexpected dirigible, she does what any sensible female would under similar circumstances - names it the Spotted Custard and floats to India in pursuit of the perfect cup of tea. But India has more than just tea on offer. Rue stumbles upon a plot involving local dissidents, a kidnapped brigadier's wife, and some awfully familiar Scottish werewolves. Faced with a dire crisis and an embarrassing lack of bloomers, what else is a young lady of good breeding to do but turn metanatural and find out everyone's secrets, even thousand-year-old fuzzy ones?
5. Unbreakable by W.C. Bauers, Tor
The colonists of the planet Montana are accustomed to being ignored. Situated in the buffer zone between two rival human empires, their world is a backwater: remote, provincial, independently minded. Even as a provisional member of the Republic of Aligned Worlds, Montana merits little consideration—until it becomes the flashpoint in an impending interstellar war.

When pirate raids threaten to destabilize the region, the RAW deploys its mechanized armored infantry to deal with the situation. Leading the assault is Marine Corps Lieutenant and Montanan expatriate Promise Paen of Victor Company. Years earlier, Promise was driven to join the Marines after her father was killed by such a raid. Payback is sweet, but it comes at a tremendous and devastating cost. And Promise is in no way happy to be back on her birthworld, not even when she is hailed as a hero by the planet's populace, including its colorful president. Making matters even worse: Promise is persistently haunted by the voice of her dead mother.

Meanwhile, the RAW's most bitter rival, the Lusitanian Empire, has been watching events unfold in the Montana system with interest. Their forces have been awaiting the right moment to gain a beachhead in Republic territory, and with Promise's Marines decimated, they believe the time to strike is now.