(p)review forecast February part two
(p)review forecast February part two
Here are my selected books for the second half of February, what will you be reading?
Cheers,
Jasper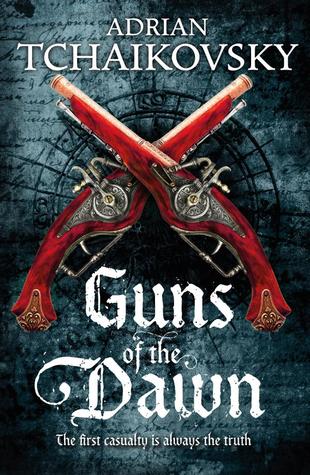 1. Guns of the Dawn by Adrian Tchaikovsky, Tor
A standalone, action-packed pseudo-Napoleonic historical fantasy adventure from the esteemed author of the Shadows of the Apt series.

Denland and Lascanne have been allies for generations, but now the Denlanders have assassinated their king, overthrown the monarchy and marched on their northern neighbour. At the border, the war rages; Lascanne's brave redcoats against the revolutionaries of Denland.

Emily Marshwic has watched the war take her brother-in-law and now her young brother. Then comes the call for more soldiers, to a land already drained of husbands, fathers and sons. Every household must give up one woman to the army and Emily has no choice but to join the ranks of young women marching to the front.

In the midst of warfare, with just enough training to hold a musket, Emily comes face to face with the reality: the senseless slaughter; the weary cynicism of the Survivor's Club; the swamp's own natives hiding from the conflict.

As the war worsens, and Emily begins to have doubts about the justice of Lascanne's cause, she finds herself in a position where her choices will make or destroy both her own future and that of her nation.
2. A Darker Shade of Magic by V.E. Schwab, Titan/Tor
Kell is one of the last Travelers—rare magicians who choose a parallel universe to visit.

Grey London is dirty, boring, lacks magic, ruled by mad King George. Red London is where life and magic are revered, and the Maresh Dynasty presides over a flourishing empire. White London is ruled by whoever has murdered their way to the throne. People fight to control magic, and the magic fights back, draining the city to its very bones. Once there was Black London - but no one speaks of that now.

Officially, Kell is the Red Traveler, personal ambassador and adopted Prince of Red London, carrying the monthly correspondences between royals of each London. Unofficially, Kell smuggles for those willing to pay for even a glimpse of a world they'll never see. This dangerous hobby sets him up for accidental treason. Fleeing into Grey London, Kell runs afoul of Delilah Bard, a cut-purse with lofty aspirations. She robs him, saves him from a dangerous enemy, then forces him to another world for her 'proper adventure'.

But perilous magic is afoot, and treachery lurks at every turn. To save all of the worlds, Kell and Lila will first need to stay alive — trickier than they hoped.
3. Karen Memory by Elizabeth Bear, Tor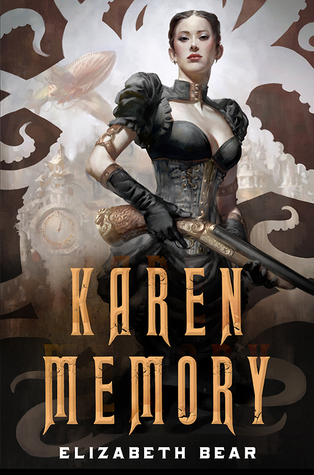 "You ain't gonna like what I have to tell you, but I'm gonna tell you anyway. See, my name is Karen Memery, like memory only spelt with an e, and I'm one of the girls what works in the Hôtel Mon Cherie on Amity Street. Hôtel has a little hat over the o like that. It's French, so Beatrice tells me."

Set in the late 19th century—when the city we now call Seattle Underground was the whole town (and still on the surface), when airships plied the trade routes, would-be gold miners were heading to the gold fields of Alaska, and steam-powered mechanicals stalked the waterfront, Karen is a young woman on her own, is making the best of her orphaned state by working in Madame Damnable's high-quality bordello. Through Karen's eyes we get to know the other girls in the house—a resourceful group—and the poor and the powerful of the town. Trouble erupts one night when a badly injured girl arrives at their door, beggin sanctuary, followed by the man who holds her indenture, and who has a machine that can take over anyone's mind and control their actions. And as if that wasn't bad enough, the next night brings a body dumped in their rubbish heap—a streetwalker who has been brutally murdered.

Bear brings alive this Jack-the-Ripper yarn of the old west with a light touch in Karen's own memorable voice, and a mesmerizing evocation of classic steam-powered science.
4. Touch by Claire North, Orbit
Kepler had never meant to die this way — viciously beaten to death by a stinking vagrant in a dark back alley. But when reaching out to the murderer for salvation in those last dying moments, a sudden switch takes place.

Now Kepler is looking out through the eyes of the killer himself, staring down at a broken and ruined body lying in the dirt of the alley.

Instead of dying, Kepler has gained the ability to roam from one body to another, to jump into another person's skin and see through their eyes, live their life -- be it for a few minutes, a few months or a lifetime.

Kepler means these host bodies no harm — and even comes to cherish them intimately like lovers. But when one host, Josephine Cebula, is brutally assassinated, Kepler embarks on a mission to seek the truth — and avenge Josephine's death.
5. Covenant's End by Ari Marmell, Pyr
The thief Widdershins and her own "personal god," Olgun, return to their home city of Davillon after almost a year away. While Shins expects only to face the difficulty of making up with her friends, what she actually finds is far, far worse. Her nemesis, Lisette, has returned, and she is not alone. Lisette has made a dark pact with supernatural powers that have granted her abilities far greater than anything Widdershins and Olgun can match.

Together, Widdershins and Olgun will face enemies on both sides of the law, for Lisette's schemes have given her power in both Davillon's government and its underworld. For even a slim chance, Shins must call on both old friends--some of whom haven't yet forgiven her--and new allies.

Even with their help, Widdershins may be required to make the hardest sacrifice of her life, if she is to rid Davillon--and herself--of Lisette once and for all.