(p)review forecast February part 1
(p)review forecast February part 1
What will you be reading in the coming week?
cheers,
Jasper
-----------------------------
1. The Dragons of Dorcastle by Jack Campbell, narrated by Macleod Andrews, Audible
For centuries, the two Great Guilds have controlled the world of Dematr. The Mechanics and the Mages have been bitter rivals, agreeing only on the need to keep the world they rule from changing. But now a Storm approaches, one that could sweep away everything that humans have built. Only one person has any chance of uniting enough of the world behind her to stop the Storm, but the Great Guilds and many others will stop at nothing to defeat her.

Mari is a brilliant young Mechanic, just out of the Guild Halls where she has spent most of her life learning how to run the steam locomotives and other devices of her Guild. Alain is the youngest Mage ever to learn how to change the world he sees with the power of his mind. Each has been taught that the works of the other's Guild are frauds. But when their caravan is destroyed, they begin to discover how much has been kept from them.

As they survive danger after danger, Alain discovers what Mari doesn't know—that she was long ago prophesized as the only one who can save their world. When Mari reawakens emotions he had been taught to deny, Alain realizes he must sacrifice everything to save her. Mari, fighting her own feelings, discovers that only together can she and Alain hope to stay alive and overcome the Dragons of Dorcastle.
2. Bloodrush by Ben Galley, self-published
"Magick ain't pretty, it ain't stars and sparkles. Magick is dirty. It's rough. Raw. It's blood and guts and vomit. You hear me?"

When Prime Lord Hark is found in a pool of his own blood on the steps of his halls, Tonmerion Hark finds his world not only turned upside down, but inside out. His father's last will and testament forces him west across the Iron Ocean, to the very brink of the Endless Land and all civilisation. They call it Wyoming.

This is a story of murder and family.

In the dusty frontier town of Fell Falls, there is no silverware, no servants, no plush velvet nor towering spires. Only dust, danger, and the railway. Tonmerion has only one friend to help him escape the torturous heat and unravel his father's murder. A faerie named Rhin. A twelve-inch tall outcast of his own kind.

This is a story of blood and magick.

But there are darker things at work in Fell Falls, and not just the railwraiths or the savages. Secrets lurk in Tonmerion's bloodline. Secrets that will redefine this young Hark.

This is a story of the edge of the world.
3. Impulse by Dave Bara, Del Rey/Daw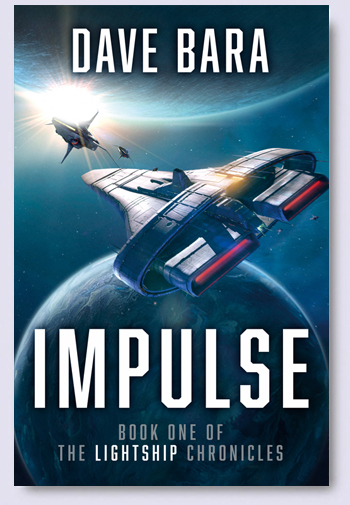 Lieutenant Peter Cochrane of the Quantar Royal Navy believes he has his future clearly mapped out. It begins with his new assignment as an officer on Her Majesty's Spaceship Starbound, a Lightship bound for deep space voyages of exploration.

But everything changes when Peter is summoned to the office of his father, Grand Admiral Nathan Cochrane, and given devastating news: the death of a loved one. In a distant solar system, a mysterious and unprovoked attack upon Lightship Impulse resulted in the deaths of Peter's former girlfriend and many of her shipmates.

Now Peter's plans are torn asunder as he is transferred to a Unified Space Navy ship under foreign command, en route to an unexpected destination, and surrounded almost entirely by strangers. To top it off, his superiors have given him secret orders that might force him to become a mutineer.

The crisis at hand becomes a gateway to something much more when the ship's Historian leads Peter and his shipmates into a galaxy of the unknown -- of ancient technologies, age-old rivalries, new cultures, and unexpected romance. It's an overwhelming responsibility for Peter, and one false step could plunge humanity into an apocalyptic interstellar war….
4. Those Above by Daniel Polansky, Hodder and Stoughton
They enslaved humanity three thousand years ago. Tall, strong, perfect, superhuman and near immortal they rule from their glittering palaces in the eternal city in the centre of the world. They are called Those Above by their subjects. They enforce their will with fire and sword.

Twenty five years ago mankind mustered an army and rose up against them, only to be slaughtered in a terrible battle. Hope died that day, but hatred survived. Whispers of another revolt are beginning to stir in the hearts of the oppressed: a woman, widowed in the war, who has dedicated her life to revenge; the general, the only man to ever defeat one of Those Above in single combat, summoned forth to raise a new legion; and a boy killer who rises from the gutter to lead an uprising in the capital.
5. Firefight by Brandon Sanderson, Gollancz
They told David it was impossible--that even the Reckoners had never killed a High Epic. Yet, Steelheart--invincible, immortal, unconquerable--is dead. And he died by David's hand.

Eliminating Steelheart was supposed to make life more simple. Instead, it only made David realize he has questions. Big ones. And there's no one in Newcago who can give him the answers he needs.

Babylon Restored, the old borough of Manhattan, has possibilities, though. Ruled by the mysterious High Epic, Regalia, David is sure Babylon Restored will lead him to what he needs to find. And while entering another city oppressed by a High Epic despot is a gamble, David's willing to risk it. Because killing Steelheart left a hole in David's heart. A hole where his thirst for vengeance once lived. Somehow, he filled that hole with another Epic--Firefight. And he's willing to go on a quest darker, and more dangerous even, than the fight against Steelheart to find her, and to get his answers.