Review Round-up April
Review Round-up April
Here are my favorites of April.
Which books did you enjoy reading about the most in the last month?
Cheers -
Jasper
---------------------------------
1. Flex by Ferrett Steinmetz, Angry Robot
I am going to repeat myself. Flex needs a direct sequel! period. I am always on the look out for the next thing in fantasy and Ferrett Steinmetz' Flex completely lives up to this promise. It's fresh, it's exciting and it's a whole lot of fun to read. It could also be the pubilsher to be honest as the majority of the books that I read from Angry Robots fall into the category of genre pushing. In Flex Ferret Steinmetz introduces an flexable world (to a certain degree), some very well fleshed out characters and of course one of the coolest magical system that I have the pleasure of reading about. Highly recommended!
Read the full review here
2. The Mechanical by Ian Tregillism, Orbit
The Mechanical a book that you must, MUST have read this year, the better, the sooner. The Mechanical directly lived up to all my expectations and when I come to think of it, it went above and beyond it. The story is set up in a very intricate way, highlighting many different facets of the world, the characters, factions and their believes. I liked that he talked the many social aspects, Free Will and theology. There is a great blend of themes, steampunk, alternate history and some magic as well. Ian Tregillis is once again at the top of his game (is there ever a moment he isn't!?), make sure you ride this wave!
Read the full review here
3. Superposition by David Walton, Pyr
All this taken together from the plot of Superposition to the big and bold idea's in the field of Quantum Physics that the story hold right down to the character this book is a definite win. I don't say this very often but Superposition with definitely be in many top favorite lists at the end of the year, if it isn't, it is because they haven't read the book, which in turn is a big big big shame. David Walton once again proves that his writing is just A-game material, he knows he stuff, not only the technical side of it all but also the humane side. Superposition is a book NOT to be missed. Read this book and a whole new world will open for you!
Read the full review here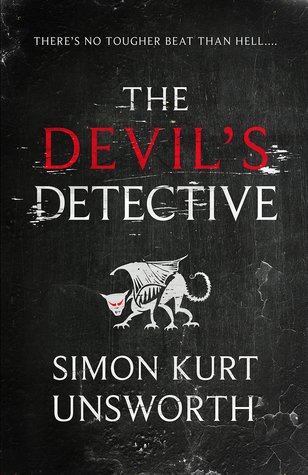 4. The Devil's Detective by Simon Kurt Unsworth
The Devil's Detective is one of those books that just screams for a sequel. Simon Kurt Unsworth did a awesome job in giving a very lively and more than unique vision of his Hell. I liked the promise of the synopsis and in this Simon Kurt Unsworth didn't let me down. Introducing a very cool concept that I hope will be explored in a sequel!
Read the full review here
5. Sword of the North by Luke Scull, Head of Zeus
Sword of the North is a solid continuation of the stellar debut The Grim Company that Luke Scull delivered to us in 2013. If you are into Epic Fantasy this series should be on your to read list. Luke Scull's background in RPG design has given him a definite edge when it comes to designing and executing his story. In the first book Luke Scull showed some memorable character which he highlights and develops on some fronts further as valuable players, all must have something to do with the third and final book of the story. And jsut lastly, the action in this series so far has been relentless, jsut the way I like to see it. Fast, brutal and a whole lot of cool. That thing with the mage circle - WOW - amazing stuff.
Read the full review here