Book Review: The Devil's Detective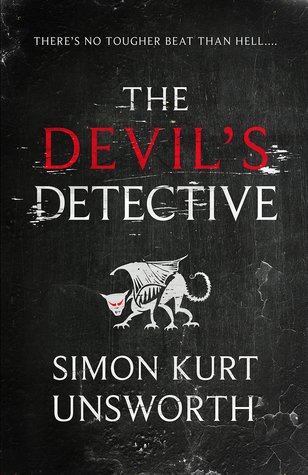 The Devil's Detective by Simon Kurt Unsworth
Welcome to hell...

...where skinless demons patrol the lakes and the waves of Limbo wash against the outer walls, while the souls of the Damned float on their surface, waiting to be collected.

When an unidentified, brutalised body is discovered, the case is assigned to Thomas Fool, one of Hell's detectives, known as 'Information Men'. But how do you investigate a murder where death is commonplace and everyone is guilty of something?
When I Del Rey asked if I wanted to review The Devil's Detective I just couldn't resist saying no. In the last year I read many different kind of detective stories, taking place in the Ice Age somewhat, or your average contemporary setting, imaginative Urban Fantasy setting or a mash up of different themes like ancient Rome etcetera. But a setting that hadn't passed the review yet was a story based solely in Hell. After reading the synopsis of this book I directly knew that The Devil's Detective was a must read book. And luckily Simon Kurt Unsworth´s didn´t proof me wrong! I loved the whole story and the very vivid imagination of Hell and every aspect that was presented within it.
The story of The Devil´s Detective centers around Thomas Fool who is an Information Men in Hell, this job description is best linked to being a detective. His job description is to catalog everything that happens in Hell, from minor misdemeanors to murders. I might sounds a bit strange when you come to think of it. A detective in Hell... Hell has always been a violent place, criminals go there, demons live there. Crimes, murders and fights should be a plenty there. What can a normal men do down there? As most crimes are carried out by demons who cannot be pursued by anyone... But all things seem to change as one day Thomas is presented with a new case, a case which he will see through to the bitter end. A human turns up dead in a river, lacking a face but perhaps more importantly is the lacking of the persons soul... Now Thomas finds himself in a whole pit of troubles as once his investigations starts, it is picking up more and more bodies along the way and Thomas's life starts to get threatened as well. Everything seems to get more and more complicated as an delegation of Angels from Heaven discuss the aspect of Elevation. Thomas has been assigned to lead this delegation but also finds out that they have their own set of motives. Motives that don't align one on one with that of Hell's bosses. Thomas finds himself right in the middle of a whole heap of trouble. Will he be able to come out on top or will he be lost like soul in the river of Limbo once again?
The Devil's Detective isn't Simon Kurt Unsworth's first story, this is clearly noticeable from the start. From the beginning of the story, Simon Kurt Unsworth manages to hit all the right snares. His experience in writing horror definitely pays off as his descriptions of Hell and everything within are loaded with details: down from the world itself to some of the aspects of Thomas himself, the guns. pretty awesome. I have read some versions of Hell in different background but the one that is imagined in The Devil's Detective is unique and one that I haven't encounterd before. It has a lot of hints from a dystopian setting, but also still owing true to some more classical themes all in an industrial setting. To really pin the ambiance of the world to one theme would do it unjust, I think as soon as you experience this version of Hell for yourself, you will be left finding for words as well. Very rich and imaginative!
As for Thomas Fool himself the lead character in this book. He is quite special. I have to be honest and say that for starters he isn't easily relatable, but instead of rejecting his character and the story I think you will embrace him just as I have done. For me his origin made him less relatable, however with the intricate story spun around his character he just gets placed in a position, a position in which Simon Kurt Unsworth places you in as a reader in the same way, that of bafflement. Eventhough Thomas is an Information Men, someone who knows about the coming and going in and about Hell, this current investigation opens a whole can of worms, new for him and very interesting for you as a reader to find out just what the hell is going on (don't have to say heck for once!). Next to Thomas you have some secondary character that make a long lasting impression that of Elderflower and Balthazar and lets not forget the Man of Plants. With these characters, Simon Kurt Unsworth really shows that he is highly creative and knows how to pique the interest of a reader.
The Devil's Detective is one of those books that just screams for a sequel. Simon Kurt Unsworth did a awesome job in giving a very lively and more than unique vision of his Hell. I liked the promise of the synopsis and in this Simon Kurt Unsworth didn't let me down. Introducing a very cool concept that I hope will be explored in a sequel!