Author interview with Martin Kasasian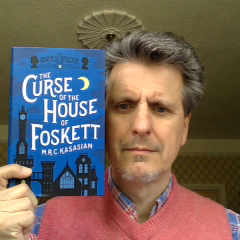 Author interview with Martin Kasasian
Author bio:
-------------------------------------------------------
Hi Martin, welcome over at The Book Plank and for taking your time to answer these few questions for us.
BP: First off, could you give us a short introduction as to who Martin Kasasian is? What are your hobbies, likes and dislikes?
MK:
I worked for 30 years as an NHS dentist. Then my wife was diagnosed with breast cancer. The shock of it made me reassess my life and so I quit to do what I always wanted to do – be with her and write. Ten years on she's alive and well and so is my writing.
I don't really have any hobbies but I do have obsessions. When I'm not writing I'm reading – mainly history and biographies; or painting – mainly portraits of me or my wife; We take long walks every day and I write poems but they're private.
I couldn't live without music. I sing all the time but very badly. At the moment I'm annoying everybody by playing Bach's Mass while I'm cooking. Last week it was the Dixie Chicks.
BP: The Mangle Street Murders was your debut book, when did you decide that you wanted to become an author?
MK:
I have always wanted to be an author. When I was 10 my parents gave me a Petite typewriter and I tapped out my variations of Oliver Twist for hours. I wrote my first full length book while I was a student and got the first of many hundreds of rejection slips. Some writers boast they could paper a room with their slips. I could build a house with mine.
BP: Writing a debut can be a daunting task, how did you went about and plan this?
MK:
The Mangle Street Murders started off as a short story for fun because I was depressed at having another book - which my agent high hopes for – bite the dust. But then like Topsy it just 'growed'. I kept thinking 'what if I added this bit or put in that twist?' Then I had to start again and plan it but I had great fun writing it.
BP: Did you gain valuable experience when you were writing The Mangle Street Murders that you were able to use for The Curse of the House of Foskett?
MK:
I learned a lot with Mangle St – the importance of careful planning and keeping my sense of humour in check. There are lots of jokes in the book but they all have a point.
BP: The Mangle Street Murders kicked of you're The Gower Street Detective series last year, what gave you the idea behind the series?
MK:
Anyone who writes about two Victorian detectives and claims he or she isn't influenced by Sherlock Holmes is a liar. It started off as an affectionate homage but I wanted to develop my own characters.
BP: A lot of the Victorian detectives center around Sherlock Holmes, are Grice and Middleton their to kick him off the number one position?
MK:
Nobody will ever knock Holmes off his perch, just as James Bond is untouchable in his field.
BP: The Curse of the House of Foskett was released earlier this year. If you would have to sell the book with a single sentence how would it go?
MK:
A detective whose career is in tatters, a Final Death Society whose members he cannot protect, a reclusive Baroness in a mysterious house all add up to a good yarn with a dash of humour.
BP: Did you encounter any specific problems when you were writing the The Gower Street Detectives series?
MK:
Trying to write books that are complete in themselves but tie in with others.
BP: What has been the hardest part in writing the The Gower Street Detectives series so far?
MK:
It's not been harder than anything else I've done so far. Maybe in 25 books time I'll want to kill all the characters off but at the moment I love them all.
BP:

Besides the hardest of writing, which chapter or scene did you enjoy writing about the most?
MK:
I think it has to be when Sidney Grice and March Middleton meet. They are uncertain of each other but there is an instant (non-sexual) chemistry between them. That's when I knew that they were real people – in my head anyway.
BP: If you would be possible to pull either The Mangle Street Murders or The Curse of the House of Foskett from the bookstores and make one final adjustment would you do so? If yes, which part and why?
MK:
I would add more incidents and characters that I can refer to in later books to give more flow to the series as a whole.
BP: Two books have featured so far in the The Gower Street Detectives series, have you already planned out how many more books you will add to it?
MK:
I am already signed up for 2 more books and am slogging away on book 3 at the moment but I have plots in various stages of development for at least 8 in all. Just hope the public &/or my publishers get bored with them.
BP: Do you have any other projects besides The Gower Street Detectives that you would like to pursue in the near future?
MK:
I am always working on other ideas. I have finished 1st drafts of a modern thriller and another novel based on the world of art but Gower St has to take priority for the foreseeable future.
BP: Everyone enjoys fantasy and science fiction in their own way, what do you like most about it?
MK:
Two Science fiction works stand out for me: A canticle for Leibowitz really fired my imagination with the scope of its ideas: The Hitchhiker's Guide to the Galaxy taught me that sci-fi can actually be funny – especially the radio version. I don't think I could write in that genre though.
BP: If you would have to give your top five favourite books, which would they be?
MK:
As a child they would have to be the William books or Treasure Island. The Rise and Fall of the Third Reich by William L Shirer made a huge impact on me and Peter the Great by Robert K Massie is a tremendous read. As for No 5 I'm not sure. It's like trying to decide which of your children you would put in a lifeboat. Probably The Leopard by Giuseppi Tomasi di Lampedusa. It's a very short book and deceptively simple but very evocative and wise.
BP: And just lastly can you give a short introduction to you The Gower Street Detectives series for those who are not familiar with it and what might be in store for them?
MK:
March Middleton, a spirited young woman and her cantankerous guardian, the Personnal Detective Sidney Grice do battle with each other and the criminal world of Victorian London.
BP: Thank you very much for your time Martin and good luck with your future writing!
MK:
Many thanks for your interest and encouragement.