Best Horror of 2015
Horror is a genre that I haven't been reading that long, I started a long time ago with Stephen King and read most of his classics. Though there are plenty of horror book published each year I didn't got to reading a lot this year. But from those that I read these five book were my favorites. Horns by Joe Hill was well stunning to say the least. Though I did have Daniel Radcliffe's face in my mind constantly when I read about Ig, however this didn't take away the power of the story and what horns can do. Next up is The Devil's Only Friend which is already the fourth book in the John Cleaver series. Well it's insane. John Cleaver is by far one of the most insane protagonists that I read about this year. The Devil's Detective was Simon Kurt Unsworths debut this year, he made Hell the playground of detectives and in Hell they don't play by the rules as well (but I think you could have guessed that). Under Ground was one of the book that really got me freaked out of my comfort zone. With the story taking place in a shelter and slowly people are turning up dead, who can you trust? The part that freaked me the most was the thrilling and ice cold confession. Wow. Lastly there is John Connolly's Night Music 2. It technically is one book but doesn't hold one story. This anthology has a total of 12 terrifying stories. They vary in degree but all in all my most favorite one was
The Caxton Private Lending Library and Book Depository. Awesome stuff.
One thing that I really liked about the book was the horns itself. How Joe Hill showed the power of it. It took me a while to see people confess the bad and nasty things they did to Ig when he was around. They completely enthrall people and then some. These really boardered on something psychotic, very cool.
It does come down to the bottom line and that is Horns is pretty damn awesome. I have read my fair share of supernatural thrillers over the years but with Horns Joe Hill introduces something not seen before, it's not a complete embodient of the devil but holds in the lines. A perfect story that will creep you out and play with your emotions. And at the heart of it all yes a love story, gone wrong.
Read the full review here
The Devil's only Friend by Dan Wells, John Cleaver #4
The Devil's Only Friend
is a perfect book. It's hard to place in a particular genre, thriller/crime, horror and urban fantasy (I wouldn't place it in young adult though). From the start of the story I was hooked. Dan Wells has a gift it capturing the reader and not letting you go until the story has been told. Storywise,
The Devil's Only Friend
is just awesome, I loved the story and in a saturated fiction genre this is precisely the book that I need to get out of some more mainstream stories. The protagonist of the series, John Cleaver, is by far one of the most complex characters that I have read about, he definitely lifts this story into another dimension. Awesome reading material, I urge you to read it, you won't be disappointing.
Under Ground by S.L. Grey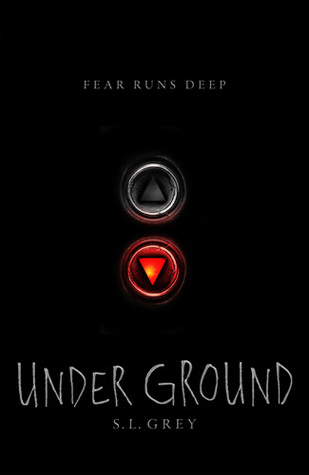 Under Ground
is an awesome read. S.L. Grey have created a real thrilling feeling with the story that will play directly into your fears. It is all carefully constructed and executed leaving you clueless until the very end on who did what. From the start of the story I was hooked and they managed to keep a very nice momentum of the story all throughout the mid until that perfect ending. As I said when you relate certain events from the beginning and mid of the story it does make sense. Normally when I am so into a book I would say, wish it was longer but actually,
Under Ground
is just the right length, clocking in just under 300 pages. The story is always in motion, very dynamic and there isn't a moment of dragging the story forward. If the story was 400 pages it might have well have happened. S.L. Grey's next book is out July 2016, I will keep my eyes open, already looking forward to see what scenario they will present me with.
Night Music: Nocturnes Volume 2 by John Connolly
Night Music
is an anthology that completely surprised me. I hadn't expected to be send a review copy by Hodder and Stougthon but I am sure glad that they did. This being my first book by John Connolly I didn't know what I was about to read but with these powerful thirteen short stories he has already won me over.
Night Music
features a great variety of short stories, from a more supernatural influenced one that can be found in the Caxton Library or the truly horrifying and terrifying of Razorshins and The Lamia, an other noted story is definitely The Fractured Atlas. All in all this anthology is definitely a winner. Creepy stories, perfectly suited from the coming fall/winter period. Read it with the lights on. Just to be sure.

Read the full review here
The Devil's Detective by Simon Kurt Unsworth
The Devil's Detective
is one of those books that just screams for a sequel. Simon Kurt Unsworth did a awesome job in giving a very lively and more than unique vision of his Hell. I liked the promise of the synopsis and in this Simon Kurt Unsworth didn't let me down. Introducing a very cool concept that I hope will be explored in a sequel!