(p)review forecast April part one
(p)review forecast April part one
What will you be reading in the next weeks?
Cheers,
Jasper
1. Superposition by David Walton, Pyr
Jacob Kelley's family is turned upside down when an old friend turns up, waving a gun and babbling about an alien quantum intelligence. The mystery deepens when the friend is found dead in an underground bunker…apparently murdered the night before he appeared at Jacob's house. Jacob is arrested for the murder and put on trial.

As the details of the crime slowly come to light, the weave of reality becomes ever more tangled, twisted by a miraculous new technology and a quantum creature unconstrained by the normal limits of space and matter. With the help of his daughter, Alessandra, Jacob must find the true murderer before the creature destroys his family and everything he loves.
2. Sword of the North by Luke Scull, Head of Zeus
s Davarus Cole and his former companions were quick to discover, the White Lady's victorious liberation of Dorminia has not resulted in the freedom they once imagined. Anyone perceived as a threat has been seized and imprisoned—or exiled to darker regions—leaving the White Lady's rule unchallenged and absolute. But the White Lady would be wiser not to spurn her former supporters: Eremul the Halfmage has learned of a race of immortals known as the Fade, and if he cannot convince the White Lady of their existence, all of humanity will be in danger.

Far to the north, Brodar Kayne and Jerek the Wolf continue their odyssey to the High Fangs only to find themselves caught in a war between a demon horde and their enemy of old, the Shaman. And in the wondrous city of Thelassa, Sasha must overcome demons of her own.
3. Farlander by Col Buchanan, Tor
The Heart of the World is a land in strife. For fifty years the Holy Empire of Mann, an empire and religion born from a nihilistic urban cult, has been conquering nation after nation. Their leader, Holy Matriarch Sasheen, ruthlessly maintains control through her Diplomats, priests trained as subtle predators.
The Mercian Free Ports are the only confederacy yet to fall. Their only land link to the southern continent, a long and narrow isthmus, is protected by the city of Bar-Khos. For ten years now, the great southern walls of Bar-Khos have been besieged by the Imperial Fourth Army.
Ash is a member of an elite group of assassins, the Roshun – who offer protection through the threat of vendetta. Forced by his ailing health to take on an apprentice, he chooses Nico, a young man living in the besieged city of Bar-Khos. At the time, Nico is hungry, desperate, and alone in a city that finds itself teetering on the brink.
When the Holy Matriarch's son deliberately murders a woman under the protection of the Roshun; he forces the sect to seek his life in retribution. As Ash and his young apprentice set out to fulfil the Roshun orders – their journey takes them into the heart of the conflict between the Empire and the Free Ports... into bloodshed and death
4. The Devil's Detective by Simon Kurt Unsworth, Del Rey UK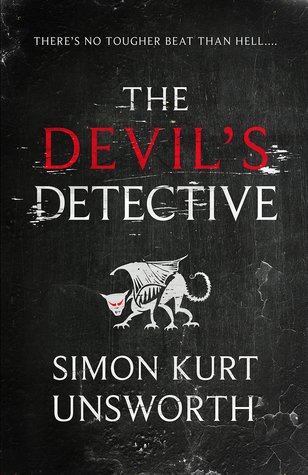 Welcome to hell...

...where skinless demons patrol the lakes and the waves of Limbo wash against the outer walls, while the souls of the Damned float on their surface, waiting to be collected.

When an unidentified, brutalised body is discovered, the case is assigned to Thomas Fool, one of Hell's detectives, known as 'Information Men'. But how do you investigate a murder where death is commonplace and everyone is guilty of something?
5. Pacific Fire by Greg van Eekhout,
Tor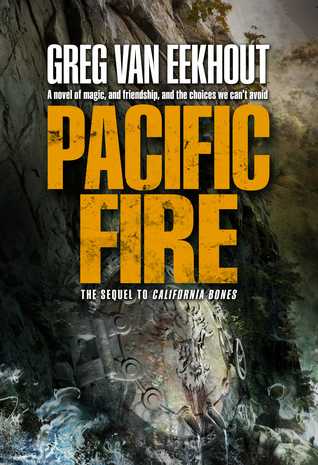 I'm Sam. I'm just this guy.

Okay, yeah, I'm a golem created from the substance of his own magic by the late Hierarch of Southern California. With a lot of work, I might be able to wield magic myself. I kind of doubt it, though. Not like Daniel Blackland can.

Daniel's the reason the Hierarch's gone and I'm still alive. He's also the reason I've lived my entire life on the run. Ten years of never, ever going back to Los Angeles. Daniel's determined to protect me. To teach me.

But it gets old. I've got nobody but Daniel. I'll never do anything normal. Like attend school. Or date a girl.

Now it's worse. Because things are happening back in LA. Very bad people are building a Pacific firedrake, a kind of ultimate weapon of mass magical destruction. Daniel seemed to think only he could stop them. Now Daniel's been hurt. I managed to get us to the place run by the Emmas. (Many of them. All named Emma. It's a long story.) They seem to be healing him, but he isn't going anyplace soon.

Do I even have a reason for existing, if it isn't to prevent this firedrake from happening? I'm good at escaping from things. Now I've escaped from Daniel and the Emmas, and I'm on my way to LA.

This may be the worst idea I ever had.