Short Fiction Friday: The Jester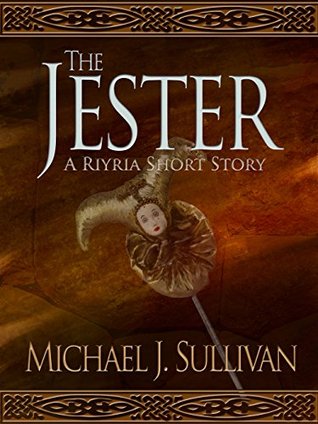 The Jester by Michael J. Sullivan, The Riyria Chronicles #2.5
WHO WILL HAVE THE LAST LAUGH?
Stop me if you've heard this one. A thief, a candlemaker, an ex-mercenary, and a pig farmer walk into a trap…and what happens to them is no joke. When Riyria is hired to retrieve a jester's treasure, Royce and Hadrian must match wits with a dwarf who proves to be anything but a fool. Difficult choices will need to be made, and in the end those who laugh last do so because they are the only ones to survive.
It must have been last year around this time that I was pleasantly introduced to the Riyria Chronicles of Michael J. Sullivan, starting with the prequel series The Riyria Chronicles and The Crown Tower. I said back then that I had to read his other full length books as well but time has just flown by and still haven't managed so when I was going through some things I found that Michael J. Sullivan had written some short stories in this world as well. Hooray! The Jester takes place after the second book, The Rose and Thorn.
In The Jester, the thieving duo, Hadrian and Royce also better known as Riyria are hired to retrieve a treasure of a court jester. Together with their employers, Hadrian and Royce set out to retrieve said treasure. Royce and Hardian are seasoned warrior with a lot of skill but their employers are far from it. A women candlemaker who takes way to much clothing with her for what is humanely possible on the journey and a pig-farmer, a new definition of a coward. So this quartet set part for their journey of which they hope to return with only a lot of new gained fortunes. But if only... as when they set foot inside the cave where this treasure is said to be located they walk into treacherous trap after treacherous trap. Quite heavy traps that is no getting caught up in a net and hanging from the ceiling, no all dire life or death situation. The question remains first will our two inexperienced additions, the candlemaker and pig farmer survive and secondly did Royce and Hadrian both bite of more than they could chew.
I have to say that Michael J. Sullivan produced a very catchy short story from the first sentence you are thrown in the depths just like the plunge that our quartet makes. By dropping you into the story like this I immediately felt a fast pace action story start to unfold. The setting is dire as I mentioned since it is a life or death situation. Despite the dark mood that is shown, there are some funny interactions between the characters. One thing that I came to enjoy from The Crown Tower was how Royce and Hadrian interacted with each other. They are professionals in their job and will not matter what succeed. They also have a great amount of humour with them, which, when situations become desperate is often shown. Like laughing in the face of death and then coming out nearly unscathed.
The Jester is a nice entertaining short story that brings back memories for existing readers of the Riyria series but also serves as a great stand alone adventure story. It gives a nice view on the protagonists, Royce and Hadrian of the series and will leave you wanting more. Good stuff.
-----
The Jester first appeared in the Unfettered Anthology of Shawn Speakman