Book Review: The Ice Dragon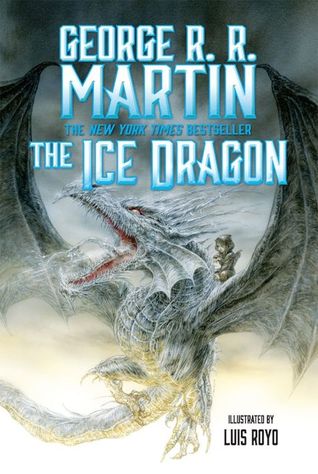 The Ice Dragon by George R. R. Martin and Luis Royo
The Ice Dragon is an enchanting tale of courage and sacrifice for young readers and adults by the wildly popular author of the #1 New York Times bestselling Song of Ice and Fire series, George R.R. Martin. Lavish illustrations by acclaimed artist Luis Royo enrich this captivating and heartwarming story of a young girl and her dragon.

In the world of A Song of Ice and Fire the ice dragon was a creature of legend and fear, for no man had ever tamed one. When it flew overhead, it left in its wake desolate cold and frozen land. But Adara was not afraid. For Adara was a winter child, born during the worst freeze that anyone, even the Old Ones, could remember.

Adara could not remember the first time she had seen the ice dragon. It seemed that it had always been in her life, glimpsed from afar as she played in the frigid snow long after the other children had fled the cold. In her fourth year she touched it, and in her fifth year she rode upon its broad, chilled back for the first time. Then, in her seventh year, on a calm summer day, fiery dragons from the North swooped down upon the peaceful farm that was Adara's home. And only a winter child—and the ice dragon who loved her—could save her world from utter destruction.
With the increasing popularity of a Game of Thrones it's only logical that Tor books is reissuing a popular "tie-in" book. The Ice Dragon was first published back in the 1980's and luckily for many fans, including me, they get to read it. The reissue of The Ice Dragon is completely revamped in terms of art, the story has remained the same but the illustrator Luis Royo has unleashed his craft to turn it into some very beautiful. The Ice Dragon is published by the young-adult imprint of Tor, Tor Teen, but undoubtedly many older readers, including me, will find a lot of joy hidden within this gem.
The story in The Ice Dragon focuses on the young girl Adara. Adara still bears a scare, when her mother was giving birth to her, she passed away. On the day that she was born it was so cold that her complexion turned blueish white - indicating the cold cold wintersday on which she was born. Up until this day she has this complexion, marking her as the winters child. THe events surrounding her birth has put quite a distance between her and her family and she is the odd one out, even though this hurts her deeply, she has never shed a tear about it. She spend a lot of time on her own. Winter is her season, in this season she has befriended a couple of ice lizards, who she unfortunately cannot touch as her warmth would kill these beings. During one winter spell, Adara befriends an even bigger lizard the held in awe ice dragon. These being are rare, there are still plenty of other dragons that are used by the king for his battle but meeting an ice dragon is rare, also when you touch an ice dragon, it is said that is so cold that it can kill, so riding one is clearly out of the picture. But Adara and the ice dragon start to form a special bond and soon they are inseparable during each winter season. now this is only part of the story as the King is waging war expanding his territory every year, however due to unforseen events he is loosing and the war starts to threaten the lives of Adara and her family, they have to flee but her father doesn't want to abandon his farm... With the King loosing all his forces there might just only be one person able to stop the war...
One thing that makes The Ice Dragon quite a captivating is the way that the narration is done in the book. From the beginning it definitely like I was living in a fairy tale. The writing style and several influences are quite distinct from what I have read in George R.R. Martin's A Song of Ice and Fire. It's not heavy focus on a large character cast and thus allowed more time to visit the places and to give Adara much more time. The Ice Dragon is a fast read with only 110ish pages but it's one where you will definitely feel emerged in. It Luis Royo's artwork and was really looking forward to see what he could come up with illustrating The Ice Dragon. I have to say that they truly fit in the book. they are all done in a blueish/grey white contrasting kind of way that only further helps to inspire the winter season and emphasis that features in the book. Another thing is that the situation isn't one that screams for happy full colored images as the situation of Adara and the waging war aren't moments of joy. Just as a teaser I have added a picture to the review. It took me actually more time to finish the book that I had thought as my focus was consonantly drawn to the illustrations.
The isn't a clear reference if this story does take place in Westeros as there isn't the mention of a name or who the King is, but with the influence of winter and dragon one does start to think and wonder. if it is a Westeros story, it does take place before the original series.
Undoubtely if you are a A Song of Ice and Fire reader you are waiting for Winds of Winter, well The Ice Dragon is the perfect book if you are in this phase. George R.R. Martin has written a very captivating tale that is in lines with classical fairy tales. The story isn't one that is full of joy instead there is a great emphasis on a war and a " astranged" girl Adara. Adara makes up fior a solid protagonist, thoug she has a hard life she isn;t one ot sit around and mope about but she makes the bes of it and seeks acknowledgment with her father and the rest of her familiy. The Ice Dragon is a beautiful story, something different compared the hard and gritty A Song of Ice and Fire.