Review Round-up April
1. The Way of Kings by Brandon Sanderson, Tor/Gollancz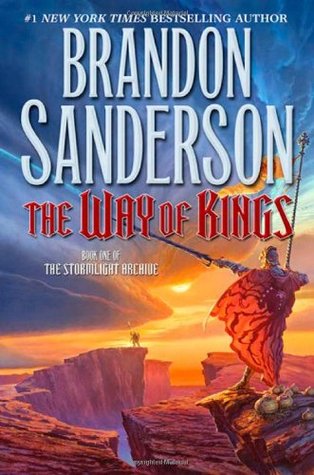 Ever since The Way of Kings was published back in 2010 I wanted to read it but due to so many other books I never gotten around to sit down and read it. Such a book deserves not to be rushed and should be read without interuptions. SO finally last month I sat down and tackled this tome and WOW. Brandon Sanderson has really outdone himself with this one. I have been a big fan of his Mistborn series, but with The Way of Kings Brandon Sanderson has really stepped up his game. The story that he introduces to the reader is full of cool idea's. Epic Fantasy usually follows the same direction, the underlying thread of The Way of Kings does show it but there is so much more going on with the ideas that are used to liven up the story. From the beginning of the prologue right down til the ending of the book I was hooked and had to abandon all my other plans just because I NEEDED to finish The Way of Kings. The characters that you get to meet are all different from one another and are fleshed out into the fine details. These aren't mere husks but each and every character stands out and will grown on you. You will love some and hate others (by their personalities!). Brandon Sanderson is off to a terrific start in his brand new series The Stormlight Archive with this first book The Way of Kings. Not to be missed.
Read the full review here
2. The First Fifteen Lives of Harry August by Claire North, Orbit
I am going to be honest and admit that The First Fifteen Lives of Harry August had escaped my attention. Luckily I got a review copy in the post, having read the synopsis this book had to be good and Claire North proved this and went far above my expectations. The thing that makes The First Fifteen Lives of Harry August just brilliant is the evocative idea behind the story. What if you could not die? Well you can die, but you get reincarnated to the same body wherein you were originally born in together with all the thoughts and experience you have gained? How cool would that be? Harry is one of them. When he dies, he wakes up again in the same body, with all his experiences still intact. From the beginning Claire North cleverly setsup and executes her story, she begins from the beginning of when it all started for Harry and in this she shows her great worldbuilding skills. Only later to take the story those steps further by introducing a lingering threat that has the potential to cause chaos to the world. Chaos that only Harry can stop. The First Fifteen Lives of Harry August is more than just a SF story of waking up and dying, Claire North explores human boudaries, shows just what makes you human and what makes you good and evil, but can you truly define human actions in good and evil? What will you do to fight for your goals? The First Fifteen Lives of Harry August is by far one the most evocative titles that I have read so far this year and will be on the list of best 2014 SF read, guaranteed! Oh, and by the way, Claire North is the synonym of Catherine Webb and Kate Griffin, what a surprise was that!
Read the full review here
3. Murder by Sarah Pinborough, Jo Fletcher
Last year I read the first book in the Mayhem series, Mayhem, and was taken away from the story that Sarah Pinborough manages to put down. The whole Victorian ambiance and the setting with Jack the Ripper was on one side very beautiful but on the other side dark and disturbing, on the back Mayhem there was already an announcement that the sequel, Murder, would come spring 2014! Murder continues the adventures of Dr. Thomas Bond but Sarah Pinborough does change the tables for him. In the first book Thomas investigated the Whitechapel Murders and stumbled upon a polish myth the Upir. I really liked this supernatural influence, luckily for me the Upir again makes an important entry in Murder. With a new murderer in town and still some issues that remain to be solved, Thomas is again head over heels to find out just who is behind it all. But during this investigation he does contract something that he hadn't thought off... Murder again top horror stuff that will keep you up at night sleeping with your lights on. Sarah Pinborough knows how to scare the living out of you. Not in a direct and confronting matter but more in the slow and subtle deft way!
Read the full review here
4. The Goblin Emperor by Katherine Addison, Tor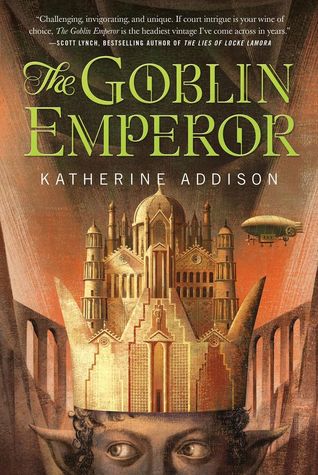 I heard a lot rave reviews for The Goblin Emperor and when I was presented with a chance to review this book I immediately jumped to the occasion, wanting to see what it was all about. And I have to say that I very much enjoyed reading The Goblin Emperor. It's one of those books where an author shows just what it required to take your story those steps further. Katherine Addison completely turns the tables around. The Goblin Emperor does have standard Epic Fantasy themes but it isn't what you normally see in Epic Fantasy. In The Goblin Emperor you follow the story of a young half-goblin emperor, Maia, who suddenly looses all his family in an airship crash, and being the only living heir to the throne he is crowned emperor. But since he was exiled as a young boy, he doesn't know heads nor tails from what it takes to rule an empire. From the start he is confronted by too nice people who all want to help him, but who can he actually trust?? Full of political intrigue and strong emotional characters, this book is definitely a recommendation!
Read the full review here
5. A Love Like Blood by Marcus Sedgwick, Hodder and Stoughton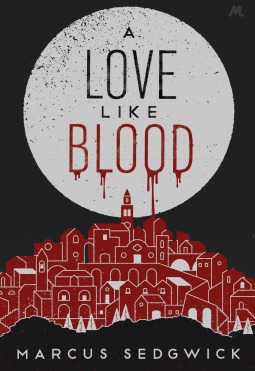 One of the most popular themes in fantasy has to be the vampire one. There have already been plentiful books that feature these creatures of darkness, when I first started to read about vampires in fantasy it was a bit of a let down and quickly discarded all those books, but over the last few years I have read some very great books that feature vampires. When I heard about A Love Like Blood, it has a great promise to be something else than the mainstream genre.
And from the first page Marcus Sedgwick shows this. A Love Like Blood follows the story of Charles Jackson who witnesses something horrific but discards this as an wartime happening. Only later when he returns back to Paris and sees this person again does he start to wonder... and from one things comes the next as he is oddly drawn to find out just what happens. But in doing this Charles starts to mingle himself with forces that have much more power than he does. What for me really made this book was the strong narration. Marcus Sedgwick uses a first person narration that makes the story come out that much stronger. A Love Like Blood is a recommendation for everyone who wants to read something strongly compelling and utterly engaging.
Read the full review here
----------------------------------------------
Which books did you enjoy the most?
Cheers,
Jasper