August Review Round-up
Another few weeks have passed, time for another review round-up! I finally have gotten around reading some books that I have always wanted to read: Among Thieves, Three Parts Dead, continuing with the Shadows of the Apt series in Heirs of the Blade and there are still plenty more on my list though! But without further ado here is my selection of favorites of August.
1. Happy Hour in Hell by Tad Williams (Hodderscape, Hodder and Stoughton)
Tad Williams has been one of my favorite authors for quite some time. Last year I read The Dirty Streets of Heaven and was awed, blown away, and a lot more! Having to have to wait another whole year for its sequel was hard but proved to be worthwhile.

The Bobby Dollar series is Tad Williams venture into Urban Fantasy, and even though there are quite a few series out there already, for me Bobby Dollar stands out heads above shoulders. The concept of the book where, once you pass away, you get confronted by a person from Heaven and Hell to judge whether you should go to Heaven or Hell based on your track record. Yes it has angels, demons and guns, but what the other books don't have is BOBBY DOLLAR! Man I love his character, his bit of nonchalance, sarcastic and witty remarks really make the story.

Where The Dirty Streets of Heaven introduced us to the whole universe, Happy Hour in Hell takes a nice tour through Hell and shows everything that is accompanied in it. Though the emphasis is on rescuing Caz from The Grand Duke of Hell, there is nice shift in the emphasis of the plot, if my thoughts are correct I think we will be in for an explosive finale in the last book of the series. It's a book you must have read. In Happy Hour in Hell, Tad Williams shows how to take a story further.
Read my full review here
2. Heirs of the Blade by Adrian Tchaikovsky (Tor UK)
The Shadows of the Apt series has been on my favorite list for a long time. From the introduction of Empire of Black and Gold Adrian Tchaikovsky has just never let me down and never stopped to amaze me. The Shadows of the Apt series introduces the reader to a unique heretofore unexplored concept, the Kinden, from Beetle, Mantis to Scorpion Kinden, each have their own strengths and weaknesses, furthermore there is a division in being Apt and Inapt, able to work with the simplest of switches is impossible for the inapt. With Heirs of the Blade already the seventh book in the series I was hesitant to pick it up after one year of not having read the series, but I was proven wrong. The Shadows of the Apt is a series that sticks on you, grows on you and stays with you. Heirs of the Blade sees the continuing of two favorite characters Che and Tynisa. It felt good to have the spotlight on these two as there are quite a few interesting developments going on that, seem to me, to be paving the road for the last three volumes. This series is a must read for fantasy enthusiasts.
Read my full review here
3. Three Parts Dead by Max Gladstone (Tor USA)
A book that has been on my personal to read list even since it was released last year. I only finished it recently but this is one of those books that left me speechless. It is these kind of books that I like, where an author, Max Gladstone in this case, takes an existing genre, bends it to its own will and takes it those few steps further. Three Parts Dead introduces us to a unclear day and age and world. The story doesn't take place on an alternate vision of London or New York but in the completely designed and lively envisioned city of Alt Coulumb, with heavy influences of fantasy, science fiction and steampunk. But what really makes this story stand out is the complexity of it all that is neatly realized by the characters and the story line and the idea behind the story. Time to get lawyered up! The main protagonist of the series, Tara is a first year student for the necromantic lawyer firm Kelethres, Albreacht and Ao, yep necromantic lawyers. They raise the dead. But the story is much more, it's intricately build and very engaging with all the action in the book. There are quite a few trails being pursued and I was pleased to see that the leads that seemed unlinkable in the end were all connected, and this was done in a terrific way, not hastily but when you look back it does make full sense on how things came to pass. The nomination of Three Parts Dead for the John W. Campbell Award is therefore fully justified! It's amazing.
Read my full review here
4. Planesrunner by Ian McDonald (Jo Fletcher Books)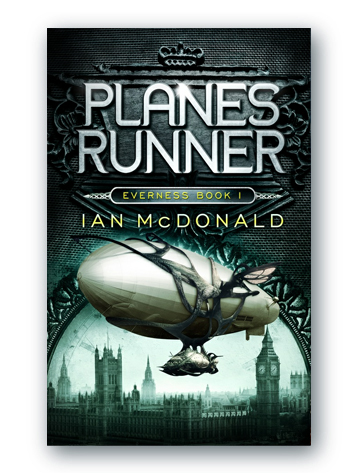 Planesrunner is the venture of Ian McDonald in the young adult genre, having previously written only adult science fiction, he now brings his level and vision of sci-fi in an engaging manner for the younger readers. Science fiction is a cool genre and Ian McDonald makes it even cooler by introducing the concept of multiversing and parallel worlds. The way that Ian McDondald shows his concept is by the hands of the main protagonist Everett who just saw his father being kidnapped right in front of him. From this point onwards, only a few pages in, you are thrown in a mad but carefully planned dash of action in already a few parallel Earth's. What is crucial for me is the way the world and it's surrounding are shown in young adult fiction, writing for adults is totally a different league, but Ian McDonald does it in a way that must, in my opinion, appeal to many younger kids, he explain the type of travel in a great manner using good examples and of course a lot of high tech gadgets! Its all good stuff. Furthermore he really puts Everett in the hero spotlight and Everett taken together with his new friend aboard the Everness Sen make up for a great duo. Also the book has a hidden message, whether it was intended or not, I like this and hope that a lot of younger readers will also get it. Planesrunner is a great book if you want to have your teen to start reading, Ian McDonald gives you a front row seat as the other dimensions are being explored.
Read my full review here
5. The Darwin Elevator by Jason M Hough (Titan Books)
I must admit, The Darwin Elevator, first escaped my notice until a copy fell on the doormat. The Darwin Elevator is one action-packed blockbuster type of book. From start to finish you will be on the edge of your seat. There are a lot of things happening in the book going from space opera, dystopian, politics and even zombies thrown in the mix. It all started when the space elevator was send down from space into the city of Darwin Australia, on first take it was all nice and well but soon things started to happen. People living outside of Darwin started to change… into zombies also called the subhumans. It's only safe to life inside a specific radius of Darwin, there is this protective aura around the space elevator that protects against people turning into zombies. The main protagonist of The Darwin Elevator, Skyler, is shown in a magnificent way, he is the leader of a bunch of immunes but doesn't come over as the bossy kind of guy, he wants to be everybody's companion and friend and his approach to his crew makes him very human and easy to relate to. The storyline really evolves when a you get deeper and deeper into the story, later in the book you get to learn more about the dependency of the Earth bound colonists and the colonists living in space. Also from the beginning there is a revelation that the aliens are planning a new intervention but when and what is unknown. In the end you do get to learn more about what is intended and you already glimpse some of the power that it holds, leaving the book on a great cliffhanger moment. I am eager to see how this will be explored in The Exodus Towers.
Read my full review here
Next to the twenty some reviews there were also quite a few interviews with authors that were featured on the blog, a summery of the August interview is listed below, all the interview that have been done so far can be found in the Author interview tab to the side.
I'm curious to hear what your favorite reads were of August!
Cheers,
Jasper