Planesrunner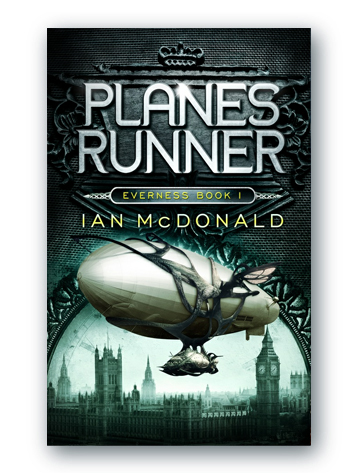 There is not one you. There are many yous. There is not one world. There are many worlds. Ours is one among billions of parallel earths.

When Everett Singh's scientist father is kidnapped from the streets of London, he leaves young Everett a mysterious app on his computer. Suddenly, this teenager has become the owner of the most valuable object in the multiverse—the Infundibulum—the map of all the parallel earths, and there are dark forces in the Ten Known Worlds who will stop at nothing to get it. They've got power, authority, the might of ten planets—some of them more technologically advanced than our Earth—at their fingertips. He's got wits, intelligence, and a knack for Indian cooking.

To keep the Infundibulum safe, Everett must trick his way through the Heisenberg Gate that his dad helped build and go on the run in a parallel Earth. But to rescue his dad from Charlotte Villiers and the sinister Order, this Planesrunner's going to need friends. Friends like Captain Anastasia Sixsmyth, her adopted daughter, Sen, and the crew of the airship Everness.

Can they rescue Everett's father and get the Infundibulum to safety? The game is afoot!
Planesrunner is the first book in the Everness series written by Ian McDonald. Ian McDonald previous works have been widely nominated for various awards like the Philip K. Dick Award, BSFA Award, Locus Award and the Hugo's among others. The Queen of Day was awarded with the Philip K. Dick Award for best collection. His earlier books were all aimed at the adult audience, with the Everness series Ian McDonald takes his science fiction/cyberpunk writing to the Young Adult audience. Even though Planesrunner is aimed at the younger readers, when I read the synopsis of parallel universes, kidnappings and a sinister organisation I knew this would be a book that I would enjoy as well.
In Planesrunner you follow the main protagonist Everett Singh. The first that falls to notice is the setting. Planesrunner
uses a lot of the current technology that the younger kids are using these days, Everett has the a tablet, smartphone and uses Facebook and Twitter, which a lot of kids nowadays use as well and I think that this makes it that much more interesting and engaging for the younger readers, they will be able to relate much more of the events like: "I do this and that as well". But it's not only by this element that makes, Ian McDonald has a great way of writing up his story creating a fast paced storyline that managed to grab me from the start. It can often times be hard to switch from writing for adult to a younger audience, but Ian McDonald wrote his story that both can thoroughly enjoy it.
Everett sees his father being kidnapped right in front of his eyes and this is really the starting point of the whole story. You soon find out that his father was a important scientist and that Everett had inherited most of his intelligence as well. Everett is a smart kid, on one hand the more nerdy geeky kind when it comes down to computers and other tech, but later on the book you learn that he now is more into other things as well mainly soccer, another passion of his is cooking quite the opposite of being a geeky kid. His dedication and devotion to seek justice and to get to the bottom of his father kidnapping is great to see, especially when you look back on what has happened with the divorce of his father and mother, it feels that he somehow wants to keep everything intact and is steel struggling with it all. Everett's racial background is part British and part Punjabi and though I thought this was more of a background issue, later on in the book you learn that there is quiet a diversity in the parallel universes; that border on discrimination, somehow with introducing this background of Everett and showing his thoughts I think Ian McDonald wanted to make a valuable statement, books carrying messages are always great to see especially when they are brought in a good manner. With this and the knowledge that Everett had in the beginning and the experience that he gains along the story make him a great protagonist of the series.
Next to Everett there a quite a few secondary characters in the series, that feel even by their brief introductions very lively and colorful in the end. You really get to know them along the lines of Planesrunner. The first one that I really enjoyed, and I think will be important in the adventures to come is Sen, Everett meets up with Sen in a parallel universe. She isn't your average girl, she almost feels like a heroine, she's confident, to the point and her language is dressed by Polari, a type of language developed from Italian and British slang, and even though many other characters use it the combination of Sen's personality really make her stand out above the rest. Another character that I found quite interesting is Sharkey, a man who used sort of biblical references and talks in that way on some. Sharkey is part of the crew of the Everness, but on some level I just don't know whether to trust him, it seems that on certain points he has the best of interest for Everett, but once his own life is on the line Sharkey would much rather throw him overboard to save his own. There weren't any real tension yet so far, but I am curious how Sharkey's reactions and actions well be in the books to follow. There are of course many other interesting characters that each contribute in full swing to make this character cast even better.
The story of Planesrunner itself is just superb. After reading the synopsis in envisioned what the story might have in store for me, but with the start of the kidnapping, I didn't really know how the story would continue from this. In essence, the father of Everett has devised a way to allow travel to alternate universes using the Infundibulum. Being first introduced to this I was more like, ok how does this work. And this is one of the great parts of the book that make it so interesting. Instead of being just presented with the fact that the travel is possible, Ian McDonald neatly breaks down several important aspects of traveling to parallel universes. And this was I think crucial for the younger readers to really grab their attention. Accompanied by this is the explanation of what those possible universes have in store for you, some are more technologically advanced, while others are still lacking behind. On top of this comes how the worlds are connected with each other via the Gates and denominated E1 through E10 which have so far been discovered and linked via a treaty. Ian McDonald creates a very interesting world, which I am eager to explore much more! I wish I had a jumpgun!
For the bad guys of the story, they were for me just spot on. There are some interesting developments right there. From the way that the story was beginning to pick up pace, the police investigations and everything that accompanied the kidnapping of Everett's father, Tejendra, I knew that certain people couldn't be trusted. This might have been a bit predictable or stereotypical once the links were made but for me this really made the story that much more enjoyable even when you see them tracking Everett though the different universes and trying to get a hold on him. Each time you read a description of Charlotte's silhouette or her personally I got that certain doom scenario playing my head that the Everett's journey would end on the spot. The Order was shown as a truly sinister and dark organization.
In Planesrunner Ian McDonanld has created a fascinating world, filled with action, heavy science fiction, a lot fun, and is readily appealing for a wide audience. It has a lot of high tech gadgets that will appeal to the younger readers and the ideas of traveling through gates to visit alternate universes will even more appeal to them. Planesrunner gave me the same feeling as another sci-fi book I read recently, the MetaWars series, if you want to have your kids reading proper books, give them Planesrunner. Like I mentioned Ian McDonald creates an interesting universe with an infinite amount of possibilities but doesn't impose a setting that feels out of control, Ian McDonald knows how to dose this subject in his story. Breaking down the science of his created multiverse was a vice decision, this made the story that much more approachable. I, for one am eager to explore much more adventures with Everett through the limitless parallel universes after Planesrunner and so should you! No need to wait, Be My Enemy was released 1st of August by Jo Flecther!