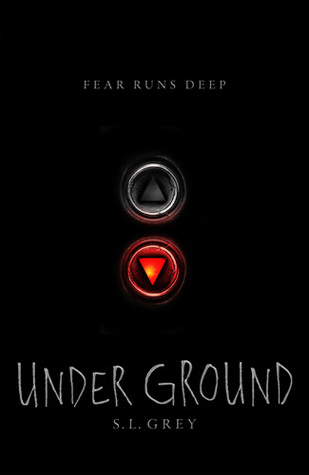 Under Ground by S.L. Grey
The Sanctum is a luxurious, self-sustaining survival condominium situated underground in rural Maine. It's a plush bolt-hole for the rich and paranoid - a place where they can wait out the apocalypse in style. When a devastating super-flu virus hits the States, several families race to reach it. All have their own motivations for entering The Sanctum. All are hiding secrets.

But when the door locks and someone dies, they realize the greatest threat to their survival may not be above ground - it may already be inside . . .
There is a certain theme that gets me really excited: "post apocalyptic

" .

This can range from a fantasy style to science fiction. What works best for me personally is when you can relate the events to our current time frame. There are doom prophets that say the end is nigh, and when you look at some events that happened over the last years well... Anyway. When I read the synopsis of Under Ground I knew it was the perfect book for me. A super-flu virus is leaving a trail of deaths, finding an escape is hard, but what if you could by yourself into an condo that is completely sealed of from the world and self sufficient for a year? Welcome to The Sanctum. This is my first book by the writing duo S.L. Grey (Sarah Lotz and Louis Greenberg) but after finishing Under Ground they have climbed to the top position of authors to watch, cant wait to read their other books.

Their fifth book together will see it's release next year July.
The story of Under Ground focuses on many different perspectives, all from the inhabitants of The Sanctum. S.L. Grey kicks of the story with a slow start explaining several aspects, how it currently stands in the world, the threat of a new super-flu that kills. Here you get introduced to the different people and families that have managed to bought a spot in The Sanctum. From the start of the introduction you learn that the characters are going to be very diverse, they range from very conserved religious people, to more out going and withing the muscular "jocky" kid and more nerdy gamer kid. When you are locked away in a confined space underground even without any problems, confrontations are bound to happen. The first arrivals all make their way on time but the last arrival already brings along some problems, they have a sick wife with them and just out of precaution they have to be locked in their condo, in order to see if they have the flu or not. You can imagine that this must bring some early tensions in The Sanctum. Soon after everyone has settled and are connected to the things that still connect them to the outside world, WiFi, something terrible happens in The Sanctum. Greg, who came up with the idea of The Sanctum is found dead on one of the lower floors, there is a big pool of blood with a footprint in it. Now everyone is starting to ask questions, what is going on, is their a killer amongst them, and if so who could possible have done it? Can they still trust each other? The worst thing is that with Greg dead, he took a lot of things to his grave about The Sanctum, like the code to open the exit door. Will, who helped build The Sanctum is the only person who has a chance of figuring out how to get out. But with the Greg's death, the whole situation starts to spiral out of control, really really fast. Tensions start to ramp up, people start to distrust each other and in the end it was bound to happen that Greg wasn't the sole death in the situation. It starts to spiral so much out of control that they loose electricity and WiFi connection which means that they are truly alone fifty feet down in a concrete bunker. Now they have to ration supplies, food and drinking water. And they still have a killer loose down there, who is it? And how can they stop him or her?
I really liked the story that S.L. Grey put down in Under Ground. It is just full of playing into fears you might have. For starters, you go underground in a luxurious condo, surrounded by concrete wall, claustrophobia anyone? When you learn that there is no way out this fear is only becoming much more pronounced. Secondly, being locked in underground with a way to get out AND a killer on the loose, no dark corner is safe anymore, maybe even your own condo isn't as well. The emotion that was put behind several of the characters was done really nicely and you could see their fears. I have to admit that I am always a bit hesitant when it comes to reading a co-authored book, but the writing style of this duo is perfect. It flows really naturally, I don't know who wrote what, but with the different perspectives I guess that each author took on a different character. Anyway, story wise it was an amazing piece to read, highly eventful, you don't know what will happen next and even if you guess you will be wrong in the end. Because..
That ending! wow just brilliant stuff. I read some early reviews that stated that the ending wasn't that great but well I am going to through that comment over board. I loved the ending of the book. From the start with Greg's murder and some of the other that follow, you try to play police officer for your own, trying to figure out who could have done it. But what is somethings weren't really done on purpose, what if somethings were circumstantial? There is a lot of speculation by the people in The Sanctum but no one knows and in the end, also no one knows. Or? I have to stop now but I found the ending fitted perfectly with the build up. And when you think back on the start and how people behaved well. Again spot on.
As for the characters, I was directly drawn to one of them in the beginning Jae. I liked him, he reminded of how I was when I was playing WoW. He is heavier than normal and his early confrontations with Brett doesn't make his stay in The Sanctum any easier. But he doesn't let it drag him down and he starts to connect with other people and here something starts to blossom with another Sanctum inhabitant. One of the families that I liked a lot were the Dannhausers, Leo has an extensive background, a background that once certain things come to surface doesn't make him a popular guy.. Of course there are plenty more character that have shady backgrounds or where motivations aren't really clear or that have dominant behaviour. One cool thing that was shown in the story was that for every inhabitant a background scan was carried out and this was on the personal computer of Greg. But if fell in the hands of some of the Sanctum people and this opened a whole can of worms. I mention above already that the inhabitants of The Sanctum are diverse and there are tensions a plenty. However within the bleak prospects there are some nice moments though if only for a few seconds.
I do have one small remark though and that is the timeframe in which it all took place. When I read the story it wasn't clear for the full 100% when what took place and if there were days of weeks in between several events. Once the families are all safe in The Sanctum and things happen it happens fast, some people get beat up pretty badly or even stabbed but it all cures rather fast. For me a better known time frame on which day happened what would have given it for me a more realistic feel. Some of it is corrected in the end of the book, but I think it would have given the start and mid also a lot more thrilling feel.
Under Ground is an awesome read. S.L. Grey have created a real thrilling feeling with the story that will play directly into your fears. It is all carefully constructed and executed leaving you clueless until the very end on who did what. From the start of the story I was hooked and they managed to keep a very nice momentum of the story all throughout the mid until that perfect ending. As I said when you relate certain events from the beginning and mid of the story it does make sense. Normally when I am so into a book I would say, wish it was longer but actually, Under Ground is just the right length, clocking in just under 300 pages. The story is always in motion, very dynamic and there isn't a moment of dragging the story forward. If the story was 400 pages it might have well have happened. S.L. Grey's next book is out July 2016, I will keep my eyes open, already looking forward to see what scenario they will present me with.