(p)review Forecast January part 1
(p)review Forecast January part 1
A new year, and stil many books to read. I hope you all had a great Christmas and went out with a blast on New Year's eve. I had a great time with friends and family and after the short two week break I will be begin picking up the reviewing today. Here is my first selection of books that will appear on the blog asap.
1. The Invisible Library by Genevieve Cogman, Tor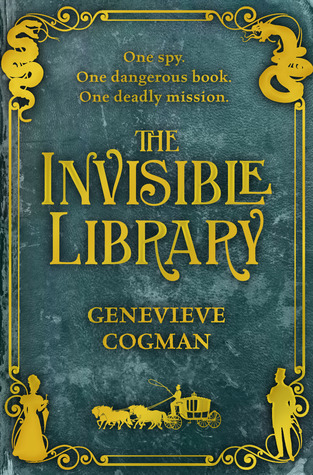 The first installment of an adventure featuring stolen books, secret agents and forbidden societies - think Doctor Who with librarian spies!

Irene must be at the top of her game or she'll be off the case - permanently...

Irene is a professional spy for the mysterious Library, which harvests fiction from different realities. And along with her enigmatic assistant Kai, she's posted to an alternative London. Their mission - to retrieve a dangerous book. But when they arrive, it's already been stolen. London's underground factions seem prepared to fight to the very death to find her book.

Adding to the jeopardy, this world is chaos-infested - the laws of nature bent to allow supernatural creatures and unpredictable magic. Irene's new assistant is also hiding secrets of his own.
Soon, she's up to her eyebrows in a heady mix of danger, clues and secret societies. Yet failure is not an option - the nature of reality itself is at stake.
2.
The Accidental Highwayman by Ben Tripp, Tor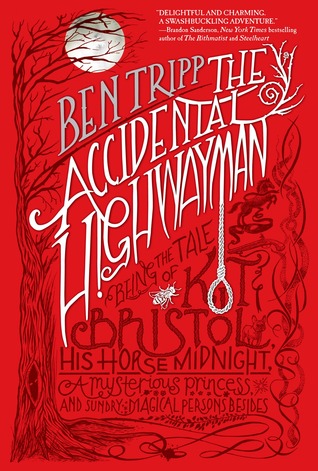 The Accidental Highwayman is the first swashbuckling adventure for young adults by talented author and illustrator, Ben Tripp.

In eighteenth-century England, young Christopher "Kit" Bristol is the unwitting servant of notorious highwayman Whistling Jack. One dark night, Kit finds his master bleeding from a mortal wound, dons the man's riding cloak to seek help, and changes the course of his life forever. Mistaken for Whistling Jack and on the run from redcoats, Kit is catapulted into a world of magic and wonders he thought the stuff of fairy tales.

Bound by magical law, Kit takes up his master's quest to rescue a rebellious fairy princess from an arranged marriage to King George III of England. But his task is not an easy one, for Kit must contend with the feisty Princess Morgana, gobling attacks, and a magical map that portends his destiny: as a hanged man upon the gallows….

Fans of classic fairy-tale fantasies will find much to love in this irresistible YA debut by Ben Tripp, the son of one of America's most beloved illustrators, Wallace Tripp (Amelia Bedelia). Following in his father's footsteps, Ben has woven illustrations throughout the story.
3. The Knight by Pierre Pevel, Gollancz
The High Kingdom is facing its darkest hour. Its King has been weakened by illness and many are discontent with the Queen's regency. As rebellion rumbles throughout the land, new threats are massing forces at the realm's borders.

Desperate, the King decides to free Lorn, who has spent the past 3 years locked away on trumped-up charges in the citadel of Dalroth. Acting on the advice of a mysterious emissary of the Dragon, he dubs Lorn 'Knight of the Onyx Throne', making him the upholder of royal authority.

Lorn accepts the King's mission but also hunts those responsible for his imprisonment. Reinstating the Onyx Guard, a once-powerful elite force, he becomes a new figure of hope for his people. But some take a dim view of his growing popularity and influence, and they are busy plotting his downfall.

If he foils his enemies, will he assume the role of champion that the Dragon's Council of Emissaries have been seeking, the one capable of facing the Black Dragon? He must first confront an evil that gnaws at him ever since he was exposed to the Dark at Dalroth, which now threatens to overwhelm him.
4. A Crucible of souls by Mitchell Hogan, Self published
When Caldan's parents are brutally slain, he is raised by monks and taught the arcane mysteries of sorcery.

Vowing to discover for himself who his parents really were, and what led to their violent end, he is thrust into the unfamiliar chaos of city life. With nothing to his name but a pair of mysterious heirlooms and a handful of coins, he must prove his talent to earn an apprenticeship with a guild of sorcerers.

But he soon learns the world outside the monastery is a darker place than he ever imagined, and his treasured sorcery has disturbing depths.

As a shadowed evil manipulates the unwary and forbidden powers are unleashed, Caldan is plunged into an age-old conflict that brings the world to the edge of destruction…
5. Red Moon by Benjamin Percy, Hodder and Stougthon
Award -winning author Benjamin Percy presents an explosive and deeply layered literary thriller set in the American West. They live among us.

They are our neighbors, our mothers, our lovers.

They change.

When government agents kick down Claire Forrester's front door and murder her parents, Claire realizes just how different she is. Patrick Gamble was nothing special until the day he got on a plane and hours later stepped off it, the only passenger left alive, a hero. Chase Williams has sworn to protect the people of the United States from the menace in their midst, but he is becoming the very thing he has promised to destroy. So far, the threat has been controlled by laws and violence and drugs. But the night of the red moon is coming, when an unrecognizable world will emerge...and the battle for humanity will begin.