Book Review: The Accidental Highwayman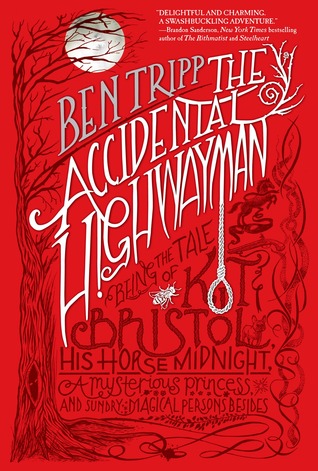 The Accidental Highwayman by Ben Tripp, Adventures of Kit Bristol #1
In eighteenth-century England, young Christopher "Kit" Bristol is the unwitting servant of notorious highwayman Whistling Jack. One dark night, Kit finds his master bleeding from a mortal wound, dons the man's riding cloak to seek help, and changes the course of his life forever. Mistaken for Whistling Jack and on the run from redcoats, Kit is catapulted into a world of magic and wonders he thought the stuff of fairy tales.

Bound by magical law, Kit takes up his master's quest to rescue a rebellious fairy princess from an arranged marriage to King George III of England. But his task is not an easy one, for Kit must contend with the feisty Princess Morgana, gobling attacks, and a magical map that portends his destiny: as a hanged man upon the gallows….

Fans of classic fairy-tale fantasies will find much to love in this irresistible YA debut by Ben Tripp, the son of one of America's most beloved illustrators, Wallace Tripp (Amelia Bedelia). Following in his father's footsteps, Ben has woven illustrations throughout the story.
When I picked up the autumn Tor catalogue it was unable to escape this book, given a full page of publicity marked it as a noteworthy book. The cover hinted for me towards
a more adult oriented book but it is really a boisterous young adult adventure. As I said in the best young adults books of 2014 post I missed this kind of books when I was a kid growing up, so with such a promising synopsis I couldn't let this book slip. The Accidental Highwayman is written by Ben Tripp, who prior to this book wrote a zombie apocalypse duology, and let me assure you before hand The Accidental Highwayman isn't zombie fiction! It's a swashbuckling, boistrous adventure one that will appeal to many reader, young and old alike.
The story of The Accidental Highwayman focuses on the young boy Christopher "Kit" Bristol who is currently employed as a servant James Rattle who took in Kit when he was orphaned and had no where to go. During his serving Kit has been most obedient and did everything Master Rattle asked of him. They currently live a life of luxury and when his master disappears late at night, Kit doens't raise questions the next morning. But what Kit doesn't know is that this is where they get their life of luxury for as in the late hours Master Rattle transforms in the highwayman known as Whistling Jack. One evening Master Rattle comes home severely wounded. Now things are put into rapid motion and with Kit being the faithful servant he still tries to help Master Rattle, so in order to save his master he takes up the clothes of Whistling Jack to seek help for his master but what Kit kindly underestimated is that Whistling Jack is a notorious highwayman and with putting on his clothes he changes his life for ever as he is now seen AS Whistling Jack he has to dodge the Redcoats and treads in a world that he has never seen before one full of wonders and things unknown. As a famous saying goes, with great power comes great responsibility, well this is also the case for Kit as his is soon bound by magic to complete a quest that was put on his master Rattle. Kit's latest quest is to save a lady, the heir of the Fairy King, but this lady, the Fairy Princess, is far from "normally" enjoyable comapny she is a rebellious lot and with it comes even more troubles and frustrations.
This all combined prodcues a wonderful setting to the story of Kit Bristol. It is also mentioned as an alternate history and that is very much true as this story takes place in the 18th century of England, there is however much more happening as you undoubtedly must have been able to think, Ben Tripp also introduces a great and wonderfully magical aspect to the book with the fairy, gryphons and goblins amongst others. This in a sense produces something of a fairy tale as well. Very unique and intriguing storybuilding.
Kit Bristol makes up a most interesting character, it has to be said that it also is achieved by the narration of the book. Kit's characters starts of unwitting and a bit ignorant even. He was luckily to have been saved by Master Rattle and has been solely focusing on making him happy. This made his not think about some other things. After the events that happened with his master his character readily changes. He is thrown in the depths of a completely new surroundings, in a world that is weird, challenging and difficult. It felt like that Kit's character sometimes wanted to give up and that it was all to much for him, but he never gave up. He didn't sit and mope but relied on his new made friends. A lot of young readers will find Kit's character easy to relate to and would wish to be in his shoes when it comes down to his boisterous adventures. Next to Kit, there are a few additional characters that fully make the story come together. The Fairy Princess amongst others and the witch. All are uniquely voiced and bring something magical to the story.
If you are looking for a swachbuckling and rollicking adventure look no further. If you want magic, wizards, witches, goblins, gryphons and more in a story look no further. The Accidental Highwayman has everything of the above and much more. This first book in the Adventures of Kit Bristol is off to a solid start introducing a most interesting character with the name of Kit and his acquired masters horse Midnight. This story feels like it is just the tip of the iceberg, I foresee many more adventures for Kit and his friends.