(p)review forecast October part one
(p)review forecast October part one
Which books will you be reading in the coming weeks?
Cheers,
Jasper
------------------------------
1. Falling Sky by Rajan Khanna, Pyr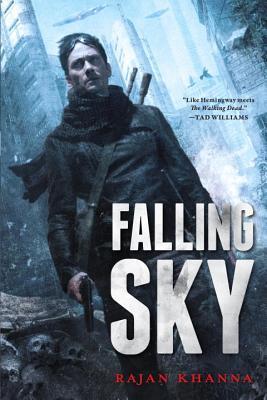 Ben Gold lives in dangerous times. Two generations ago, a virulent disease turned the population of most of North America into little more than beasts called Ferals. Some of those who survived took to the air, scratching out a living on airships and dirigibles soaring over the dangerous ground.

Ben has his own airship, a family heirloom, and has signed up to help a group of scientists looking for a cure. But that's not as easy as it sounds, especially with a power-hungry air city looking to raid any nearby settlements. To make matters worse, his airship, the only home he's ever known, is stolen. Ben must try to survive on the ground while trying to get his ship back.

This brings him to Gastown, a city in the air recently conquered by belligerent and expansionist pirates. When events turn deadly, Ben must decide what really matters--whether to risk it all on a desperate chance for a better future or to truly remain on his own.
2. A New Dawn by John Jackson Miller, Century Books
For a thousand generations, the Jedi Knights brought peace and order to the Galactic Republic, aided by their connection to the mystical energy field known as the Force. But they were betrayed—and the entire galaxy has paid the price. It is the Age of the Empire.

Now Emperor Palpatine, once Chancellor of the Republic and secretly a Sith follower of the dark side of the Force, has brought his own peace and order to the galaxy. Peace through brutal repression, and order through increasing control of his subjects' lives.

But even as the Emperor tightens his iron grip, others have begun to question his means and motives. And still others, whose lives were destroyed by Palpatine's machinations, lay scattered about the galaxy like unexploded bombs, waiting to go off. . . .

The first Star Wars novel created in collaboration with the Lucasfilm Story Group, Star Wars: A New Dawn is set during the legendary "Dark Times" between Episodes III and IV and tells the story of how two of the lead characters from the animated series Star Wars Rebels first came to cross paths. Featuring a foreword by Dave Filoni.
3. Lock In by John Scalzi, Gollancz
Fifteen years from now, a new virus sweeps the globe. 95% of those afflicted experience nothing worse than fever and headaches. Four percent suffer acute meningitis, creating the largest medical crisis in history. And one percent find themselves "locked in"—fully awake and aware, but unable to move or respond to stimulus.

One per cent doesn't seem like a lot. But in the United States, that's 1.7 million people "locked in"...including the President's wife and daughter.

Spurred by grief and the sheer magnitude of the suffering, America undertakes a massive scientific initiative. Nothing can restore the ability to control their own bodies to the locked in. But then two new technologies emerge. One is a virtual-reality environment, "The Agora," in which the locked-in can interact with other humans, both locked-in and not. The other is the discovery that a few rare individuals have brains that are receptive to being controlled by others, meaning that from time to time, those who are locked in can "ride" these people and use their bodies as if they were their own.

This skill is quickly regulated, licensed, bonded, and controlled. Nothing can go wrong. Certainly nobody would be tempted to misuse it, for murder, for political power, or worse....
4. Gideon Smith and the Brass Dragon by David Barnett, Tor
Nineteenth century London is the center of a vast British Empire, a teeming metropolis where steam-power is king and airships ply the skies, and where Queen Victoria presides over three quarters of the known world—including the east coast of America, following the failed revolution of 1775.

Young Gideon Smith has seen things that no green lad of Her Majesty's dominion should ever experience. Through a series of incredible events Gideon has become the newest Hero of the Empire. But Gideon is a man with a mission, for the dreaded Texas pirate Louis Cockayne has stolen the mechanical clockwork girl, Maria, along with a most fantastical weapon—a great brass dragon that was unearthed beneath ancient Egyptian soil. Maria is the only one who can pilot the beast, so Cockayne has taken girl and dragon off to points east.

Gideon and his intrepid band take to the skies and travel to the American colonies hot on Cockayne's trail. Not only does Gideon want the machine back, he has fallen in love with Maria. Their journey will take them to the wilds of the lawless lands south of the American colonies—to free Texas, where the mad King of Steamtown rules with an iron fist (literally), where life is cheap and honor even cheaper.

Does Gideon have what it takes to not only save the day but win the girl?

David Barnett's Gideon Smith and the Brass Dragon is a fantastical steampunk fable set against an alternate historical backdrop: the ultimate Victoriana/steampunk mash-up!
5. Legion of the Damned by William C. Dietz
In the future, the terminally ill can prolong life by surrendering their consciousness to a cybernetic life form that is then recruited into the notorious Legion of the Damned, an elite fighting unit charged with protecting humanity.