Book Review: Horrorgami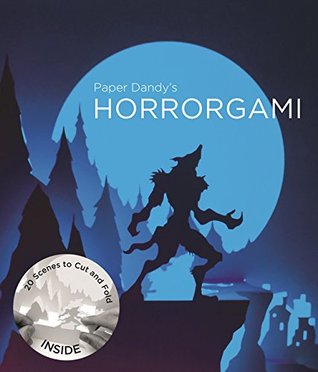 Horrorgami by Marc Hagan-Guirey
Paper Dandy's Horrorgami features 20 kirigami (cut-and-fold) designs based around haunted houses and scenes from horror films by the creator of the successful Horrorgami blog and exhibition. Each project features step-by-step instructions and a template that you remove from the book. You then follow the lines on the template, cutting and folding to make your own kirigami model.
The art of paper folding is very popular in the Asian countries but this doesn't mean that us Europeans never heard of it. I have done some basic origami before which I enjoyed a lot. you can make beautiful things with it. Just earlier this month I was asked by Midas PR if I wanted to review the upcoming book Horrorgami. Just by the cover alone I wanted to do some folding, doesn't that werewolf look sweet!
Ok so this review doesn't begin with the story picks up with.. because this isn't a fictional story. To be honest this is also the first book of it's kind that I review on the blog. Horrorgami is a book about and featuring paper art. Initially
I thought it was origami (just spelled different) so I got my paper out. Well, Horrorgami is something different. This is kirigami, where you use a blade and then fold.
What you do in Horrorgami is the following. You can use the book which is made of heavy quality paper or you can buy some heavier paper +/- 200g/m2 at your local arts and crafts supplier. This will make the cutting and folding much better. I speak of experience as the first attempt of mine was made on 80 grams paper and here you easily see that it doesn't work for the best result. Next to the paper there are some other mentions that you need: a sharp blade, preferably a scalpel and a mat to cut on so you don't damage the surface underneath when you cut the paper.
After you get all these things you can start but you have to pay attention, where origami is folding, in kirigami you cut and what you cut, well it doesn't get back together anymore. Better to do it with more reservation than just go at it. But before the first art piece you get a briefing on how to use the templates. When I first read about the terms with the different planes and such it felt somewhat intimidating but trust me just read it through carefully a few times and you can do it.
Now it is time to make your first art piece! followed by the instruction are 20 hauntingly beautiful pieces. the first one is That Things under the Stairs but you also have Dracula's Castle, A Sleepy Hollow piece, the Werewold on the cover and much much more, they are graded with various difficulties from beginner level to advanced level. What I liked about each of the pieces was how Marc Hagan-Guirey came up with them, what was his motivation.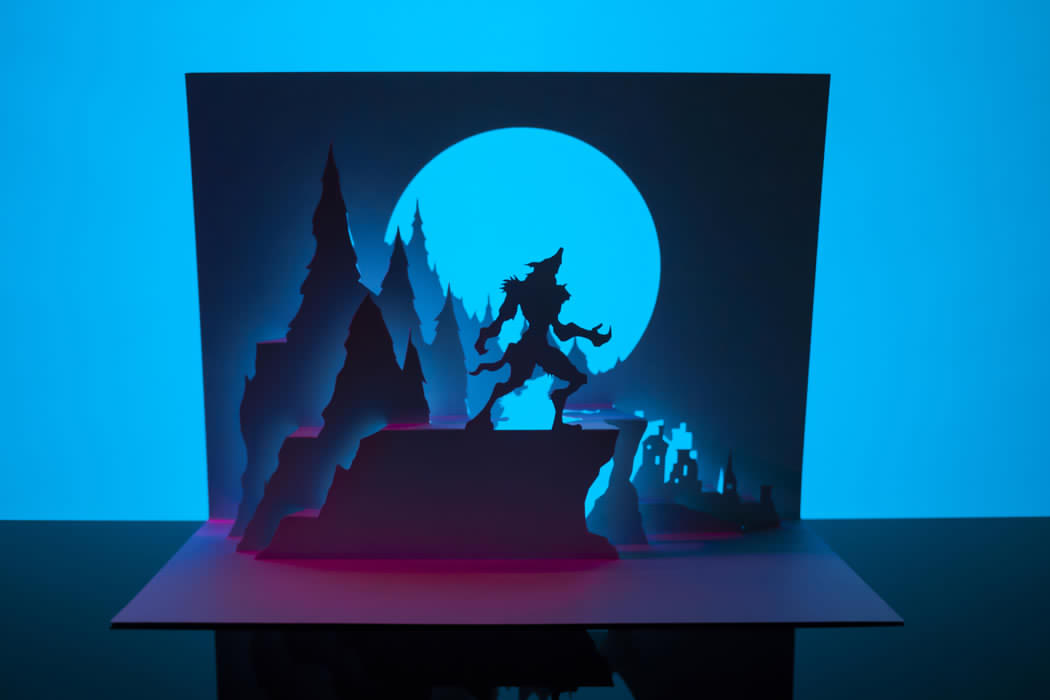 Perhaps the most important question is can you do this without any experience? Yes you can. Marc Hagan-Guirey is of course a master in his field, coming up with the blueprints. I never got past making origami flowers! Blades don't always favor me as well. Ask my girlfriend... Anyway. The blueprints actually speak for themselves, you know where to cut and where to make the different folds, I have to confess that I first made the folds in the opposite directions... but if you don't make them to sharp you can easily redo them the other way around. I also start with the werewolf scene because well... It's a werewolf!? (by the by, the one on the left isn't mine). It is one of the coolest in there. Reminded me a bit of the werewolves of World of Warcraft. Horrorgami is suited for the beginners of the beginners to the intermediate and advanced users, there are some very challenging pieces in there that I still want to tackle, uhm cut out before the end of Halloween.
Horrorgami is definitely a book that I recommend to take a look in and try some pieces out for yourself. As I mentioned the 20 pieces in there are beautifully illustrated, it is not just 4 cuts to cut out a square but there are also organic shapes in there that require much more precision than a simple straight cut. I can definitely see myself do this the whole weekend. I hope that Marc Hagan- Guirey will make a book for each occasion, one for the upcoming Christmas period? But for now I know you will definitely steal the show this Halloween if you feature some of them in your window display! Get cutting and folding guys and girls.